Erich Hartmann
is creating Erotic Comics and illustrations
Select a membership level
Moral support/Apoyo moral
Thanks a lot! You can see all the exclusive and uncensored posts of the page, and:
+Get a mid-res version of the two monthly illustrations (150dpi)
+A character sheet, and the comic 'What a Barbarian!' (sample version, without extras)
+A sample page from the comic of the month with sketches
+"Lillianne´s wedding", an illustrated erotic tale
+And some additional surprises!
  ----
¡Muchas gracias! Para empezar, podrás ver todos los mensajes exclusivos para suscriptores sin censura. Y además:
+Una copia de las dos ilustraciones del mes a media resolución (150ppp)
+Una ficha de personaje y el cómic "¡Qué bárbara!" (versión de muestra, sin extras)
+Una página de muestra del cómic del mes con su boceto
+"La Boda de Lilianne", un cuento erótico ilustrado
+¡Y algunas sorpresas adicionales!

I want my pic!/¡Quiero mi dibujo!
All from the above plus the two monthly illustrations at 300 dpi. Sketches and next month's illustrations preview also included! 
  ----
Todo lo anterior, y las dos ilustraciones del mes a 300 ppp, incluyendo los bocetos preparatorios y una vista previa de las del mes siguiente. 
Give me a comic/Mándame un comic.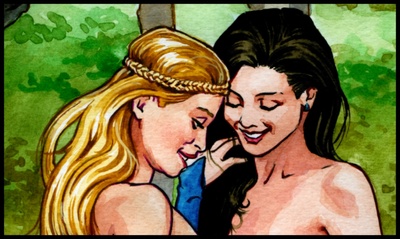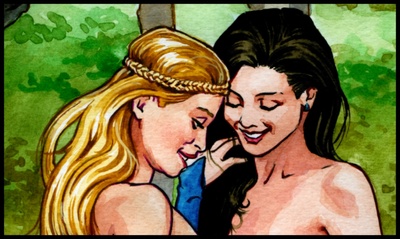 1 comic book of your choosing (pdf, 150dpi). Six/ten pages of comic, plus sketches, a non lettered page, character sheets, alternative/discarded pages in modified stories. Languages available are Spanish and English.  
You will receive a form after the month ends to select your comic. 
+"Lillianne´s Wedding", an illustrated erotic tale
 ----
1 historieta a elegir, en formato Pdf y a 150 ppp de resolución. Entre seis y diez paginas de cómic, más bocetos, una página sin rotulación, fichas de los personajes y versiones alternativas de páginas o viñetas en las historias modificadas. Versiones en Español e Inglés.
Recibirás un formulario después de que termine el mes para seleccionar tu cómic. 
+"La Boda de Lillianne", un cuento erótico ilustrado

About Erich Hartmann
Hi there, people!
Most of you probably know who I am, I've been making erotic comic books since 2001. My series have been or are being published in Spain (Eros magazine as
"Cuentos Medievales"
), the USA (seven albums of
'Barbarian Chicks And Demons',
and
'Sizzle'
magazine), France (
'Orgies Barbares',
five albums) and, from this year, Italy (
'Orge Barbariche'
).
These are all erotic tales happening in a medieval fantasy setting in a humorous mood, in a sort of parody of the stereotypical tropes of sword and sorcery, fairy tales, or even Tolkien's epic sagas. Although most of them are one-shots, these stories can make for a bigger picture, given that their plotlines (and main stars) are often intertwined. Thoughout a collection of 40 series,
there are more than 475 pages of stuff,
and I am willing to keep it up. For this, I plea thy patronage!
Why?
Since the closing of 'Eros' in Spain, in 2011, these stories ceased their publishing in my country, thus I gave up with the series. After
Eurotica
left me hanging and some 'creative differences' with NBM (i.e: nonpayments), my books won't be edited in the US anymore either. And this conjunction made me lose my most important (and deared) target. I can hardly afford to keep up my work if I can't reach my English public. Without a physical edition, I reckon Patreon is my best shot at the digital market, and it would give me the opportunity to keep on working on the adventures of Yasmine, the sorcerer apprentice, Shaya and Lais, sellswords, Zoia, the barbarian, etc. I will upload the original series and will publish them on a monthly basis while drawing a couple new titles yearly.
The more patrons I get, the more often you'll get new stories.

What's new?
A lot of unpublished material (apart from my published comics in .pdf): sketches, step-by-step sheets, more than SIXTY Patreon exclusive illustrations, hand made bookmarkers, character sheets, commissions, you can even buy original pages…
Some comics have been partially redrawn or I may have added some extra pages to enhance its original edition, as you can see in the attached image.
Next to the original series, every six months, my patrons will get an
exclusive new story
. As I get more support, more releases will be added and further patron rewards will be unlocked.
I am currently working on new patron exclusive surprises, which will be released soon, so I am counting on you!

DISCLAIMER:
Everything in this Patreon is
NSFW
(duh!)
The comics are full colored.
ALL characters drawn are ADULTS,
that is to say they are all
at least 18 years old.
Well, except for the dogs, horses and the little birds in the trees. Those may be younger.
And if someone could give me some advice about a troll's lifespan, I would very much appreciate it. I don't want any surprises...
SPECIAL: LOYALTY
Every patron in the $5 tier or above for 8 consecutive months will get a
free
aditional story of his/her choosing on the 9th month. And every patron in the $1 or $2 tiers will get a free story of his/her choosing on the 12th month.
¡Hola gente!

Seguramente algunos ya me conozcáis, puesto que llevo publicando cómics eróticos desde 2001. Mis series son o han sido editadas en España (en la revista Eros como "Cuentos Medievales"), EEUU (como "Barbarian Chicks and Demons", en siete álbumes y en la revista "Sizzle"), Francia (cinco álbumes titulados "Orgies Barbares") y a partir de este año en Italia ("Orge Barbariche").
Se trata de historias eróticas de ambientación medieval fantástica con un toque de humor que parodian los tópicos de los cuentos de hadas, la espada y brujería o incluso las sagas épicas de Tolkien. Aunque casi todas son autoconclusivas, pueden leerse como parte de una saga más amplia en la que puntualmente la trayectoria de sus protagonistas puede entrelazarse… en los dos sentidos de la expresión. Actualmente hay dibujadas más de 475 páginas repartidas en más de cuarenta títulos, y la intención es seguir adelante. ¡Pero para esto último voy a necesitar vuestro apoyo!

¿Por qué?

Con el cierre de "Eros" en 2011, estas historias dejaron de publicarse en español y abandoné la serie. Y con el parón de Neurotica en 2017 y mis diferencias con NBM (derivadas del impago de sus compromisos) tampoco se editarán más tomos en EEUU. Esto último ha supuesto perder el mercado más importante, con lo que difícilmente compensa seguir realizando nuevas entregas si no pueden llegar al público de habla inglesa. Creo que sin edición impresa, Patreon es la mejor opción para poder ofrecer ese material remozado en formato digital, y para poder seguir dibujando nuevas aventuras de la aprendiz de hechicera Yasmine, las mercenarias Shaya y Lais, la bárbara Zoia, etc. Cada mes subiré una historia de la serie original y sólo dibujaré un par de títulos nuevos al año, pero si consigo suficientes suscriptores iré incrementando la frecuencia para daros más material totalmente inédito que añadir al que ya se ha publicado.

¿Y qué hay de nuevo?

Además de Pdf´s con mis cómics, encontraréis mucho material hasta ahora inédito: bocetos y vistas paso a paso del proceso de elaboración de una página, más de 60 ilustraciones exclusivas para el Patreon, marcapáginas eróticos a alta resolución, fichas de los personajes, venta de originales, acceso a la sección de encargos… Algunos cómics han sido parcialmente redibujados o se han añadido más páginas, mejorando las ediciones americana o española, como podéis ver en la imagen de la sección en inglés.
Cada seis meses podréis disfrutar de una historia totalmente nueva y dibujada para el Patreon, y si vuestro apoyo crece, la frecuencia de novedades será mayor y las recompensas más amplias.
Y pronto habrá algunas sorpresas más que seguimos preparando. ¡Así que cuento con vosotros!

IMPORTANTE:
Como ya habréis adivinado, todo este material es Para Adultos o, como dicen por ahí, NSFW.
Todos los cómics son en color.
Todos los personajes dibujados en esta serie son mayores de 18 años.
Bueno, excepto los perros, los caballos y los pajarillos del bosque.
Ah, y los lagartos pequeños ésos que salen en un fondo.
¿Y alguien puede aclararme cuál es la longevidad de un troll? No la vayamos a líar…
FIDELIZACIÓN:
Todos los mecenas de 5 dólares o más que mantengáis vuestro mecenazgo durante 8 meses sin interrupción tendréis derecho a una historieta gratis a elegir en el noveno mes. Y todos los mecenas de 1 o 2 dólares que mantengáis vuestro mecenazgo durante 12 meses sin interrupción tendréis derecho a una historia gratis a elegir al término de ese plazo.

$301.86 of $350
per month
A short story with our pretty conductor (Irina) "playing" with her magic crosier, avalaible for all patron!

Una historia corta, con nuestra bonita presentadora  (Irina) "jugando" con su báculo, y que estará disponible para todos los mecenas!
3 of 4
By becoming a patron, you'll instantly unlock access to 271 exclusive posts
By becoming a patron, you'll instantly unlock access to 271 exclusive posts
Recent posts by Erich Hartmann
How it works
Get started in 2 minutes