EssayBee
is creating original webcomics and print editions of the webcomics
Select a membership level
Savunn's Personal Thanks and Behind-the-Scenes Info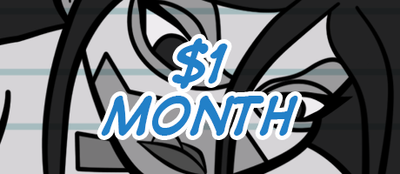 Personal thank you from Savunn as well as some behind-the-scenes pics, including pencils, in-progress pages, comic assets, etc.
Full Fusion digital comic issue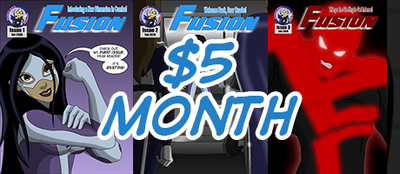 Full web-sized digital edition of Fusion comic (currently in print). Content includes all material in print editions, including front and back covers and "Savunn's Corner." Limited only to Fusion single issues currently in print (currently Issues #1-7), but this will increase as print issues increase. Limit 1 comic per month.
About
For those who aren't familiar with me (i.e., those who found this page by chance), I'm the creator of the on-going FREE webcomics Fusion (
fusion.thecomicseries.com
) and Dude in Distress (
dudeindistress.thecomicseries.com
). Fusion has updated at least once a week since its debut back in 2009 (at DrunkDuck). You can also see some of my other art at
http://essaybee.deviantart.com/
.
In addition to free webcomics, I also produce print copies with some exclusive bonus material available at
IndyPlanet.com
(direct link to the Essay Bee Comics publications is
http://www.indyplanet.us/brands/essaybeecomics
). Currently, only the first 7 issues of Fusion and the trade collection of Episode 1 of Dude in Distress are available in print format, but I expect to add several new print comics in 2018 including Issues 8 and 9 of Fusion, and the first trade paperback collection of Fusion (collecting the first story arc of "Welcome to My Life" in Issues 1-4, as well as bonus content exclusive to the trade collection). If things really get to crackin', I might even be able to get the trade collection of Episode 2 of Dude in Distress ready by the end of the year.
Your support here will not only help with production of Essay Bee Comics material, but it'll also be sure to thrill Savunn. Patrons will also have access to some exclusive behind-the-scenes material (with lots of exposition), and early peeks at material that'll eventually post to the webcomic sites.
By becoming a patron, you'll instantly unlock access to 25 exclusive posts
By becoming a patron, you'll instantly unlock access to 25 exclusive posts