Ethan Nicolle
is creating Axe Cop, Bearmageddon and More
Select a membership level
Read Ahead
Get next week's page this week (when available)
Other bonus posts
Be thanked in all future publications
High resolution, Low Prices
Sneak Peek at next week's Bearmageddon pages (when available)
Bonus content blogs featuring art no one else sees
Get anything I make FREE in digital format
Bearmageddon and Axe Cop pages in high res 300dpi PDF
Discounts on printed items
Get thanked in any book I publish
Free digital downloads of all my past work
Partner!
Any book I produce a physical version of you get at my cost, signed and sketched in for free.
Tutorials and videos about the creative process
FIRST LOOK at my newest publications, long before they see print.
Bearmageddon pages is high res 300 dpi PDF
Bearmageddon SUPER HIGH res 600 dpi PNG without word balloons
Access to ALL bonus content blogs weekly (3 to 5)
PLUS everything from the $2 level up
About Ethan Nicolle
"As a huge fan of Axe Cop and artist/storyteller myself I love seeing the progress of Axe Cop and the many other projects by Ethan Nicolle. It's also fantastic to be able to receive personal help from him, being experienced and successful, when I need advice myself at my beginning stages. Ethan is a good man through and through and goes above and beyond giving back."

-
Cameron Belt,
monthly subscriber
Upon joining you get emailed a zip file with  5 high resolution PDFs:
Bearmageddon Vol 1 (
HIGH RES, Full version w/bonus content)
THREE out of print Sketchbooks
(Vol 1, Vol 2, Ltd. Ed. 2013 Sketchbook)
The Weevil
(My first out of print graphic novel)
-Over 500 pages of content-


Ongoing Webcomic Membership Benefit
$2.00+
members get
Bearmageddon pages one week ahea
d of everyone else
$5.00+
members get 
300dpi resolution PDF of all new Axe Cop
and
Bearmageddon
pages
$10.00+
 members also get a
600 dpi SUPER high resolution version of each page
without word balloons
More
benefits listed below and on the sidebar including
 exclusive blogs, tutorials, live video feeds, early access to new store items, big discounts and more.Why Is Patreon the best way to support online artists?I define "making it" as being financially free to make what I want without using my talents to create things for other people or companies
. "Making it" is not being rich or famous, it is making a living doing what I love without the need to use my creative energy creating things my heart isn't in.
If you're here, chances are you know at least some of my work. I created the webcomic
Axe Cop
with my brother and worked on the
Axe Cop TV show
with Nick Offerman. Some would assume with the success of Axe Cop I would have already "made it", but it doesn't really work that way. I also write and draw the webcomic
Bearmageddon
and have been a writer and story editor at
Dreamworks Animation
. I also work on a ton of other things you have probably never seen that I want to share with you, and that is why I am on Patreon.
"I joined Ethan's Patreon to see behind the scenes and gain some insight into his process and he sure delivers! Ethan is nothing but generous when it comes sharing his thoughts, sketches and advice and he definitely goes above and beyond in engaging with his patrons and hooking them up with art surprises and discounts. As a creator who loves to see how the sausage is made, I highly recommend subscribing to Ethan's Patreon page."
-Wade Goyens, monthly subscriber
What is Patreon?
Patreon is a way for fans of artists to support their work and help them earn a living at doing what they love. The money goes directly from fan to artist without going through a publisher or distributor like Amazon, who takes a huge cut. Patrons pledge a certain amount per month to support my work. You can change the amount or stop pledging at any time.
What does your support provide to me?
I know it sounds weird for a guy like me who has had a viral webcomic and a TV show say he is trying to "make it", but I've learned that most of us are always trying to make it. Here is how it usually goes: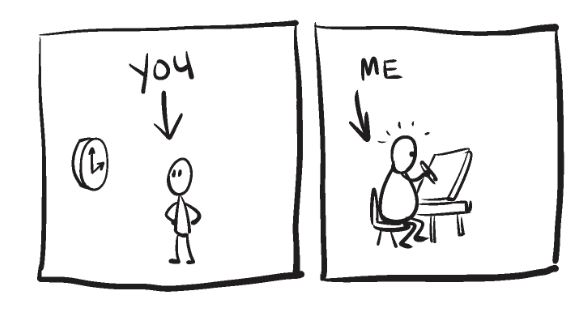 You wait while I spend the next year or two working on my next project. I do work for money, and in my spare time I work on the stuff I really love and that you want me to make.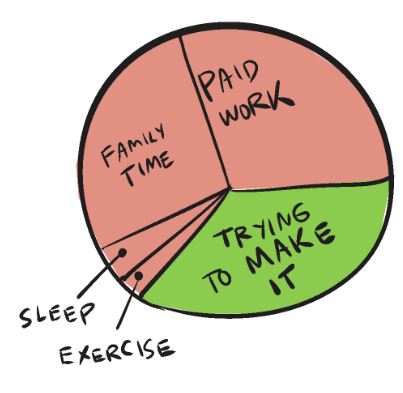 After all that time passes, I try to get a publisher. If that doesn't work I find my own distributor and pay for marketing and either way, when I finally get the book out to you, I make around $1 per book and the publishers and distributors and retailers get the rest.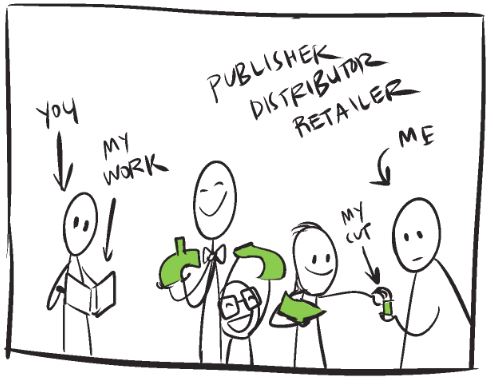 In this model, the only way to "make it" is to sell hundreds of thousands of books on a regular basis to make a good living. Still, you have to wait to get anything I make and most of the money you spend doesn't go in my pocket.
What if there is another way to make it? What if I cut out the publishers, distributors and retailers and go straight to you?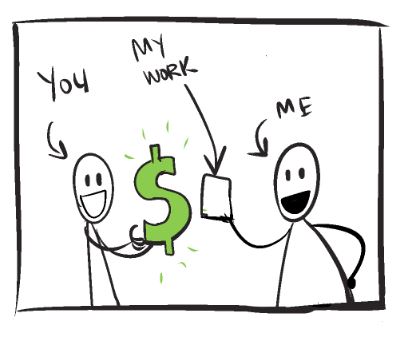 You may not be able to pay me a living wage, but if enough people support my work at $5, $10, $25 a month, it could easily happen.
You could completely free me of the need to spend my time trying to "make it" and instead spend my time making the best stuff I can! With no publisher and only an audience of one or two thousand supporters I could make it!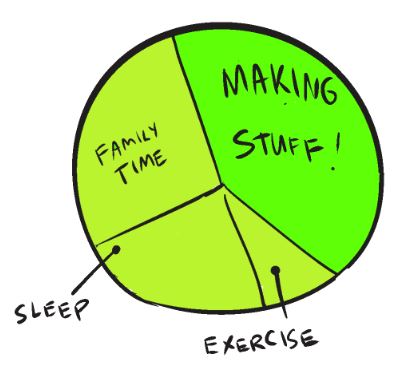 What do you get out of this?

Besides the satisfaction of knowing you're making dreams come true, my patrons will get;
FREE digital version of everything I make, ever
Early releases of everything I make
All printed items at my cost you pay what I pay to print books 
Signed and sketched in: every book I sell patrons will get a free sketch.
Free digital downloads of any book I have ever made
Tips and tutorials on art and writing
Exclusive first looks at projects I can't post publicly
Sketches and rare art
Live, interactive video streams in group and one on one
Commissions, sketches, custom avatars…
More! You could even be a character in every project I ever make.
See the
pledge options
with rewards for details'
As a member of my Patreon group, you can post to my wall, ask me questions and interact, getting the highest priority of my time over other fans of my work.
Some of the projects you would be supporting…

Axe Cop. Right now it doesn't make financial sense for me to make more Axe Cop, but Malachai and I have talked about doing more, and if enough backers supported it, we would do it.
Bearmageddon. With enough financial backing I could release Bearmageddon at a faster rate and make the whole thing free again. Right now you would be supporting 1 page per week, and Bearmageddon News Network Daily posts.
Rocket Monster Story Club: My new project where I interact with kids and tell their stories, encouraging creative interactions between kids and artists. Right now posts are roughly weekly but I am working on expanding this project to include other artist.
Children's Books. I'm working on new books for kids, and as a supporter you would be the first to read them. My newest book Ollie Possum will be sent out to my Patreon supporters upon completion, it is a full chapter book with 150 illustrations.
Time Wreckers. I am coordinating a project with the Make a Wish Foundation to gather artists to turn a young man's story into an illustrated novel. I also have written the book with him and am doing some of the art.
What if I stop making the thing you like most? It's up to you, you can stop pledging at any time.
I often get asked "how can I buy your products so that you get the biggest share of the profit"? Patreon is the answer. Ask yourself what it's worth to you to support my work per month? $5? $10? You can even pledge $1.

If you have any questions, feel free to ask me here or send an email to
[email protected]
I want to thank you for your time, and I'm excited to show you what I've been working on.
$372.51 of $500
per month
I'll take my 1.5 yr old daughter out for ice cream and film it so you can know you provided that joy to her. While she enjoys her ice cream I will share with you one of my old high school sketchbooks, which are ridiculous.
1 of 6
By becoming a patron, you'll instantly unlock access to 336 exclusive posts
By becoming a patron, you'll instantly unlock access to 336 exclusive posts
Recent posts by Ethan Nicolle
How it works
Get started in 2 minutes