Fleshcraft Studio
is creating 3d Printable Dark fantasy miniatures for your games
Select a membership level
Fleshling
Thank you for your support!
This tier gives access to:
Welcome package.
Discord community.
Patron-only posts.
MMF discounts.
Includes Discord benefits
Patron-only posts and messages
Disciple
Limited (0 remaining)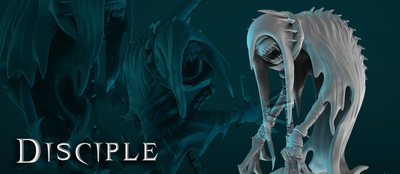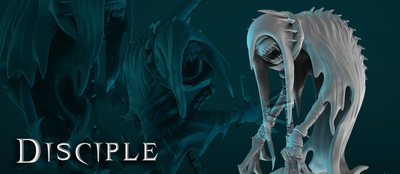 * Acolyte Early Bird - First 100

Thank you for the loyal support!
This Tier receives everything from the Acolyte Tier, but at a slightly better price.
Includes Discord benefits
Patron-only posts and messages
Acolyte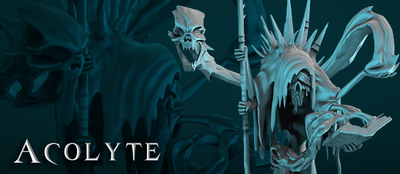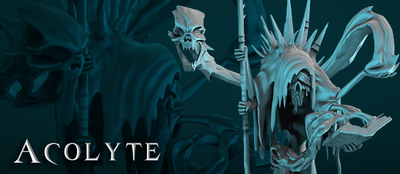 Thank you for your support! You are the best!
This tier gives access to:
Monthly release set of STL files containing:

A unit of miniatures consisting of 3-10 models (depending on the theme)
1 Special Character miniature
Custom bases with all miniatures
Goal rewards

Welcome package.
Discord community.
Patron-only posts.
40 % MMF discounts.
Includes Discord benefits
Patron-only posts and messages
About Fleshcraft Studio
Greetings Friend!
I am Frederik Nielsen, owner of Fleshcraft Studio, Sculptor, and Character Designer. 
Here I sculpt distinctive 3D printable monsters and creatures with love and passion, which can be used for your favorite tabletop games or DnD campaigns. I love Storytelling and tend to get carried away with creating a purpose and background for every character, and the goal is to forge a universe that will expand every month with each character, with bits of lore here and there.
There are many plans for this Patreon, but one step at a time. Your support is very important, and each subscription is a big leap towards bringing these plans to fruition. 
Become a Patron now and be a part of a fast-expanding community and universe!
You will also get access to the Welcome Package, an ever-expanding package that is filled with stuff to improve your base customization or your characters!
Want to see my previous work? head over to my store at MMF:
Spawns of the Great Rot - Chapter 1

The welcome package (Coming soon)
is going to be quite dynamic, and I wanted to make a package that can be used for all future models. The package will contain parts that will complement your other model's bases, such as:
A bunch of Standalone weapons and tools, both whole and broken.
Victims both barely alive and dead.
Magical Energies, like fireballs.
Damned souls flying around.
An unlucky soldier, being at the wrong place at the wrong time.
Broken foliage, rocks, trees etc. 
Gravestones.
Skulls, so. many. skulls. 
oh and bones, yes many bones.
When we hit the Patron goal, all of these parts from the Welcome package will come
presupported
as well. 
The Monthly release package
will start off with a pack of infantry units and a hero model and will increase with
patron goals.

The package 
contains the following:
Infantry unit - this can be any amount from 3-10 models, depending on the theme.
Hero model - A single unique model, thematically fitting the infantry unit.
Creature Model (Patron Goal) - This can be anything from a hero to a monster, that will fit the monthly theme.
Special Units (Patron Goal) - This unit can also vary from a hero to a monster, to a small squad of special units, and will also fit the monthly theme.
March month release!

Next month release will contain the following model (names are subject to change):
10x Ghulings, 
Ravenous, soulless ghouls looking for their next meal
1x Ghuling Brute,
an alpha Ghuling that leads the other Ghulings to their next feast.
Q - "So what will I get for subscribing to you this month (February)?" 
A - If you subscribe in February, you won't be charged until the first of March, and you will receive the exclusive Grimgeist miniature and 2 bonus models (also presupported) from my Spawns of the Great Rot Campaign at the beginning of March, which is:


Lady Carnicia Severin

You will also receive a 60% discount (Normally it will be at 40% for Patrons) code as a thank you for subscribing in February, which will last the whole month in March. 


Visit my shop over at:
MMF
Contact me at:
Facebook
Instagram

Rules, Terms and Conditions
All files and links we share with our Supporters are meant for you as Patron and no one else. By downloading content made by us (Stl, shared links), you accept this Agreement and agree to be bound by its provisions. If you do not accept or agree with these terms, do not download the content we provide:


All copyrights of the materials on this page belong to Fleshcraft Studio.
Fleshcraft Studio grants you a non-transferable, non-exclusive license to use the files.
You may use the content provided by Fleshcraft Studio (STL files and links) for personal use ONLY, and are not allowed to distribute or sell digital files nor physical copies.
You may cut, resize and edit my 3D STL files as long as it still stays for personal use, changing the models in any shape or form doesn't allow you to sell them as your own content.
Mass production in any shape or form is strictly prohibited.  
You can take photos and include our models in videos and live streams as long as you provide appropriate attribution (tags and links).
All copyrights belong to Fleshcraft Studio, no rights are assigned or transferred to the end-user. Fleshcraft Studio Designs are protected by intellectual property laws. 
All of the previous points apply for the Merchant Tier as well, with the exception that they have the ability to sell physical copies of my STL files, as long as they remain in that Tier. Even in this case, that rule still applies: you can't use our files and models for Kickstarter, Patreon, any other crowdfunding projects or make casts/molds, selling them in boardgame boxes or similar.

Fleshcraft Studio is a one-man army, doing whatever in its power to deliver the best experience for you, without your support, this is not possible. 

Thank you for visiting my humble site,
Fleshcraft Studio, Frederik Nielsen


©2021 Fleshcraft Studio. All Rights Reserved.
250 Patrons!

Now I will add an extra special Creature/monster/hero
-miniature to the Monthly miniature release.
It will be in the same theme as the other miniatures.
3 of 6
Become a patron to
Connect via private message
Recent posts by Fleshcraft Studio
How it works
Get started in 2 minutes