The ForceCast
is creating Podcasts, Videos, Livestreams, Premium Bonus Content
Select a membership level
Join The Force!
Thank you!  By Joining The Force in this first tier, you get to be part of this community and keep up to date by seeing the posts on here, as well as have the chance to buy exclusive merchandise at a discount rate.
Feel The Force!
You've taken your first step into larger world. In this tier, you'll get access to exclusive bonus content. Every week, you'll get Force Chat, our weekly bonus podcast where we can discuss anything! We could go in depth on a topic from the weekly show, talk pop culture, family, and much more! 
You'll also get access to any bonus videos, livestreams, or call in shows we have! 
You'll also get a ForceCast sticker for signing up!
Use The Force!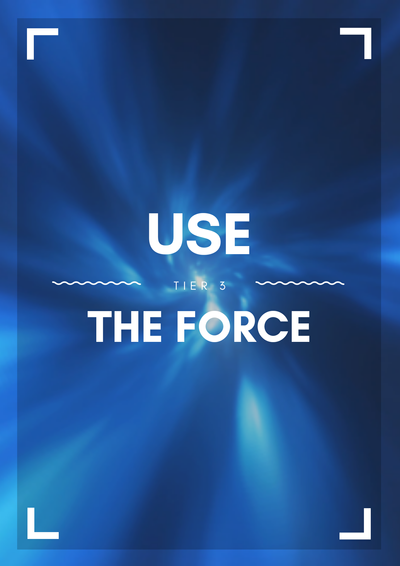 Everything from the previous tiers.
In this tier, you'll get access to our monthly bonus commentaries. We will be recording a commentary track every month for each Star Wars film, Mortis, Ewok Movies, and more!
You'll also get to sit in on Google Hangouts with us every so often where we can all sit back and chat about whatever you'd like!
About
We are so glad you've decided to Join The Force!

Back in September of 2017, Ryan and Daniel revived the ForceCast and brought it back to a fun community of Star Wars fans. 

Since then, the guys have talked to the biggest names in Star Wars, such as: Diego Luna, Frank Oz, Freddie Prinze Jr., Taylor Gray, Sam Witwer, Ashley Eckstein, Cat Taber, James Arnold Taylor, Vanessa Marshall, Paul Reubens, Henry Gilroy, Kevin Kiner, Greg Grunberg, Katee Sackhoff, Janina Gavankar, Timothy Zahn, Claudia Gray, and more!

But most importantly, they've spoken to YOU! The ForceCast has proudly played voicemails from over 200 different listeners in the year and a half since taking over the show, and it is because of that--that the guys want to start Join The Force!

Whether it be the Facebook Group, or the 100 folks who showed up to our live show in Chicago, or even just the people who tune in silently every week, this show is about the community. And this is our way to offer premium content to this community.

So why are we doing this?

Simple: after Star Wars Celebration, we realized this community has grown bigger than we can ever have imagined. It is filled with the most passionate, kind-hearted Star Wars fans who have made doing this show worth it. 

This is our way of offering you guys more content for a cheap price. It also allows us to go all-in on travel, equipment, and to bring you more coverage at events like Celebrations, Cons, Disney Parks, and events out west. We want to provide you with coverage like we did in Chicago, and this way we can all do it together--and you get awesome content in return.

Below, you can see the different tiers of content. Choose which one works best for you and your family. And thanks for Joining The Force!


As soon as we hit 100 patrons, we will send ALL members of the Force a custom t-shirt! 
1 of 1
Become a patron to
Unlock 104 exclusive posts
Connect via private message
Recent posts by The ForceCast