FRANK Powers
is creating The Comic Bookmobile - Frankenjoel Flims - THTtv - PMA streams
Select a membership level
Best Frienzy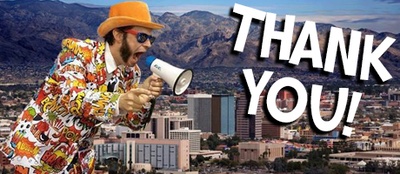 Unlock the fun of my Patreon and become one of my crazy friends!
Every monetary tier includes all previous tiers.
Thanks for the help. I won't let ya down.
VOTE on Radio Show Polls
I'm rocking on the radio weekly with my friend Natalia and we need themes for every show. Vote in these HOLY HELLarity Polls as well as other random silly polls.
#TootTootYOURNAMEHERE
Your BfF will tweet, post, & tag your  generousnessness...ness  all over my social media in addition to shouting your name in my yard so loudly, your ears may bleed. Sorry.
About
Well, Hello.
My name is Frank Powers and I'm your Best FRANK Forever!
I'm sort of this living cartoon character and I'm making the world a mental healthier place through comics, cartooning, and laughter... The BEST medicine.
I've integrated the links to my universe in the story below. Enjoy the clicks!
I created The Comic Bookmobile!
It's parked for now but I have taken my classes online. I teach kids about cartoons, comics, and how to create stories with sequential art.
The KOLD NEWS
noticed, and I was on TV:
Taking A Stand Against Bullying
Plus,
The Arizona Daily Star:
#ThisIsTucson - Meet Buster, The Comic Bookmobile!
I believe in my Small BUSiness...
www.TheComicBookmobile.com
(I'm very proud of my website.)
Share my site and help me teach kids how to draw comics online.
**************************************
So You're here on Patreon!
Ya made it! Welcome.
That means you look for creative places to spend your time and money and I am a creation station. I am delivering weekly content on a pretty good schedule as well as monthly exclusives.
Scheduled Posts:
Holidays:
FrankenJoel Flims
- Watch the EXTRA Specials of Scrooge & Cratchit Every Holiday in 2020! We're on a roll so far. BAH! Watch 'em!
Fridays:
Laughter Hours with Frank Powers -
Live streaming about goals, positivity, and life lessons as I chase my dreams in the art world and the entertainment business.
Usually it is LIVE during a radio show, but until I'm back at the station, I'm stuck at home but don't worry... I have a giant green screen!
Saturdays:
Tucson Helping Tucson: THTtv Telethon
- Producing & hosting a weekly telethon that is raising money for small businesses and giving artists a chance to get paid gigs during the pandemic. Tune in on facebook at
7ish pm (MST)

TucsonHelpingTucson FB Group
for streaming details.
Random Posts:
Instagram:
Follow
@Frankenstylin
&
@TheComicBookmobile
. I make plenty of vids on location from fun events I host as well as share toys and art.
I'm a Cartoonist:
The inclusion of art and design exclusives with new graphic designs and classic
Pissed OFF Panda
comics.
I'm a Podcaster:
Wait, What Media
is a great group I'm a part of and we created a weekly podcast until the health crisis hit us. We are restructuring a new weekly event for me right now, but the gang is still making killer content for gamers, nerds, and even Tucson locals.

Let me entertain you. I believe I'm a good investment...
I volunteer a lot and I won't let ya down. I believe in my reputation and my fierce goals to be a positive inspiration to kids of the world.
Support me. Please.
You'll never regret it because I'll never forget it.
Toot Toot,
Frank Powers
100 TIMES VIDEO!
When I hit $100 a month, I will make a wacky video where I do something ridiculous 100 times. We'll create a poll and figure out what ridiculous thing that is.
Also EVERY PATRON will get Mystery Mail prizes that month *or a BONUS Mystery Mail if they are that tier or above.  


1 of 1
Become a patron to
Connect via private message
Recent posts by FRANK Powers