FutadomWorld the Game - Binding Sim
is creating Adult Games
Select a membership level
Bound Male
Bound Male:


You have access to the patron-only feed where a
progress post
is released every 30 days, usually at the end of each month.
Boy Toy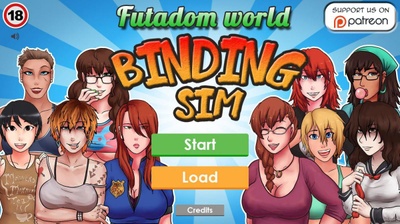 Access to patron-only feed with monthly progress posts
Access to alpha builds
(backer-only versions weeks before they go public)
About
Futadom World - Binding Sim
A futanari dating game


Futadom World – Binding Sim
is a 
dating simulator game
in a futanari world.

A brave new world

Imagine a world where your landlord is a futa, your pharmacist is a futa, your teacher is a futa, your gym coach is a futa, your hairdresser is a futa...
What kind of game is it exactly?
Futadom World – Binding Sim is a cross between a dating sim and a more open-world, sandbox experience. If you're familiar with the flash games Sim Girl or Ganguro Girls, you're on the right track.

But our game is a bit different. Males are the fairer sex in the Futadom World, and your goal is to choose a character among many, and seduce them...before someone else decides you might be better as a slave.

You are a male citizen of the Empire, and as such, you're oppressed and objectified at every turn. It's time for you to hurry up and find love...or something close to it.

To do so, you'll have to study up, get toned at the gym, dress well, work, earn money, develop your sexual skills, and, of course, actually talk to your futa crush.  
The story - A strange new age

The story is based on the FutadomWorld universe.
To those unfamiliar with FutadomWorld and the works of 4chan's /d/, FutadomWorld is a collaborative writing universe inspired by
this caption
. In brief, FutadomWorld is an alternate history in which a third gender arose and rapidly seized power.
Key to futa supremacy is a quirk of their physiology—their addictive semen. When exposed, males rapidly begin a spiral of emotional and physical dependency upon their futa "feeder". What's more, exposure strongly affects intelligence—a male "bound" to a futa in this way is suited for little more than a life of sexual servitude.
This universe has spawned, to date,
more than a thousand additional captions
, an
erotic novella
, and now, our game.
Come with us into this world created just for you.
The final product
It's been about four years now since we started working on the game. The very first releases will be quite light compared to what we are aiming at. In the final product, we plan to have more than ten futa heroines you can interact with, all with very different styles and personality, branching quests, random events, bad ends to avoid, and tons of twisted situations to go through.

About us

We are a team of porn-enthusiasts who came together to make a game we were passionate about.  
Sacha J. Witt

:
An erotica author, programmer, and very selfless lover. Sacha's previous works include
A Gift To The Sea
,
Dicks up for Harambae
, and, of course,
Honeymoon
.
Project lead and writer. 
Xalimata:
The original creator of Futadomworld:
https://www.reddit.com/r/Futadomworld/
.
The setting of the game is based on his original work.
Writer. 
Bert:
Lead programmer. It turns out Bert was capable of porting the entirety of FutaDomWorld from the original codebase (in GameMaker Swahili) to the current engine (Ren'Py) in under three months. We hired him on the spot. 
xxxx52:
A talented graphic artist. You can see most of his work on his 
hentai foundry profile
and his 
tumblr
, and he has a standalone 
patreon page
. He is our character design artist, and he makes at least two-thirds of the art in this game.


As the game and some material we give as a reward are for adults only, you must be 18 or older to pledge. Please do not be two kids in a trenchcoat.

Fool us once...
FOCUS ON PROJECT FULL TIME:
We all have lives and jobs. Honestly, this amount split between four people isn't quite enough to make all of us quit those jobs...but at least some of us will be able to work on FDW full time.
4 of 4
By becoming a patron, you'll instantly unlock access to 155 exclusive posts
By becoming a patron, you'll instantly unlock access to 155 exclusive posts
Recent posts by FutadomWorld the Game - Binding Sim