Gabriel Cardinal
is creating Freaky Fish, Kissable Creatures, & Monsters in the Dark
Select a membership level
Beast Buds
• Early access to All Designs & Worldbuilding Posts before posting on main sites
• Early access to commission information before commissions open
• My Gratitude, Dopamine Extracted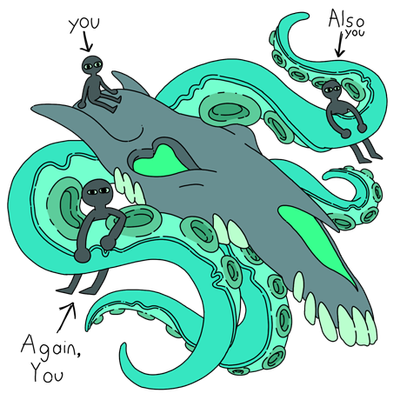 MonsterMates
• All Previous Rewards
• You can send any creature/character prompts over to me in a monthly prompt thread I'll post. I'll pick a couple of prompts from that thread every month.
Feral Friends
 • 10% Off commission Slots  (Outside the $20 Tier)
 •  All Previous Rewards
About Gabriel Cardinal
Hi, My name is Gabriel Cardinal, known as CrabdominalPain and I'm a
Character/Creature/ Designer! 
I love Deep Sea Sisters, Body horror, Micro-Worldbuilding,& Monster Designs. I've graduated in a Degree of Game Art & Design. I Love Crusteaceans, baby!
This Patreon is to alleviate and support me in my Freelance career, and to ensure I can continue to Birth Beasts and Manifest Monsters into the ether.
In addition, I wanna start using this as a World Building tool, & making ideas more coherent, seeing as I tend to write narrative ideas in vague poetics and cryptic citations. Some Worlds I want to build off of:
-We are the Harvest- Farmland of the bizarre, New gods are born, monsters roam freely, and heretics find sanctuary. If you're not a Guest, stay off the Farmers Property.
-My Senpai's a Flesh Construct?!- a Monster dating universe filled with experimental beings, cosmic horror, and coffee dates!
Bonus stuff I'm hoping to do if this kicks off with more peeps.

Audience Opinion- Asking YOU on how I can make a Design Better/Worse

Character/Creature Concept Work: Getting into the nitty & gritty of designing these beasts.

Creature Critiques- In addition to offering advice on art, if you send a creature/character design, I'll send back some constructive criticisms. 

Creature Commissions- at a certain pier you get the option for a monthly, simple, Black & White Commission to design a creature Idea!

Thank you so much for Your Support. It means A lot!
Stress Relieving &Seaside Streaming
In addition to have a bit of grocery money a month I'll start streaming on Twitch or Picarto!
I'll also introduce another reward tier.

1 of 3
Recent posts by Gabriel Cardinal