Gary Michuta
is creating Apologetics research and analysis
Select a membership level
LEVEL 3 Support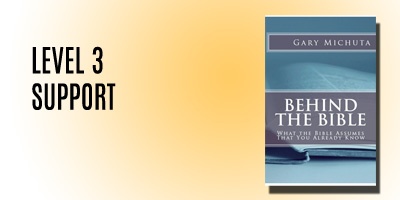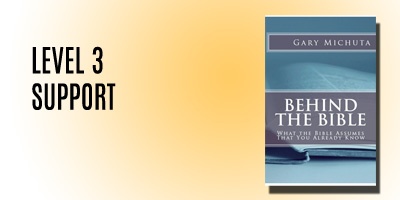 Early Access to upcoming videos and my personally selected favorite Hands On Apologetics interview for the week.
Sneak Peeks and Announcements of new upcoming material on the canon and other topics.
Invitations to LIVE presentations on vital issues on the OT canon and other topics.
FREE ebook version of "Behind the Bible: What the Bibles Assumes You Already Know."
LEVEL 2 Support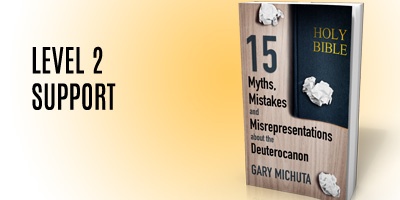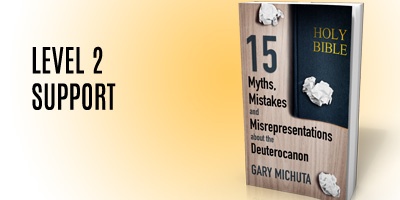 ALL the benefits of DEFCON 1 tier plus...
FREE ebook version of "15 Myths, Mistakes, and Misrepresentations about the Deuterocanon"
TWITTER FOLLOW and Shout out!
SPECIAL ACCESS to in-depth analysis videos and responses to your thoughts in the comment sections.
LEVEL 1 SUPPORT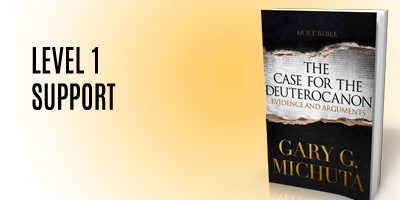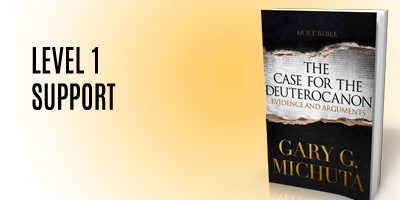 ALL the benefits given to DEFCON 3 and 2 supporters plus...
FREEebook version of "The Case for the Deuterocanon: Evidence and Arguments."
Priority Suggestions of topics for videos.
About Gary Michuta
I need you to help start the "Apocrypha Apocalypse." Protestants reject 7 OT books that are found in Catholic and Orthodox bibles because they believe them to be "apocrypha" that is human writings no different than any other. What they don't realize is that these books were always part of the historic Christian Bible and that they are nothing less than the inspired word of God, capable of confirming doctrine. This is where the "apocalypse" comes in. "Apocalypse" means revealing or unveiling. In other words, it needs to be revealed to our brothers and sisters that these books are truly the word of God that has been discarded by their Protestant fore-bearers.
For years, I've been on the forefront of research, publishing books like Why Catholic Bibles Are Bigger, The Case for the Deuterocanon and 15 Myths, Mistakes, and Misrepresentations about the Deuterocanon to help discover those lost books of the Protestant Bible. However, we will not really help those who need it unless we take the next step by presenting the argumentation for the full OT canon using media that is easily accessible to all. To do this, I need your help.
Through the course of years, I have uncovered information vital to this discussion. Much of it is in print - and I've receive dozens of emails over the years from Protestants rediscovering what the Reformers had rejected - but a lot of information still needs to be made public. My hope is - with your help - to be able to ignite a real discussion about these books among our separated brethren. To do this I hope to produce:
Videos on my "Apocrypha Apocalypse" YouTube channel that lays out the case for the Deuterocanon in short versions and longer in-depth formats, as well as critiques of popular videos and websites that argue against the Deuterocanon .
To produce and make available for free PDF articles debunking some of the most influential books, articles, and websites that claim the Deuterocanon is Apocrypha. Along with sharing with you my own findings and analysis of the canonical issue.
a professional self-published book targeted for non-Catholic academics. The manuscript is already written and it tackles hot button issues with such things as Josephus and the canon, Athanasius, the Cessation of Prophecy theory, and others on a more academic level. Since the scope and audience of this book is so narrow (Protestant academics on the OT canon), few publishers will be interested in printing it. However, putting material like this in the hands of academics is essential to sparking a substantive discussion and God willing opening peoples' minds about these books.
BUT IN ORDER TO DO THIS I NEED YOUR HELP!

I hope you'll consider becoming a patron and help me help others embrace God's word in its fullness as well as Christ's fullness in his Church.
Thank you for your consideration.
Become a patron to
Unlock 65 exclusive posts
Connect via private message
Recent posts by Gary Michuta
How it works
Get started in 2 minutes