Geoffro / Hex3D
Creating Premium quality models for 3D Printing
Tiers
The Standard Package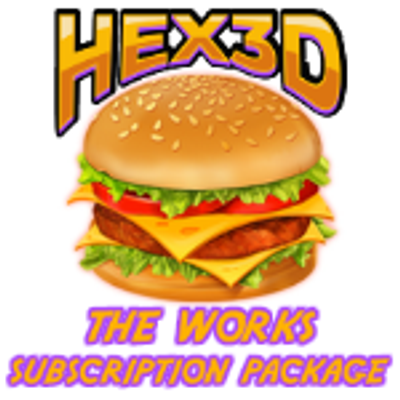 Welcome to the largest, longest running and one of the friendliest 3D printing patreons! One tier for $10 U.S per month, for everyone.
FDM and SLA print Friendly! We cater for all types of machines! All patrons are permitted to sell printed items with no royalties or restrictions (all sales are the sellers responsibility of course)
Each month we release 10-20 models, some of which are very detailed, multi-part models. From movie props, to articulated models, to busts… figures.. (yes this is where you get baby yoda mashups!) but also  with a strong emphasis on easy print, original physical 3D printed items you can sell at stalls, Etsy, ebay wherever. We also allow casting of any models for molds in resin, silver its up to you.
The models are exclusive to this patron. We do not sell them on other platforms. We do not have any special 'merchant tier' or make you purchase a 'commercial license' to 'allow' you to sell prints, nor is there any "50% off on our store if you join this tier" etc etc. We keep it pretty simple simon.
You sign up here, there is one button, you hit it… and you're done!  We don't bother with all the hoopla because we like to focus on you, the patrons! When you sign up today.. you better fire up your printer… You get the current months models + the month before  + the month before that... (phew…ok, take a breath…) now you're back with us.. +   you also get  instant access to a huge starter pack of 45+ models (the starter pack is always growing and changing too..) . So upon subscribing,  you have over 100 prints immediately.  
Otherwise what are you waiting for, click that Subscribe button !!
Subscriber Benefits
Besides all the cool stuff mentioned above, if you stay subscribed, at the START of your third month, you will gain access to the previous 6 years of releases (yes… all of them, and it's a lot!) So for example, if you join any time during September, you will gain access to all previous models at the start of November. So no, you do not wait months to gain access to everything, but staying subscribed for even a short period has it's benefits as you can see! We have a dedicated Facebook group of over 28,000 people, all 3D printing nuts just like you and me,  which is where we announce most releases and talk to members. We have a massive community with an amazing bunch of like-minded makers you are sure to get along with.
https://www.facebook.com/groups/333491834120262
General Terms and Conditions:
By subscribing you agree to these terms:
Members are NOT permitted to share or re-sell the models/files obtained from this patreon, doing so will most likely lead to a suspension of your store on its respective platform and permanent ban from the patreon.
SELLING PRINTED ITEMS: We do not place any restrictions on active users selling printed items, whatever comes out of your printer is yours to do with as you wish - This is with the understanding that the sales of any printed items are ultimately your responsibility.
UNSUBSCRIBING: When you unsubscribe from this patreon service, you will no longer be eligible for models, model updates or modifications or customer support services. We can only provide resources to support active patrons.
Only active members are permitted to use any logos or renders obtained from here, if you do unsubscribe you will need to remove any relevant sales listings.
Any models representing fictional or real life characters is purely coincidental. Any portraits of existing characters are classed as transformative fan-art and are ultimately the printed-item sellers responsibility.