Ghost Crusaders
is creating paranormal web series
Select a membership level
Pledge $2 or more per month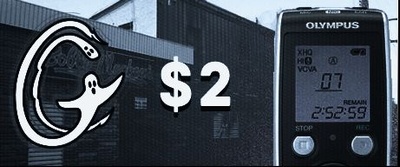 Access to monthly update posts on Patreon of what we're currently working on. We're always working on gaining access to locations for new investigations. With this $2 dollar pledge you will be updated on locations we have currently booked and upcoming ones we have planned. 
Pledge $5 or more per month
Access to what's in the $2 donation, plus posts on Patreon of behind the scenes photos,videos; outtake videos (jokes we play on each other) from our various investigations both current and old. Plus exclusive videos  from whatever locations we're currently investigating, as well as photos we wont post anywhere else.
Associate Producer
Access to what's in the $2, and $5, plus an Associate Producer Credit at the end credits of each episode. (starts the moment you subscribe!)

About
Hey guys! Firstly, thank you very much for checking out my Patreon page. Allow me to introduce myself in case people stumble on this page randomly. My name is Jonathan Young and I'm a part-time paranormal investigator who has been fascinated with the paranormal ever since I had my own personal experience when I was a kid. In 2014 I decided that I would make it my mission to prove to the world (and myself) that spirits/ghosts are real.

I want to present real authentic evidence, raw and also present it as part of a monthly online series (10 episodes per season). I don't expect or assume anyone will contribute any more to our crazy projects than simply watching our videos. We will appreciate that by itself. But if you feel like contributing more, it'll all go into new equipment, hiring talented crew members, deposits on locations, travel and also creating more content for you guys.

I do not expect anyone to honestly pledge an insane amount which is why I kept my tier's relatively low. There are better things you should be spending your money on. Anything you contribute will be greatly appreciated and even if you don't please check out our videos.


By becoming a patron, you'll instantly unlock access to 18 exclusive posts
By becoming a patron, you'll instantly unlock access to 18 exclusive posts
Recent posts by Ghost Crusaders