Gina Labrecque
is creating Spirit~Myth~Fantasy Art
Select a membership level
Hangry Goat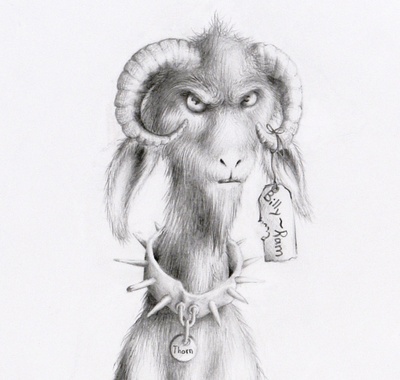 "Don't let Billy-Ram Thorn go hungry!   You wouldn't like him when he's hangry..."
Fantasy
Entrance tier reward:
Gain access to the Patron's-only feed where the artist shares Patreon-exclusive sneak-peeks, artsy extras and updates.
View monthly Report of Current Projects with one progress picture per project.
Access artist's Sketchbook - 1 page per month.
Participate in patron-only voting.
Koi Fish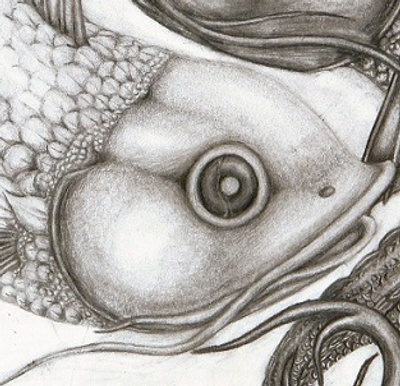 "The fresh waters contained more grace, power and wisdom than anyone imagined possible.  Keep swimming upstream little dragon."
Myth
Basic tier reward:
Your Patreon name listed in the credits of completed works!  Thank you! 
Unlock access to Early Releases - be the first to see completed works!
Upgraded monthly Report of Current Projects - view up to 3 progress shots of all active projects throughout the month.
Upgraded access to artist's Sketchbook - view up to 3 pages of sketches per month.
Includes all benefits of Hangry Goat tier:  patron-only feed, patron-only voting
Nightmare Owl
"Their eyes traveled deep, but were not piercing.  Seeing was knowing, hearing and feeling."
Astral
Mid tier reward:
Unlock access to artist's Dream Record - includes drawings, interpretation of dream symbols and their messages in relation to waking life.  Sometimes there are links to dream-related materials outside of Patreon.
Unlock Challenge and Triumph in the Studio  - once a month the artist shares personal wins and struggles in the studio... or rather, at the kitchen table, couch and backyard, wherever it's been quiet enough to work.  *These may transition into video format when the studio becomes accessible.
Unlock full access to Report of Current Projects - view all progress shots of active projects as they become available throughout the month. 
Unlock full access to artist's Sketchbook - see every page as it's released. 
Includes all benefits of Koi Fish and Hangry Goat tiers: Recognition in the credits of completed works, access to Early Releases, patron-only feed, patron-only voting 
About
About Gina


Hello!

If you're reading this, I want to give my sincerest thanks for your support and interest in my art and writing.
One of the greatest experiences I've had as a creator is seeing how others respond to and relate with my work.  Art and storytelling have a profound way of connecting people, helping us understand complex aspects of ourselves, each other, and this vast reality we find ourselves in.
I'm excited to share my unique per(speck)tive in the universe with you!
My focus is on
Spiritual, Mythological and Fantasy
subjects.  All of these interconnect to what I view as the most fascinating realm of the human experience, a realm of dreams and stories, and of the supernatural. Here, we speak a language of symbolism and emotion to express the deepest parts of our nature, and explore the greatest mysteries of our reality.
I immerse myself in this language everyday. 
I'm a self-taught artist
and I've found that the most effective way to develop my skills is to focus on the heart of my work - the meaning and wonder.
Why I need your Help

Your support through Patreon will allow me to create full-time as an artist and focus on projects we are excited to see completed like my
Shibui Zodiac
series or my first acrylic painting,
Sakura Pearl and the Nightmare Owls
instead of taking on commissions or working outside of art.
Your subscription will help me support myself as an independent artist and gain access to better equipment.
I have some really incredible supporters outside of Patreon - seriously, without them I wouldn't have gotten this far.  I can just imagine what amazing things can become a reality with your help, too.
LASTLY, what is Patreon and how does it benefit You?


Patreon is here to provide a secure and simple platform for patrons to support their favorite artists.  In return, patrons receive access to exclusive content and rewards or even the privilege to vote with fellow patrons on the projects a creator will work on.
Subscribers to my Patreon are billed monthly.
"Raven Steals the Sun"

*Patrons who subscribed early to my Hangry Goat tier were rewarded an Early-bird Patronage mobile wallpaper!  Future rewards to come.
I will start making progress videos and may do live streams of my work for my patrons!  I will also create a video introduction for my Patreon page.

1 of 1
By becoming a patron, you'll instantly unlock access to 91 exclusive posts
By becoming a patron, you'll instantly unlock access to 91 exclusive posts
Recent posts by Gina Labrecque