Gospelman Ministries
Creating Christian Comic Books, Children's Ministry Events
Select a membership level
You Get Patreon Exclusives!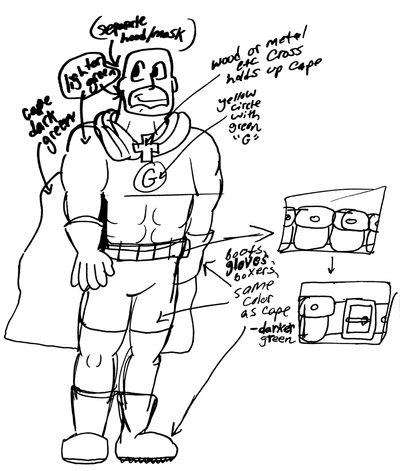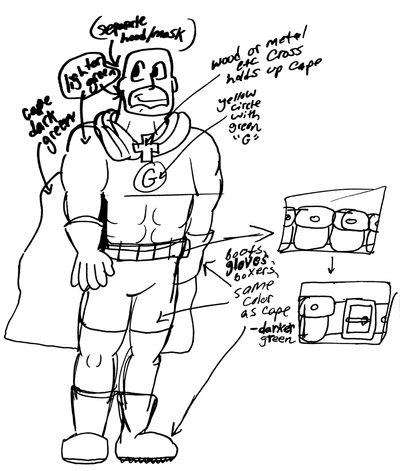 Not only will you get to continue reading the FREE Gospelman Ministries webcomics that everyone has access to, but you'll also get
access to our patron-only feed
of blogs, polls, sketches and behind-the-scenes material, desktop backgrounds, Bible studies, other extras we may whip up, AND my endless appreciation for helping this Christian comic series to continue! That's:
Patreon Exclusive Content
You're in the Credits! Plus One E-book!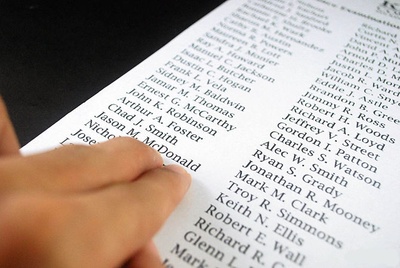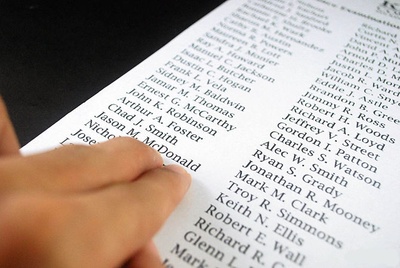 Not only do you get Patreon Exclusive content, but as a huge thank you for allowing the Lord to use you to help support our entertainment ministry,
your name will be included in the credits
of the printed and digital PDF download books, plus all previous rewards. And please don't forget to give us the name that you'd like to use in the credits. You may use your own name, an alias or nickname or username, or the name of a pet or loved one, etc.
PLUS! You also get a digital
PDF or E-book download
of any one of our Christian comics!
That's a digital book you can copy and share an unlimited amount of times! At the moment, I only have the already free series preview, but hang on for Gospelman Adventures issue #1 and more! I will email this to you. That's:
Patreon Exclusive Content
Your Name in the Credits!
A Digital PDF E-Book!
You Get All E-Books!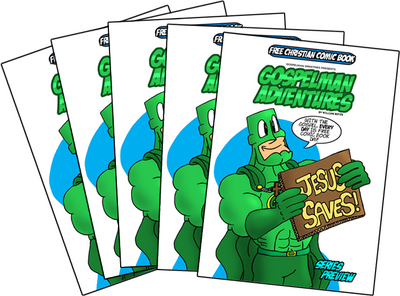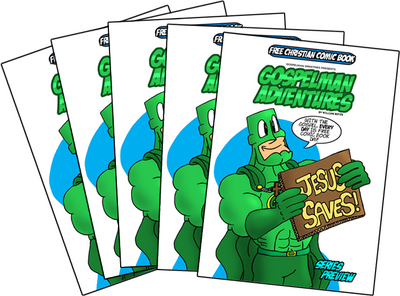 Not only do you get Patreon Exclusive content and all previous rewards, but as a thank you for helping us fund the book's production and printing, you will also get ALL of our Christian E-books! That means that you will get a digital copy of EVERY book we will EVER produce! Each new E-book or PDF download will be released on the Patreon account as a post and will be easily found under the tag
"E-books."
That's:
Patreon Exclusive Content
Your Name in the Credits
All Digital PDFs or E-Books!
About Gospelman Ministries
Hello, and welcome to cartoonist Will Boyer's Gospelman Ministries Patreon account!
ABOUT GOSPELMAN MINISTRIES
Gospelman Ministries is Will Boyer's attempt at simultaneously entertaining and ministering to kids and adults through entertainment media that has been, for the most part, lacking in Christian alternatives. First and foremost, Will Boyer is creating Christian comic strips, books, and graphic novels, but also has future plans for children's costume ministry, radio/podcast dramas, as well as video games and animations. He would love to see more entertainment options available to Christians that will build them up in their faith, promote and encourage Christ-like behavior, help them better understand their Christian beliefs and why they believe them, etc, and otherwise be entertained without being stained by the world (James 1:27). He is asking for monthly support, similar to as you would support a missionary.
Or To Make A One-Time Donation:

ABOUT THE COMICS

Gospelman Ministries Comic Webstore
GOSPELMAN AND GOSPELMAN ADVENTURES -

Gospelman is a FREE TO READ Christian comic strip and comic book series starring a campy superhero who's never-ending mission is to spread the good news of Jesus Christ. After losing his sister Rachel in a tragic car wreck, Ted Silverman must adopt and raise his nephew Cody Silverman. Through a series of events set up by Divine Appointment, Ted comes to faith in Jesus Christ and devotes his life to serving Him. He is a Children's Church minister and VBS worker who takes up the mantle of Gospelman to entertain and minister to children. However, after an unexpected house fire rescue while in costume, Ted is shaken to his core. Realizing the stark and terrifying reality of every man, woman, and child's eternal destiny without Christ, Ted continues as his alter ego Gospelman in the hopes of saving some. The Gospelman webcomic first appeared online in 2010. There are plans for both children's (age 8-12) and young adult (12-18) series, as well as potentially a college & career age (18+) spin-off series without Gospelman. As Christian comics, the age range does not necessarily indicate any inappropriate, immoral content, but simply that the stories and teachings are more appropriate, better understood and more enjoyable to that age range. However, please be aware that certain Biblical teachings are not appropriate or applicable for all age groups. Kids' lessons about sharing toys would not be appropriate for adults and neither would Bible-based stories about sexual morality and marital faithfulness be appropriate for children. Gospelman Ministries aims to not only entertain, but to encourage Christians of all ages toward Godly living, loving God and all others, through teaching God's Word.
AT THE MASTER'S FEET
 -
"From the Gospels to novels and comics to cartoons, television, and film, you already know the story of the Christ. But do you know His teachings? His teachings are normally skipped over because they would bog down the fast-pace necessary for an enjoyable narrative. So, join us now, if you would, as we examine His teachings in illustration, At the Master's Feet." This comic is also FREE to read online, as Gospelman Ministries seeks to be just that - a ministry. It is our hope that spreading Christ's actual teachings will educate people not just on what Christ did for us, but on what He wants us to do for Him in our daily lives.
ABOUT FUNDING

William Thomas Boyer, the writer and/or artist behind several other webcomics and books such as
SuperMilo
and
Hip Hop
, is trying to use his literary and artistic abilities to serve Jesus Christ. He is asking for donations per month so that he may continue to provide Christian webcomics to his readers, among other Christian media entertainment, just as pastors and missionaries require funding to serve Christ in their churches and on the mission field full-time. Many if not all of his Christian webcomics, such as the Gospelman webcomics for example, will always remain free despite any funding or lack thereof, just as a preacher's sermon remains free apart from tithing. However, readers who become Patreon donors (Patrons) will be rewarded with extra things such as behind-the-scenes material like sketch book drawings, notes, scripts, and scans of the pencils and inks, as well as desktop backgrounds, blog entries, written Bible studies, and all sorts of other extra exclusive digital content as it comes. And the higher you pledge per comic strip or page, the more rewards you get as a Patron. As we pick up more funding support, more reward tiers will eventually be made available. Please see the right side panel and below for more information about our reward tiers.
Funding will be payment per month. However, because Will Boyer is still tied down to a full-time job and may not be able to update every month, please know that you will continue to receive behind-the-scenes material, blog updates, etc, and that your funding will be directed towards affording to print the FREE series preview containing the GOSPEL message. These books are passed out at comic conventions and periodically given to children's homes and churches' youth ministries. Once funding reaches a certain goal amount per month, Lord willing, Will Boyer plans to create Christian comics and other media full-time, all thanks to the Lord and your allowing Him to use you.
Or To Make A One-Time Donation:
ABOUT REWARDS TIERS
Patreon offers Creators a tier system of rewards to give to their supporters for donating. We will continue to edit and change the Reward Tiers as we continue, fine-tuning them to the needs and desires of both our Christian entertainment ministry and donors. The currently offered reward tiers can be found on the right side of the page.
Including what we already offer, we
hope
to somehow offer these or similar rewards in the
future
:
i) A signed poster or art print mailed to you every 3 months
ii) A signed comic issue mailed to you every 3 months
iii) A signed comic trade mailed to you every 3 months
iv) Original Pencil and Ink Line Art
v) Junior Gospelteers Membership Package -
Your child can dress up as a superhero and help Gospelman carry out the Great Commission! It is the desire of this ministry to encourage young Christians to view Jesus Christ in higher regard than the superheroes that invade our literature, televisions, and theaters, and to encourage them to bring the Gospel message to those in need.
vi) Real Gospelteers Membership Package -
A box of New Testaments, tracts, wordless books, and other Gospel tools for young adults to help carry out the Great Commission.
ABOUT THE AUTHOR, WILL BOYERWill Boyer
is a creator of both comic strips, comic books and graphic novels, most notably the webcomic strips
"SuperMilo"
and both
"Gospelman"
and
"Gospelman Adventures."
He is also the illustrator of Kelly Morrison Handerhan's children's book 
"'Twas the Night Before Andy the Pug's Christmas"
and the co-creator, character concept artist and penciler/inker on Empire Comic Lab's
"Hip Hop."


Will wanted to be a comic book artist since the age of 9 years old in 1994. Incorrectly believing he was a Christian since his childhood, he came to understand in 1999 at the age of 14 what it truly meant to be a sinner before a righteous God and that he had never personally repented of his sins or asked the Lord to forgive him. Accepting Christ as Savior permanently changed him from the inside out. At the age of 17 on September 3rd, 2002, the Lord called Will Boyer to serve Him, promising that He would one day make him a missionary. From 2003-2007, Will Boyer trained for the mission field at Piedmont Baptist College, now renamed Piedmont International University. Unsure of what to do next, he enrolled at Forsyth Technical Community College and studied in the Digital Effects and Animation Technology major from 2007 to 2010. While there, he received training not only in 2D and 3D animation, but also in digital special effects for live action film and in video game design. Since then he has been illustrating children's books, self-publishing his own comics, and working for small-time publishing companies. Unfortunately, finances have slowly forced him to mostly withdraw from art in order to work full-time jobs in customer service and warehouse. In the meanwhile, his Biblical studies continue and he attempts to minister to others whenever possible. Most recently, he has been involved with the Forsyth Prison and Jail Ministry as a part of the Calvary Baptist team. Will Boyer does not know the exact future the Lord has for him, but would love to serve Him with the artistic talents and abilities the Lord has given him. He created Gospelman in 2004 while training at Bible college, has been refining the story and characters for years and would like to create the character's on-going adventures, as well as spin-off series and video games. He is asking for help to afford the printing of books and, Lord willing, allowing him to create Gospelman and other Christian comics and media full-time one day.
$8.01 of $40.63
per month
At $40.63 ($31.75 + $8.88 S&H) a month, the cartoonist Will Boyer can afford each month to order, from the printing company, Ka-Blam, 25 more copies of the Gospelman Series Previews, containing the Gospel message, to pass out FOR FREE at comic book conventions, church Community Days, VBS's and events, children's homes and orphanages, and etc, or to supply to others to pass out! In the event we don't need to order a re-stock of books that month, your pledge will also help towards purchasing other ministry supplies such as Gospel Tracts for children and adults, repairs to the Gospelman costume, new Gospel Magic Tricks, balloons for the kids, printer ink to keep printing the Christian coloring pages, and other such expenses.
2 of 4
By becoming a patron, you'll instantly unlock access to 185 exclusive posts
By becoming a patron, you'll instantly unlock access to 185 exclusive posts
Recent posts by Gospelman Ministries
How it works
Get started in 2 minutes