Harper Kingsley
is creating stories, poems, coloring pages, and photographs
Select a membership level
Story games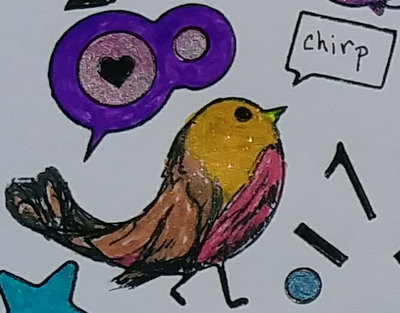 Exclusive first access to some games, bonus material, and even free copies of some games. There may be physical products at some point, but for now everything's digital or online accessible.
* JUST ANOTHER TITANIC TUESDAY -- Darkstar from the universe realizes after meeting a happier version of himself that he wants more out of life than to be the King of the World. He wants to be happy.
* HEROES & VILLAINS: NAVEL GAZING -- Messing around with the first novel of H&V, this story game includes the full novel of "Heroes & Villains" as well as an alternate-genderbent version that's still romantic af.
* FORTUNE'S BOLT -- A sci-fi/fantasy story game where the choices made effect genre, gender, romantic partner, and even whether the main character remains the main character.
About
Fiction, photography, essays, poetry, illustrations, and pop culture
I write science fiction, fantasy, speculative fiction, visual novels, and poetry.
I photograph nature, buildings, kittens, puppies, cats, dogs, bunnies, birds, my artwork, and whatever else strikes my fancy.
My humor is acerbic on my better days, downright obscure on my worst, but I'm assuming always funny. To someone.

Your patronage goes toward the free fiction I post at
Kimichee.com
and
Harperkingsley.net/blog
. With your aid, I'll be able to post more and more often. Plus, patrons have access to bonus content, patron-only content, and downloads such as 300 dpi png coloring pages and PDF stuff.
Things I like: cats. bees. honey bees (das beste!). tiny tomatoes. strawberry daiquiris. pina coladas. dancing with naked mole-rats in the rain. deep red. dark blue. purples and greens. hannibal the tv show. it's always sunny in philadelphia. the grim adventures of billy and mandy. chowder the tv show. fancy hand fans. ponytail radish kimchi. red jello. chocolate. gimme chocolate by babymetal. dune. riddick. dredd. the secret of nimh. corky romano. refrigerator magnets. the far side by gary larson. terminator the sarah connor chronicles. harry potter fandom. crossovers. peacocks. quail. unicorns. cartoon rainbows. funny mugs. hannigram. birds of prey. harley quinn. asparagus. roses. fairies. elves. mythology. horrible histories. john wick. glass pens. emboridery floss.the umbrella academy. portobello mushrooms.
All patrons will receive a pre-release copy of the newest novel.

2 of 2
Become a patron to
Unlock 78 exclusive posts
Connect via private message
Recent posts by Harper Kingsley
How it works
Get started in 2 minutes