About Me and My Work


Yo! I'm Li "
Shockodile
" Zard and I make the webcomic 
Hellbound Guardian
. 


Hellbound Guardian
is an action/comedy story about people who die and make bad decisions (not necessarily in that order, but mostly in that order) resulting in them having to fight demons and other sludgy monsters. It contains plenty of things that I love; headstrong dumbasses, powerful non-binary folks, reptiles both giant and tiny, and fantasy garbage happening to regular people.
More specifically, it follows Avery, a young adult who's spent most of her recent years struggling to deal with her PTSD after a childhood trauma. Her impulsive reactions and poor coping methods are more than questionable, often landing her in more trouble than she was in to begin with. It's a challenge, but overcoming the hurdles and finding healthy ways to go on are integral to her success in her latest misadventure: fighting back a demon army as a holy guardian of humanity. She's not thrilled.
Why I'm On Patreon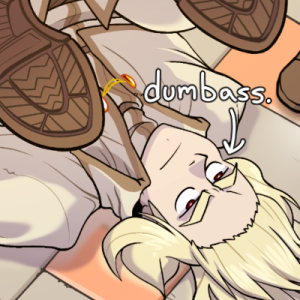 I want making
Hellbound
to be my
full-time focus,
 and I am hoping to eventually be entirely supported through this Patreon! Every pledge gets me that much closer to dedicating 100% of my energy to sharing
Hellbound Guardian
with you. In the short term, my goal is to make
Hellbound
as high-quality as possible and your support will be helping me do exactly that!
What I'll Be Making

The webcomic! Mostly. I'd like to be producing at least two pages a week, every week. There are other things I'd like to make as well, but those will only be able to come with time! Stuff like prints, charms, pins, bookmarks. Y'know. 

Swag.

That's for the future, though. For now, focus is on bringing you quality comics!

What You'll Get For Your Support
Previews of pages before they come out!
Desktop wallpapers!
Early access to potential merch designs!
Sneak peeks at other projects I'm working on!
Sketched pages as they were before and after revisions!
Worldbuilding works!
Short retrospective-style tutorials on my personal processes!
And any other weird stuff I find lying around!
I hope you'll consider contributing to
Hellbound
, so that I might return the favor by giving unto you all these glorious rewards!
As always, thanks for reading!