Game Master
is creating Role Playing Games
Select a membership level
Tellurian Defense Force Staff
The non-combatant workforce of the Defense Force, working behind the scenes to ensure advancements in the war effort are made daily.  As a one time payment for their contribution, Tellurian Defense Force Staff receive:

- 1 as of yet unreleased Level 1 Villain Sprite from Heroes of Telluria © with the Sprite name included.

- Access to patron only posts, videos and content.  

Note: When making this pledge, the Level 1 Villain sprite included will be in .jpeg format and will be a previously un-posted sprite.  If there are no Level 1 sprites to post, the patron will receive another image or piece of art pertaining to Heroes of Telluria ©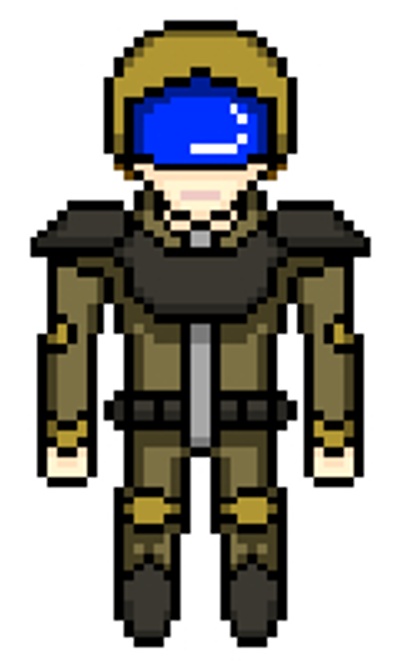 Telluria Defense Force Grunt
The general, entry level combatant of the Tellurian Defense Force, the Grunt has yet to survive enough trials and tribulations to unlock their true potential, but there is still a glimmer of hope, if the Grunt can manage to survive the gauntlet of live combat.  Very little stands out about the Tellurian Defense Force Grunt, they are made to train daily and are drilled in a number of tactical maneuvers.  Their fighting style leaves much to be desired and they  normally operate in focused squads, working as a team to dedicate their somewhat limited firepower on designated targets.  After completing enough Missions, the Grunt advances in Rank into a Tellurian Defense Force Trooper, a more seasoned Grunt.  With a lot of Luck and incredible Grit, the Tellurian Defense Force Grunt can break through their limits and enter into a Specialized Faction of the Defense Force, further increasing whatever aptitude the Faction judged to be sufficient in order to be counted among their numbers.  As a one time payment for their contribution, Tellurian Defense Force Grunts receive:

- 1 as of yet unreleased Level 1 Villain Sprite from Heroes of Telluria ©  with the Sprite name included.  

- 1 as of yet unreleased Level 2 Villain Sprite from Heroes of Telluria© with the Sprite name included.  

- Access to patron only posts, videos and content.

Note: When making this pledge, the Level 1 Villain and Level 2 sprite included will be in .jpeg format and will be a previously un-posted sprite.  If there are no Level 1 or Level 2 sprites to post, the patron will receive another image/images or piece/pieces of art pertaining to Heroes of Telluria © 

Tellurian Defense Force Seeker
The main reconnaissance unit for the Tellurian Defense Force, equipped with enhanced optics, a range of environmental scanners and remote controlled drones, the Seekers are tasked with discovering and tracking enemy forces.  As the Seekers are a specialized faction separate from the regular soldiers, they are somewhat stronger than the grunt soldiers that comprise the majority of the Tellurian Defense Force, however combat is not the Seeker's forte.  Armed with an energy rifle and a series of slim, hidden knives, the Seeker operates in a support role during operations, flagging enemies with tracking markers, making them an easier target for the more combat oriented members of the Tellurian Defense Force.  The Seekers are constantly trying to design and develop better technology for revealing concealed enemies and tracking those they have discovered.  Since the Seekers are not especially trained for combat, they focus on swift and stealthy movement, relying on hit and run tactics if forced into a corner.  A Seeker is a valuable member of any operational squad, serving to enhance the offensive capabilities of any offense specialist.   As a one time payment for their advancement from Grunt Rank, Tellurian Defense Force Seekers receive:

- 1 as of yet unreleased Level 1 and Level 2 Villain Sprite and Villain Biometric Sheet from Heroes of Telluria©, detailing the specifics of the foes.

- 1 of 2 Unique Boss Monster Sprites, all from Heroes of Telluria© with the Unique Boss Monster Sprite name included.  

- Access to patron only posts, videos and content.  


Note: When making this pledge, the Level 1 Villain and Level 2 Sprite included will be in .jpeg format and will be a previously un-posted sprite.  The corresponding Biometric Sheet will be delivered as a .pdf file.  If there are no Level 1 or Level 2 sprites to post, the patron will receive another image/images or piece/pieces of art pertaining to Heroes of Telluria ©   
About Game Master
ABOUT US:
Let's Go Play, Inc is a non-profit organization located in Media PA. At Let's Go Play we do live Therapeutic Tabletop Role Playing Games (TTRPG's) with kids and teens with social differences. In Therapeutic Tabletop Role Playing Games, the Game Master is a therapist (Master's degree in Counseling and a Licensed Behavior Specialist in PA) and the Game Master's goal is to enhance team building through effective communication and through in-game mechanics. The Game Master tailors each experience; encouraging, strategizing, negotiating, working through difficulties and problem solving with the players all while having fun. The players learn and grow, experiencing successes as part of a team as they work together to overcome the obstacles set before them by the Game Master.
SNAPS HEROES© PROGRAMS:
At Let's Go Play, we have created SNAPS Heroes©, a TTRPG designed for kids and teens can be played by up to six players at a time. In SNAPS Heroes©, the players take on the roles of various futuristic Heroes, with different traits and powers that they can use to work together and help their team complete the various goals of their Missions as they progress through over 100 different Stages. SNAPS Heroes© game sessions can be run both in person and online, making our program accessible to kids and teens across the country. We offer several game formats which include; SNAPS Heroes©, SNAPS Squads©, SNAPS Heroes© Lite, SNAPS Heroes©: Heroes of Telluria and Minecraft Heroes©, to accomplish this, each with its own appeal. SNAPS Heroes© is the full version of the Game made for kids and teens. SNAPS Squads© is a tactical version of the game, meant to be played over a single 60 minute session. SNAPS Heroes© Lite is a 20 minute, demo version of the game. SNAPS Heroes©: Heroes of Telluria is an adult version of the game, currently in beta play. Minecraft Heroes© takes the gameplay of SNAPS Heroes© and applies it to the world of Minecraft. For all of our games, we currently build unique stages from Lego® bricks and the characters are also Legos®.
POSITIVE EFFECTS OF SNAPS HEROES©:
Because each of our games is about team building and positive social interactions, our program can be helpful for families or for individual children to be able to experience successes as part of a team, especially if those children are experiencing some difficulties due to a diagnosis that may inhibit their social interactions. In fact, we initially created our program to support kids and young adults with ASD and have since expanded to include any individual who struggles socially. Through gameplay our Heroes interact with the Game Master and the other players, their peers, communicating, strategizing and compromising. Our program, which can be run online, is a great way to connect kids and young adults with other peers, all while building social skills and being able to take part in a fun, positive experience. Through our online sessions, kids and young adults are able to play with peers online, defeating bad guys in a safe, fun environment. The overall goal of each Mission is always a triumphant victory for the players, serving to empower them through each session. They can learn valuable social skills lessons all while playing a game!

WE BELIEVE:
We believe that everyone has an Inner Hero and we devote ourselves to cultivating and bringing that out in our players.
BE OUR HERO:
You can be our Hero! Let's Go Play, Inc is aiming to grow, but we need your help to do so! Please help us make SNAPS Heroes© and Therapeutic Tabletop Role Playing Games known world wide, expanding a group that is dedicated to helping anyone with a social difference. We would be grateful for any donation made to Let's Go Play, Inc. In addition to expanding our program, we would also like to be able to create our own game boards and game pieces, to be included in any boxed sets.  Similarly, we would like to be able to professionally print our guidebooks and if necessary, obtain additional Lego® pieces in order to be able to produce a packaged set for SNAPS Heroes© Lite, that can be made available to other Therapists and Clinicians, who wish to be able to run game sessions. At $500 a month, Let's Go Play Inc, will purchase a 3D printer and dedicate funds to creating original 3D printed game pieces and figures for SNAPS Heroes©.  At our next milestone of $1,000 per month, Lead Game Designer Daniel Rowan will add an additional weekly post, reading portions of the written story for Heroes of Telluria©.  For the milestone of $2000 per month, Let's Go Play will allocate funds to professionally print corresponding materials to produce a Boxed Set of SNAPS Heroes© Lite. 
As part of supporting Let's Go Play at any level, you will gain access to bi-weekly updates on Heroes of Telluria in the form of a random selection of concept art, updates on game design, character design and other various aspects of game creation, as well as sprites for the starting selection of Heroes, Skills, Equipment and Enemies.
At increased monthly pledge levels, patrons gain additional access to portions of Heroes of Telluria, unlocking more artwork, character sheets, maps and stories.
Thank you for reading, if you want to find out more about Let's Go Play Inc, please visit our website at
http://www.letsgoplayinc.org/home.html
When we reach $500 per month, Let's Go Play will purchase a 3D Printer to independently create Game Boards and Mini-figures for our SNAPS Heroes (c) Games as well as Heroes of Telluria©, which, after initial production, will be used as rewards for patrons.
1 of 3
Recent posts by Game Master
By becoming a patron, you'll instantly unlock access to 70 exclusive posts
By becoming a patron, you'll instantly unlock access to 70 exclusive posts