Imagine Minis
is creating Digital Miniatures for 3dprinting to use in tabletop games
Select a membership level
Supporter
Thank you for your support!
As a basic Supporter you want to help me with what you can.
As a Supporter you will receive the following benefits:


Patron-only posts and messages

Help decide on my future works

Patron Commission Sculpture (STL file)
Adventurer - First Wave
Limited (11 of 30 remaining)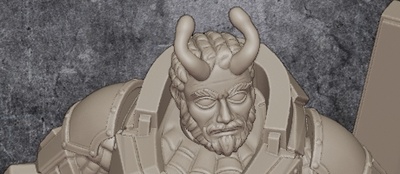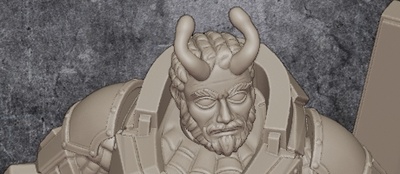 Thank you for your support!
As a Adventurer you believe in what i do, and you are helping me alot!
First Wave means that you where one of the first to help me, for that you have my ethernal thanks!
This membership has a (around 30%) lower price from the Adventurer membership when available.
As a Adventurer - First Wave you will receive the following benefits:


Patron-only posts and messages

Help decide on my future works

Take part in Patron Commission Request

Patron Commission Sculpture (STL file)

Access to the Miniature Vault
Merchant - First Wave
Limited (9 of 20 remaining)
Thank you! You are the best of the best!
As a Merchant you are interested in selling my models or simply wish to contribute more to my job.
You can sell any model that i create at your store. You can sell only the 3d printed version of the original or any remix that you do, not the STL, as long as you stay subscribed.
Mark me on Instagram or share your store website, i would love to share with another follower or patreon!
First wave means your support came faster than others, having a lower price than regular tier(around 30%).
As a Merchant you will receive the following benefits:
Patron-only posts and messages

Help decide on my future works

Take part in Patron Commission Request

Patron Commission Sculpture (STL file)

You can sell 3d prints of my models or remixes and kitbashes, as long as you stay as a patreon. You cannot sell the STL file, just the print.

Access to the Miniature Vault
About Imagine Minis
Hello and Welcome
My name is Ivo, i am a 3d sculptor and i want to make this my main job.
My goal is to create great accessible miniatures for tabletop games or painting.
My current focus is fantasy miniatures warcraft inspired and rare to find 3d models.  
Every month i will sculpt 3-4 miniatures (this number can increase with the number of patrons) at a scale of 32mm for my patrons to print at home. I will release those minis as soon as they are test printed, not a batch release at the end of the month or beginning of the next. The more subscribers i have, more miniatures i will be making every month.
It's in my plans to make 75mm miniature but those will be asked by poll, and i will not make one every month because it takes time.
Sculpt Theme:
I work based on themes, sculpting miniatures based on a theme, depending on the size of the theme it can take 1-3 months to finish.
When the current theme is almost at the end, i will make a general poll with lots of options to filter what the patrons are currently looking for. From there i will make a more detailed info on the most voted themes, telling about my ideas, number of items and duration, patrons can also propose their own ideas for me to add here, if it makes sense for the theme i can add.  

Miniature vault:
Every miniature that i sculpt on the theme, will be added to the miniature vault when released, and there, it will be available for 3 month (counting only month not date, example: April release will be available until the last day of July).
Miniature vault work as my welcome pack, if your tier gives you access, once you subscribe i will give each miniature in the miniature vault to you.


Patron Commission Request:
In order to stay as close as possible to what my patrons desire or need, every 5th day of the month i will make a post on my Patreon page asking what they want to be sculpted, the first five to reply the post can can write down what they wish to be made. 
After 5 Patrons reply to the post with their requests, i will get those options into a poll so that others decide which will be made.
At the 20th day of the month i will close the poll, and the most voted will be sculpted.
This sculpture will be an exclusive model available only to my Patreons, Padrim and Minihoarder subscribers. This miniature will only be available on the next month and next year (same month, as a bonus to new subscribers).
Commission Rules:
Requested miniature will be made at 32mm scale (32mm is the average human toe to eye measure), they can be Large, medium or smaller (RPG sizes). It can be humanoid or monster. If you request a dragon scaled down, i probably can and you probably can scale it up but, the details of the print might be missing, in order to do something big with great amount of details it would require more time.
Things with copyrights or political reference will not be made. So don't ask for batman, Hitler, Donald trump and so on... however i can model something similar to batman or etc.
Hentai, Nude or Porn is a no, Ecchi or similar only if i like but, it will probably be fine. Male or female armokini's are ok.
If you win the poll and unsbscribed during this period and payed at least one month, i will still finish your mini and deliver it to you.
Patrons that have the right to sell my miniatures can print and sell this minis, so take that in consideration when you ask for a mini.
You can request a past commission as your commission, in case you missed it, change pose, add more props. Remix of an older model. Let your imagination fly.
This commission miniatures will not be part of my Miniature Vault, will not be sold at CGtrader, Minihoarder or any other store for non-subscribers, it will be an exclusive model to Patreon, Padrim and Minihoarder subscribers, but it will still be delivered thought Minihoarder.

What it means to support me:
Being my patron means that you will be helping me to spent more time modeling and supporting me with materials to test print my models before releasing. You can vote about my art style and sculpt themes. I am accessible, you can make suggestions that i can put in the poll, but the majority will decide.
I will not increase the price if i get famous or if i'm making more minis, i believe that miniatures are awesome and the more people enjoying the hobby is the best thing, so i wan't to put one less obstacle for the hobby. If many people support me, i can make the living and it won't be heavy for anyone's pocket.

File distribution:
To distribute the files i chose Minihoarder.com, i will upload the files on my store and then distribute to my patreons with the appropriate tier. You will be able to download as much as you want, without a expiration date. 
You will need to create an account on Minihoarder with the same e-mail as Patreon.

Minihoarder is not popular, why did i choose Minihoarder?
Minihoarder it's a relatively new site, that is only focused on our miniatures hobby and related items, there you won't find random stuff. It has really nice commission fees and no monthly cost, that means that i don't have to pass on extra costs to my miniatures.
I can use one awesome feature, Patreon Integration. Once i finish a miniature, i will post there, pull a list from Patreon and send to you.

Where to find me:
If you want to see my models, check my links below:
Ivo Goncalves (@imagine.minis) • Fotos e vídeos do Instagram
Imagine Minis | MiniHoarder

ImagineMinis | CGTrader
Hope to have your support and...
Let me Imagine Minis for you
$141.60 of $200
per month
1 additional commission request slot, to a total of 7 Patrons in the poll.
2 of 4
By becoming a patron, you'll instantly unlock access to 26 exclusive posts
By becoming a patron, you'll instantly unlock access to 26 exclusive posts
Recent posts by Imagine Minis
How it works
Get started in 2 minutes