InGameUK
is creating Online Board Game Experiences & Creative Content!
Select a membership level
Get exclusive patron-only merch
CHARITY SUPPORTER
IGUK CLERIC! have mysterious spiritual powers.
You believe in our ethos to help shape a better future!
This Tier
helps support our work to facilitate sending Board Games out to #GameChangersUganda. Or those who just want to show their support.
You are Awesome!
You will receive:  
One high five from InGameUK Team! Sent via Bonjoro in a personalised video message. (A fist bump can be substituted if that's more your style). 
Access to Patreon Updates and Behind the Scenes Content.
We'll list your name as "IGUK CLERIC" in the end credits of each of our videos and Live Streams.
1 x Free entry into our Prize Draws!
LIVE PLAYER OR PLAY TESTER
IGUK SURVIVOR's! Are ordinary people who want to see us thrive and survive.
This Tier
 is for those who want to take advantage of the
#LivePlay
 Gaming sessions or to bring along your upcoming title for #
PlaytestBroadcast
. You may have already taken part and want to support these initiatives. 
All previous tier benefits, plus:
Invitation to Live Play Gaming Sessions. Play Games Online or Join an existing Campaign. 
Designers, a personal Invitation to demonstrate your games via Online BG incubator Sessions, rebranded to PlaytestBroadCast (PTB) Saturday, a virtual playtest.
Free BBG Rating and honest comment about our experience on PTB! 
FREE DOWNLOAD of stream video, for promotion and KS Campaigns (720p).
Being credited at the end of our videos as IGUK Survivor! 
IGUK SHOPPER / LIVE PLAY ~ PLUS ~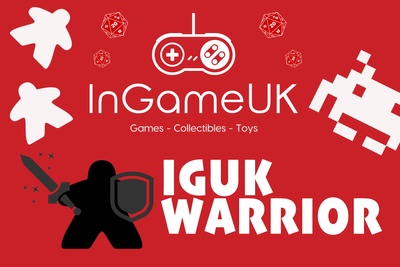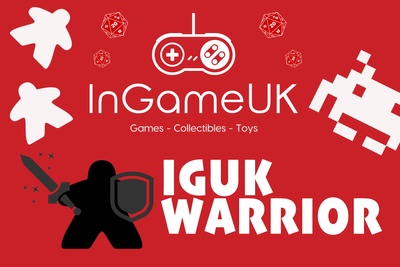 IGUK WARRIOR's! 
Possess immense strength and conviction
.
They help tank any foes that may get in the way!
This Tier
 is aimed at those who want discounts from online orders, or those who want to enhance their #LivePlay Experience with some free dice, roll at home! With more goodies to enjoy the #LivePlay. Feel close to the action! This is ideal for those who cannot afford to buy the full game!
All previous tier benefits, plus:
InGameUK.Shop get one time 10% off voucher every six months.
Free #LivePlay Dice for the game of your choice. Activated after three months of Patreon subscription.
Always Free UK Shipping.
AND An Exclusive IGUK Warrior Sticker Pack.
We'll list your name as "IGUK WARRIOR" in the end credits of each of the videos we produce.
We will also automatically enter your name
twice
into our prize draws to win lots of cool goodies!
Delivery details will be required for this pledge.
Includes
Exclusive Sticker -

Stick it! With IGUK!

Exclusive Sticker -

IGUK Warriors possess immense strength and conviction.
SHAPE OUR FUTURE!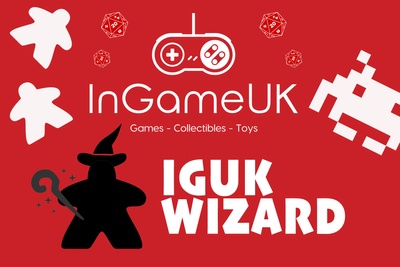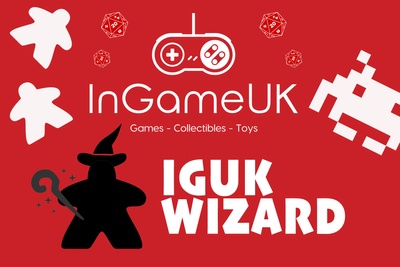 IGUK WIZARDS! Are the dominate leaders of the pack!
Their veins flow with immense power. With your help, we can make a real difference! You believe in a bright future and so do we! If you are in it for the MERCH or to give business direction this is the tier for you! 
All previous tier benefits, plus:
(physical rewards are replaced; they are tier specific)
You will be invited to join our inner sanctum IGUK Business Community Group on Facebook. Help advise and steer InGameUK into cool directions! This will equate to a share offer if and when IGUK becomes community-owned, this is one of our core ambitions.
Free Wizards Pack! (shipped after one month) This includes a Wizards Mug and an exclusive IGUK tee-shirt.
10% OFF (unlimited use while subscribed to this tier) voucher for InGameUK.shop.
We'll list your name as "IGUK WIZARD" in the end credits of each of the videos we produce.
Delivery details will be required for this pledge.
Includes
Exclusive T-shirt -

IGUK WIZARDS... Their veins flow with immense power.

Exclusive Mug -

Drink your epic brew like an IGUK Wizard!
IGUK PUBLISHER!
Publishers are Rare and Awesome, like the forgotten magical sword of old. You want to take an involved role at IGUK.
You believe in our ethos and make change happen!
Exclusive Tier Rewards (previous rewards do not transfer to this tier). Physical Rewards Included:
Exclusive IGUK CHAMPION Poster! AND...
THE CHAMPION PACK! Stickers AND Mug!
- SPONSORED CONTENT -
2 Dedicated photo shoots of your game(s). 
Exclusive Retail and Marketing Partnership to retail your games in the UK, Email Campaign, Sponsored Social Media Advertising combined with a creative 30-second Video Advertisement. All aimed at increasing the longevity of your sales after product launch, once initial hype fades.
Banner Add promotion. We will add your logo and information to a featured banner, on our FB Page and Community Group for 3 Months.
Promotion Announcement. One core post of you joining our community. We will also work with you for the lifetime of your support creating custom tweets/posts based on the content we produce.
Blog and Review. Send us a copy of your game and we will produce an honest player review (written) and published on Medium, where we have 200+ active followers.
LIVE PLAY your games during IGUK online gaming sessions. This will be recorded and can be used in Kickstarter Campaigns (if games are unreleased), on your own website, or across social media platforms.
We'll list your name as "IGUK CHAMPION" in the end credits of each of the videos we produce.
- SPECIAL THANKS -After six months of support at this tier.
We will film, shoot, and edit a promotional film about your game. Check out our previous work for examples of our highly charged, high energy, impactful videos. You're Patreon support helps offset the costs for smaller indie publishers, and allows us to grow in a sustainable way.
AND... A FINAL THANK YOU!
 We would like you to be part of the story and take part in a quick informal interview with 
InGameUK
, and how our support has helped you and us grow!
Includes Discord benefits
Includes
Exclusive Sticker -

Stick it! With IGUK!

Exclusive Mug -

Drink your brew like an IGUK CHAMPION!

Exclusive Poster -

You are the IGUK Champion!
About InGameUK
We are InGameUK an ethical, sustainable community with purpose and soul.
InGameUK
is on a mission to spread fun, encourage creativity and play. We capture those moments of play and fun! Creative photography and Video are our tools to capture memories!
Supporting us on Patreon helps develop three clear aspects of our work.
Online Gaming. Online Game sessions and Live Streams.
Our charity outreach, skills development and game resale programme with Gamechangers, Chrysalis Youth Empowerment Network
Awesome content creation! Affordable marketing and creative content services for the Board Game Industry.
WHAT DO YOU GET???
Regular updates and content via our community groups.
Great physical rewards, merch and discounts to use in our online store.
Participation in our business and our support to grow your ideas.
Competitions, playtesting, scheduled play sessions, new releases and exclusive games.
Our eternal gratitude! And that of the lives we help change!

KICK-ASS Content!
We
LOVE
to share our passion through video projects; projects that excite and unify people around our nostalgia for
BOARDGAMES,
RPG and RETRO
! Creativity is the soul of what we do and would love your support to help us keep doing what we love! We attract new players to the
GAME
!
Our ambition is to foster a creative network that celebrates and supports creative individuals and the hobbies we all love. By supporting us here on
Patreon
you directly support our streaming initiative, the technology we use and innovation we apply to make it as enjoyable as possible! Not to mention the production of new photo and video content (The Love the Players series and MORE), funding equipment and time to create inspiring video content. Your financial support also helps us host
FREE Board Game Nights and Experiences
formally (Pre-Covid) at our premisses in Devon. Not All Online.

#LoveThePlayers
Our "
Love The Players
" video series has been brought to life by people just like
YOU!
Now aiming for our third in the series, to us all our videos celebrate creativity, the hobby and friends we've made playing board games over the years!
Each meeple moved is a connection made
. Board Games and RPG's bring people together, from every walk of life, from all over the world! Sharing, the passion for moving meeples and rolling dice! Together!
InGameUK Patreon Funded: Internationale Spieltage SPIEL #LoveBoardGamesLoveThePlayers
from
InGameUK
on
Vimeo
.
Who is InGameUK?
Started in December 2017 by
Andrew Jinman
,
InGameUK
is a unique and new offering, aiming to promote and encourage, creativity, play and community! We love to Share and most of all Play! Andrew is an experienced videographer and photographer, with many years experience. He loves to share stories and promote the passion locked away within the community through mini viral video projects. Aside from moving meeples around, Andrew loves Technology and investing in new ideas to communicate and engage people from all over the world, for him its about creating stories that resinate and inspire peoples imaginations. Whether it's playing a Computer Game or being totally immersed in the latest Board Game or even using your imagination when playing with Toys! For us, everything and anything that uses creativity or Imagination is totally #InGameUK!! Come and join us and share your experiences!
What was your favourite toy or game as a kid? We'd love to know!
Please check us out on
Instagram
or all the other usual places for the latest updates and some really cool content!
$152.34 of $160
per month
Next #LoveThePlayers
It's been shot (Essen 2019) but the editing takes a long time, with your support we will be able to dedicate some production time to get it done right!

6 of 12
Become a patron to
Unlock 27 exclusive posts
Connect via private message
How it works
Get started in 2 minutes