It's New Orleans Happy Hour
is creating random conversation with folks who have nothing in common
Select a membership level
Beer and Bar Nuts
You can give us a dollar. Or more than one.  
There is no limit to the number of dollars you can give. But if you give us at least $1 we'll send you our monthly newsletter.
Happy Hour Roulette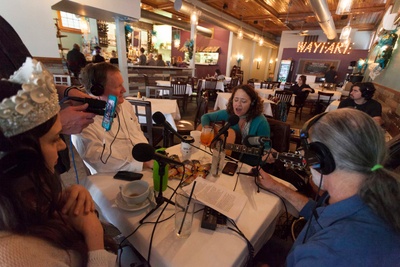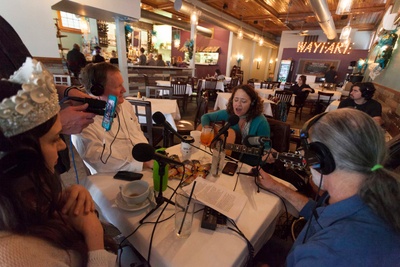 We'll scribble your contact info on a napkin and maybe call you during Happy Hour. We'll call at least one person every show. If you sing or play guitar you can do that, or just join in the conversation. Oh, and we'll send you the insider newsletter as well.
Your Name Here
At this level, as well as getting the newsletter and having a shot at Happy Hour Roulette, we'll include you as a special supporter and give you a credit by name at the end of the show. 
About It's New Orleans Happy Hour
We've been making It's New Orleans Happy Hour every week for 8 years. We've had hundreds of conversations with almost a thousand New Orleanians, and more than a few visitors.

We feature live, acoustic music from New Orleans' greatest artists, some are household names, others complete unknowns outside the city. 

Conversations on Happy Hour are natural, unedited and fueled by cocktails. Host Grant Morris and co-host Andrew Duhon aren't afraid to ask a personal question. And New Orleanians aren't afraid to answer.

As Grant says, "When you walk into a bar in New Orleans and pull up a bar stool you never know who's going to be sitting on either side of you. What you do know is, whether they just got out of a limo or just got out of jail, they're going to be happy to talk to you. Because that's New Orleans."

If you're a New Orleanian you'll recognize this style of no-holds-barred but respectful conversation where everybody is equal. And everybody is equally accountable to tell the no-b.s-truth, whatever that is. If you're listening in or watching the video feed from outside of the city, It's New Orleans Happy Hour is an authentic, insider guide to what's up and who's who in the real New Orleans, behind the shiny tourist cliche and beyond the gritty headlines. 

It takes a team of 10 of us to produce this show each week: Graham, Grant, Christian, Andrew, Jill, Monique, Thomas, David, C-Rock, and Asher. Nobody gets a paycheck. None of us have a real job. And none of us are business people. We've tried to sell advertising but, honestly, it's harder than it looks. And although we're pretty talented content providers and tech geeks, it turns out none of us have any ability at sales.

We can kind of live without getting paid. But, honestly, it would be nice to get something. Even just Uber money to get to the bar each week would be awesome. Plus we constantly need equipment like mics and cables that keep breaking. Also, it would be great to spend a few bucks on marketing to get the word out and grow our audience.
 
We know we already have a sizable audience. You're a part of it. We know for sure that if we could find a sales person to couch what we do in the right language for us, advertisers would pay to connect with you. Then we heard about Patreon. For way way less than what we'd have to get you to spend to prove to an advertiser that we can deliver a customer, you can sponsor us directly and be the 11th member of our team.

We'd love to have you join us. We're wide open to suggestions and contributions. And if you're in New Orleans or coming to visit, come down, pull up a bar stool and join us.


When we have 25 patrons or greater you'll get our newsletter with inside info about what goes on and who's doing what on Happy Hour. All of our creators have interesting creative gigs they're pursuing for the 167 hours a weeks they're not at Happy Hour as well as the interesting stuff they do to pull the show together each week - including who and what doesn't make it in the podcast.
1 of 2
Become a patron to
Connect via private message
Recent posts by It's New Orleans Happy Hour
How it works
Get started in 2 minutes