Joshua Michael MS
is creating Instructional videos
Select a membership level
Behind The Scenes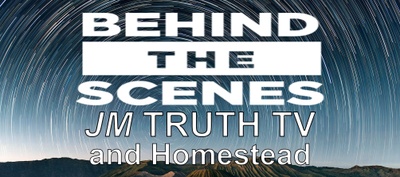 Get a patron-only perspective on my work.
Behind-the-scenes pics and videos
Patron-only polls
A special behind the scenes Live chat every three months.
Plus all previous rewards
Become A Patron
Unlock exclusive content and join my community of patrons. Thank you!
Access to patron-only content
Connect with other patrons
Social Media Team Member
Let's make it official on social media.
Social media team member. Share our mission on your social media sites and gain access to special live hangouts about the JM TRUTH projects.
Plus all previous rewards
About
Hello my friends,
My name is Joshua Michael and I am an independent Physicist & research scientist, based out of Hamilton, Montana. Welcome to my JM_TRUTH website. This website (https://www.jmtruth.com) has been built to present truth through scientific experiment and research regarding many different topics, from the cosmology of our earth, to healthy living. On this page I will do my best to cite all my sources as well as make documents available for download. I have also tried to the best of my ability to place pages in a sequence that makes the most logical sense according to the evidence I have presented. Sometimes we must unlearn what we have learned to find TRUTH! A wise man once said,"You shall know the TRUTH, and the TRUTH will set you free!"
I would like to give you a bit of back ground on myself, so that you have an opportunity to see that I am not just some crazy guy, who woke up one day and decided the earth was flat. I am hoping you might see that I have applied both intellect and scientific reasoning to Flat Earth.
I am a veteran of the United States Army. During my 12 years while I served as a Combat Medic I earned my EMT National Registry and was deployed to both, Operation Enduring Freedom and Operation Iraqi Freedom. After 9/11, right before being deployed, I began to notice things no longer made sense. After being Honorably Discharged in 2005. I went back to school in 2009. I earned acceptance to both the Dean's List and the Presidents list and was accepted into the
Phi Theta Kappa fraternity.
In 2012, I earned my Bachelor of Arts degree in Film Production. One area of emphasis was in film and video editing and analysis, as well as graphic design. I also owned my own film production company for a time. So I am well versed in determining the difference between a real photo and a photo realistic picture or computer generated image as well as video and filming special effects. In 2013 my wife and I moved with our children to Texas. Jackie and I spent almost 4 years learning and researching many different things. In December of 2015 I graduated with my Masters of Science in Instructional Design and Technology.



By becoming a patron, you'll instantly unlock access to 2 exclusive posts
By becoming a patron, you'll instantly unlock access to 2 exclusive posts
Recent posts by Joshua Michael MS