Jacqueline Goehner
is creating Cosplays, Photography, Sexy Content, Tutorials, Streams, and Art
Select a membership level
TIER ONE - Much Love!
Thank you SO much! Every dollar counts and it makes me so happy that you want to contribute to my work! By the way, do you spend a lot of time in a bottle? Because you're AWESOME-SAUCE! …it's okay, I'll just see myself out…
TIER TWO - Patreon Feed UNLOCKED!
For those who want to be in-the-know of my upcoming projects and if you're wondering how I make some of my cosplays, this would be the tier for you!
-Preview of upcoming cosplay shoots
-Progress photos of upcoming cosplays
-Previews of upcoming costume projects (both personal and commission)
-Quickie tutorial on smaller pieces of a cosplay
TIER THREE - FULL Cosplay Access!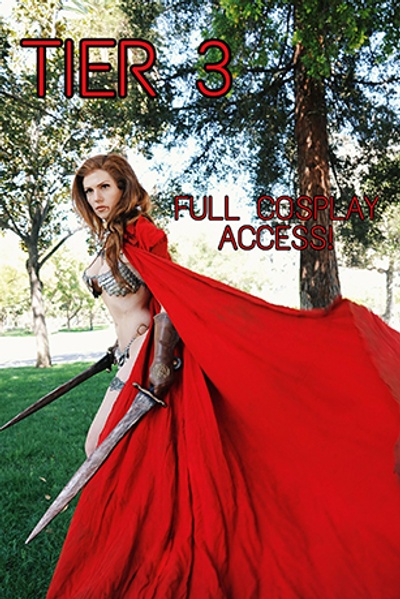 FULL Cosplay Access!
This one is tailored for the more devoted to my cosplays! You get to see more magic! Like the magician's assistant or something. Don't worry, I won't make you wear a dress….unless you want to…
-Tiers 1 & 2
-Full cosplay sets of shoots
-BTS of cosplay photoshoots
-Preview of upcoming boudoir shoots
-Photos of convention/event going
-Access to my cosplay SnapChat
About
Hey fancy frands!
I'm a cosplayer, costume designer, artist, fabricator, model, and other things-ist located in Los Angeles, CA. I began cosplaying in early 2000's, but didn't start doing it at conventions until a year or two later. Since then, I've grown out of my shell and blossomed into the derpy mostly-nekkid kitten you know today!
As a long time cosplayer, I've been invited to many conventions throughout the US and to other countries. I've judged countless contests, I've made over 100 cosplays for myself alone! I am also a great lover of being comfortable in my own skin! Since 2012, I debuted my Witchblade and gained popularity with not only the accuracy and quality of my cosplay, but also my confidence to wear it. My goal, to this day, is to inspire other women to be confident with their bodies no matter their size, shape, age, color, or background. Cosplay is about love and acceptance! Let's keep it that way!
Another goal of mine is to share the knowledge! I have gained so much knowledge over the last 15 years and would love to pass it on to newer cosplayers to help them along in their journey. Remember, there was no YouTube back in 2003! We were taught through trial & error, angelfire websites, and word of mouth…you lucky youngin's. I plan on adding more tutorials, making digital patterns, and how-to clips on my private YouTube channel that is only accessible to my Patrons.
I'm also hoping to connect more with you incredible people! Whether it's on
SnapChat
,
Google Hangouts
,
Discord
, or me just rambling on in my posts and you asking "huh?!" HEHE! I want to get to know you and send you my art, my content, as much as my heart can deliver!
Since I'm also big on art and I used to art model... a LOT, so why not share it with those who love it as well? On my Patreon, you'll see not only my cosplay, but my boudoir and art/glam modeling content too! The last couple years, I have been doing more and more shoots while stretching my artistic wings, and yet still, I'm hungry to make more! I plan on doing this for many more years as long as I am able to!
Please understand that having a Patreon means I will be able to post even more content on my social medias and will in no way negatively affect my content posted there. I created my Patreon to help support my projects and to reward the more devoted fans and enthusiasts. If you understand the work we put into our craft, you'll know it's not cheap. Materials, tools, equipment, studio rental, location travel, set décor, fx makeup, photographer, MUA….
none of these are free
, but your support helps make all of this happen!
So if you choose to donate, you have my eternal love and thanks!
What to Expect?
Each Tier is different, but the higher you go, the more of me you'll see! You'll find from the Tier descriptions access to my
SnapChat, a lot of selfies, BTS photos/footage, progress photos, tutorials, Google Hangouts, photo sets, and more!
But each Tier has tailored content so you can enjoy what works of mine you love the most!
***Some months will have more content than others, as I do travel and attend conventions throughout the year, which makes sharing challenging to do***
CONTENT CATEGORIES:
Cosplay - Costumes of characters that I love
Boudoir - Lingerie & original design (sometimes made by me)
Lewd - Implied nudity, fan-servicing
VIP Lewd - NSFW, tasteful/artistic
ULTRA VIP Lewd - NSFW, tasteful/sexy
*I do not do pornography or full nudity*

When to Expect Tier Rewards?
The minute you sign up, you're thrown right into the feed! However, if you sign up for any of the physical rewards (Tiers 5 & 7), you'll need to wait after the first week of every month for me to send them out. Tiers higher than 5 or 7 must inform me if they wish to receive physical rewards. 
International Patrons will need to add $10 to Tiers to receive Tier 5 or 7 rewards and may take 2-4 weeks to receive them.


Tier 10 Patrons with personalized rewards may take 1-3 weeks once information of the rewards are finalized. Please message me immediately when you're ready to chat details!
Tier 3+ get a special "Ice Cream Party" set appropriated to the Tier content! Content will range from a character involving ice cream to me wearing ice cream!

1 of 5
By becoming a patron, you'll instantly unlock access to 836 exclusive posts
By becoming a patron, you'll instantly unlock access to 836 exclusive posts
Recent posts by Jacqueline Goehner