Jason Inman
is creating Geeky Videos & Podcasts (JAWIIN & GEEK HISTORY LESSON)
Select a membership level
Hey Super Friends! $1 goes a long way. You get: My Monthly Blog (full of sneak peaks!), Exclusive Lens Content & Access to the GHL Book Club Posts where you can leave comments/questions that we'll read LIVE in our episodes. Plus, our eternal gratitude for your support. 
Mind University Student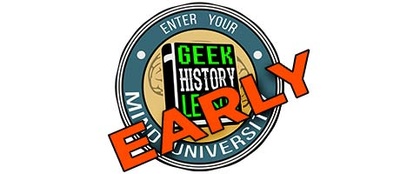 You wanna learn about comic books? Not only do you get GEEK HISTORY LESSON episodes before anyone else in the world (at least two days early), but we share original comic book scripts for you to learn from (Jupiter Jet, Science!, and more!)
GHL EXTRA PODCAST
You will get access to GHL EXTRA: An exclusive MP3 podcast featuring Ashley and I discussing more topics & interviews from each week's episode of Geek History Lesson.
Plus, first access to my new comic SUPER BEST FRIEND! (Starting in May).
(Make sure to DOWNLOAD the Patreon Exclusive RSS Feed for your favorite Podcast app! Find the link in the top right corner of the main page!)
About
WHO AM I?

Hi! I'm Jason Inman! If you've found this page then maybe, JUST MAYBE, you've seen one of my videos. I create nerdy videos about Comics, Star Trek & More! Plus, I co-host a podcast called 
Geek History Lesson.
Or maybe you've seen me on DC All Access or Collider (I'm on there too.) Plus I'm the co-creator of the Action Lab Comic called Jupiter Jet. 
I love informing and revealing new stories or characters of geek culture to people. To this point, I've been very fortunate that people will give my videos and podcasts a watch. I'm a very small operation.
(It's only Ashley Robinson and myself)
WHY DO I NEED YOUR SUPPORT?

There's nothing I'd love more than to continue creating high-quality videos, and more, which is getting difficult when only relying on Youtube ad sense. That's where you come in, any donation would be more than amazing and helpful! 
Not only that, but we also want to grow and expand upon new projects. We're always talking about new ideas that we just don't have the time or resources to accomplish right now, things like new shows, podcasts, and books. You can help those dreams become a reality!
Even one dollar could help out so much.  For right now, think of this as donations that give you a little something back as a thank you for continuing to watch and support what I do. 
THANK YOU. 
$2,518 of $3,000
per month
NEW COMIC BOOK

Have you ever wanted to help choose the story of a comic book? When we reach this level, we start developing a new comic book that the Patrons can decide the plot of.
Which way should the characters go? Who lives? Who dies? All of these decisions will be decided by YOU.
Plus we'll hire an artist that will draw up a monthly amount of pages to see our story come to life!


6 of 6
Become a patron to
Unlock 998 exclusive posts
Connect via private message
Recent posts by Jason Inman