Jay Creature Creator
is creating farcical sculptures, illustrations, & ttrpg content
Select a membership level
Thingy
As a Thingy you'll get access to all my content here on Patreon, which includes the following:
My Personal Sculpture Vlog: Did I mention I make monsters? I also make videos describing my process.
Parodia's Player Pantheon on Discord: Chat with me and other nerds about tabletop RPGs, video games, literature, cinema, or whatever! Just click here to join: https://discord.gg/4S435j4
Parodia Bestiary Monster Entries: A horde of original new monsters along with brief descriptions in PDF format. The first drafts of my monsters are always Pathfinder 1.0, but I'll happily convert any statblocks to 5th-Edition Dungeons & Dragons or Pathfinder 2.0 upon request.
Parodia Gazeteer Entries: Detailing the maps of the Worlds of Parodia in a piecemeal kind of way.
Antiman
As an Antiman you gain the following benefits:
All the Benefits of the Previous Tier
25% Discount on Art Commissions: Usually, when determining time and labor on commissions, I ask $30/hour, plus the cost of materials used, but for an Antiman I will charge only $22.50/hour plus materials!
Monthly Game Nights: Upon request I'll  host and facilitate tabletop RPG games utilizing my Parodia's Player Pantheon server on Discord and Roll20. 
Oogler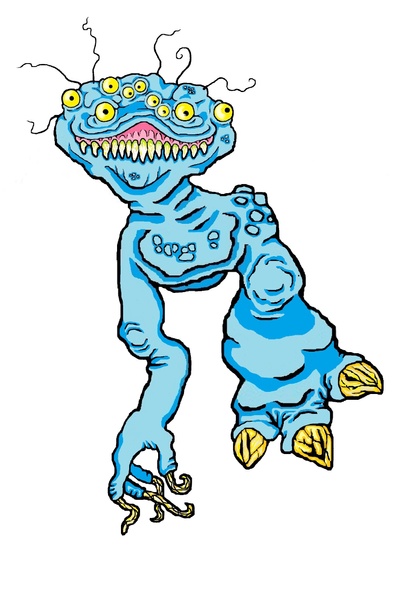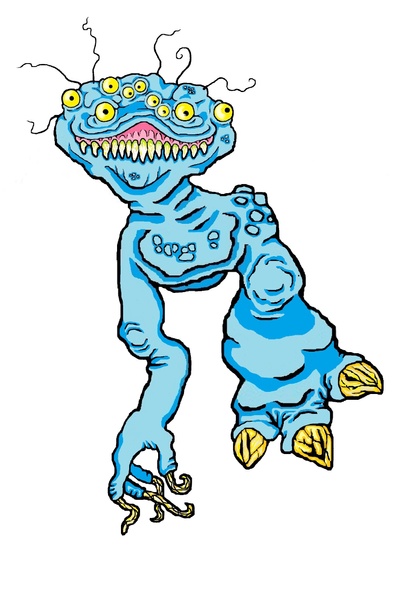 As an Oogler you gain the following benefits:  
All the Benefits of the Previous Tiers
50% Discount on Art Commissions: Usually, when determining time and labor on commissions, I ask $30/hour, plus the cost of materials used, but for an Antiman I will charge only $15/hour plus materials!
Full Color Maps: 16" x 20" laminated poster maps of Terrene Parodia, the Parodian Underworld and the Beneficent Sovereignty of Paradise, thereby beginning and completing your Worlds of Parodia map collection in one fell swoop! 
PDF Copy of My Bestiary/Gazetteer: Upon its completion, I'll send you a link for download.
About Jay Creature Creator
Hey there! Welcome to my Patreon Creator Page! I hope you will enjoy My Creatures and stay a while!
It was a healthy combination of games and entertainment media that sparked my life long devotion to
"L'art pour l'art"
. Gnarly 80s action figures, PBS programming, Saturday morning cartoons, and horror movies between my fingers saturated my young mind, or was it flipping through the original AD&D Monster Manuals? The Fiend Folio was great too!
Benefits of you'll receive as a Patron:
I'll be delivering new content at least once a month, whether it be new entries in my personal sculpture Vlog or material from my Parodia Bestiary/Gazetteer, as it unfurls from the addled recesses of my brain.
My primary goal is to share my work and educate those who are interested about my creative techniques and artistic regimen. I want to teach you by showing you! Use my Vlog just as you would use YouTube to fix your garbage disposal when it stops working. Let me be your visual aid and a rudimentary guide to creature creation. I'm at your disposal.
Did I mention that I take on art commissions and that Patrons get discounts on materials and labor?

My Work (My Creatures) & Inspiration:
It has long been my desire to create fantastical creatures in the tradition of my favorite artists, whether they be painters or sculptors, cartoonists or comic book illustrators, creature designers or special effects wizards, etc, etc... I've dabbled in advertising art and sculpture commissions. Thus far my body of work consists of creepy pencil sketches, colorful pixel drawings, grotesque bronze castings, monstrous duct tape dolls and manikins, and endearing polymer clay aberrations. I plan to add many more beasties to my repertoire and I am ever open to your suggestions. I'm rearing to collaborate!
In the time-honored tradition of talented artists and innovators like Gary Gygax, David C. Sutherland III, and so many others, I'll be sharing my own unique brand of monsters and gaming supplements for use in your favorite tabletop RPG rules systems (5th-Edition Dungeons & Dragons, Pathfinder 1.0, or what have you). In particular, I'm creating a Bestiary/Gazetteer detailing my home brew campaign setting, the Worlds of Parodia. This final product will contain maps and descriptive details, along with illustrations and game statistics for at least 50 creatures! FYI, Parodia is a tongue in cheek fantasy setting. I named the Worlds of Parodia less after the parodia mutabilis (mutabilis cactus), and more after the word parody itself, and the tendency of things that are worth doing to have been done already. Not that they aren't worth doing over and over again.

Why I'm on Patreon:
Making art consistently isn't always easy, and it has never been my primary source of income. In essence I'm surviving by multitasking. I'm a trained artist, I'm a professional caregiver, and I'm a laborer on the side. I enjoy working with my hands and entertaining people in equal measure, and I'm always searching for new ways to do both, often simultaneously. Voila! Patreon!
I'm a lifelong artist with a passion for creating monsters out of whatever materials are most available to me. Via Patreon I hope to connect with an audience that will help to support me as a working artist, but more importantly, your Patronage will inspire me and spur me on in my creative endeavors!
If you have read this far, I would like to say thank you! Thank you! Thank you! My creatures and I are eager to make your acquaintance! 
...Or if you can't make the commitment but would like to see more examples of my work you can find me on...
Squarespace
https://jasonokeefecreachamaker.squarespace.com/config/
& Instagram
https://www.instagram.com/jay_frowningclown78/
When I reach $100 per month I'll create a server on Discord from which I will be able to cook up schemes with Patrons. The Blankness must be kept at bay!
1 of 1
By becoming a patron, you'll instantly unlock access to 53 exclusive posts
By becoming a patron, you'll instantly unlock access to 53 exclusive posts
Recent posts by Jay Creature Creator
How it works
Get started in 2 minutes