Jess Campmans Guided by Equus
is creating HorseWisdom Insights living library
Select a membership level
HorseWisdom Gateway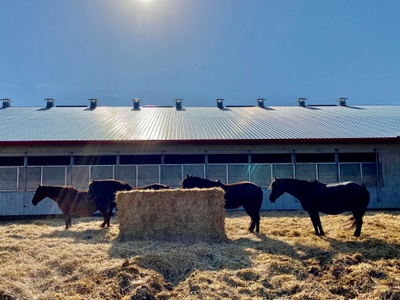 The HorseWisdom Gateway is a behind-the-scenes look and deep dive into the inspired healing messages gained through the personal and collective experiential wisdom learned through engaging with the Guided by Equus herd and the weekly HorseWisdom Healing Message videos (found on our Guided by Equus youtube channel).

This gateway goes beyond the insights into the deeper experience of observing, awareness, communication and universal connection that creates the evolution in relationship as the ultimate gift!  Become part of and tune into your own wisdom that arises through the content shared within the posts and videos.  

Join us on this insightful journey where the horses of Guided by Equus lead us back home, to the heart and power of our authentic soul self.
Patron-only posts and messages

Behind-the-scenes content
About
Join me in this experiential Equus Soul inspired journey of living life to discover your own sacred connection with yourself and the horses through
HorseWisdom Insight Guided by Equus!

HorseWisdom is the universal perceptive state of being that enables connection for the purpose of living in harmonious relationship with: through the innate, instinctive & intuitive pathways of communication.

More simply,
HorseWisdom teaches us how to be in authentic connection with the wisdom of our body and the wisdom of our innate nature & inner knowing, attuned to spirit & soul.

I am Jess Campmans ~
lifelong student of the experiential wisdom of the horse.
I am also a farmwife, mom of 4 kids, animist, intuitive, lover of cosmic intelligence and inspiring transformation through creating a sustainable foundation through presence, movement, creativity and inspiration guided by the universal principles of living life that are informed by HorseWisdom.

As an Equine Guided Sacred Messenger and shamanic energy intuitive, I work as an instrument and channel of spirit guided by the universal wisdom of the horses to communicate insights that inform inspired connection.

"Jess has gifted me with a deeper knowing and clarity of who I am by offering me a truly sacred space to share my thoughts, experiences, and even my darkest moments. Jess is able to help me translate them into the information I wasn't able to do on my own, then support me to transform and integrate the learning. Her innate ability to connect to my soul and nourish the unique way I move through this world is by far one her biggest gifts and is rarely found.

Through her facilitation, I've been able to go deeper and claim a new part of me that has been asking to be realized and taken out into the world. Grateful for these deeply transformative experiences. Through every step of my process, Jess continues to one of the most beautiful examples of how to show up in the world as a facilitator, soul, and inspiring human being."
~Sharon Beckham, Journey to the Horses

My horses have taught me through experience
that on the other side of healing, is infinite inspiration
and that what inspires us is what connects us to the sacred within.

Inspiration holds amazing power of potential for us, in that our brain does not know the difference between us having an experience & us witnessing, reading about or hearing a story of someone else having an experience (mirror neuron theory).
Our neural pathways can be altered simply by us being present for someone's else transformation, healing, courage, bravery, presence, etc.

Inspiration IS the path of healing, transformation and authenticity through our grounded presence...

and HorseWisdom is a pathway that connects us to that presence!


Horses help humans discover the way to greater health, happiness & harmony
through the pathway of the universal living principles of HorseWisdom.


By becoming a patron, you'll instantly unlock access to 4 exclusive posts
By becoming a patron, you'll instantly unlock access to 4 exclusive posts
Recent posts by Jess Campmans Guided by Equus