Jeszika Le Vye
is creating an illustrated book based on Egyptian Mythology
Select a membership level
Sparkling Scarab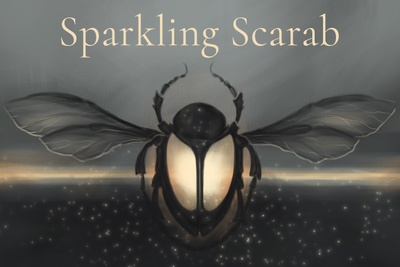 Each little piece helps! The desert is made from each shining grain of sand, the galaxies from each glimmering star. Thank you for being a wonderful part of this!
Backers at this tier will receive:
access to my works-in-progress! I don't share these anywhere else - this little behind the scenes peek is for my Patrons only!  
Plus:
followers will also have access to writing for the book - poems, brainstorming and outlines, as well as exerpts as I write them! 
Cryptic Cobra
Get all the digital rewards! With this tier, you will receive a high-res download, a wallpaper from each new painting, as well as the work-in-progress for each. (I don't share wips anywhere else on social media!) 
Backers at this tier will receive:
desktop wallpaper of each new Egyptian painting
high-res jpg of each new Egyptian painting
+ previous tier rewards:
Exclusive works in progress!
Jewelled Jackal
Start getting treasures in the mail! You'll receive a Patreon exclusive mini-print - with gold-foil to collect of each new painting in the series.
Backers at this tier will receive:
Patreon exclusive 5x7 print of each Egyptian painting as they are created - with gold foil!
Bonus! On the first payment, I will send you a welcome gift, filled with 2 mystery 5x7 prints and various small surprises! 
+ previous teir rewards:
Exclusive works-in-progress
Desktop wallpaper
High-res jpg of each painting
About
Hi! Welcome to my Patreon - where I share all the progress and new pieces for my ongoing series on Egyptian Mythology! 
From Dark Expanse, the Stars - is a book themed around Egyptian mythology that I have been working on for over two years. It began with a love of Egyptian Mythology, storytelling and beautiful books - and I have been working hard to combine these loves to create something hopefully inspiring, captivating and beautiful. I am so excited and grateful to be able to work on just such a project and to be able to share it with you! 
"From Dark Expanse, the Stars" is an illustrated book that will be filled with beautiful, full-page illustrations, new stories and poems all themed around Egyptian Mythology. I envision this project as a three-part book or series that follows the cycle of darkness to light, from the sun rising to its zenith, then nightfall again, with the hope for dawn.
The first book - 'Black Sands' - encompasses the before, the primordial void in which cosmic beings beyond our understanding existed - the Ogdoad. It also will explore the myriad of creation myths and how from that black void, creation came to light.
The second book - 'Luminous Skies' - explores the pantheon of gods that ruled over Egypt, the archetypes they embodied and the universe they created, inhabited and sometimes left.
The third book - 'Devouring Stars' - follows the sun as it sinks below the horizon, as Apep the great serpent tries each night to devour the sun and the gods who battle him, follows the soul as it leaves the body and travels into the unknown afterlife, filled with perils and beasts and the hope for the sun to rise again and life eternal. 
Having been fascinated by Egyptian Mythology since I was a child, I am so excited to be creating a book full of these paintings, exploring the different characters and myths. I didn't want to create a dry summary of the myths, with the same icons for characters that I have seen so often before. Instead, I want to breathe life into the characters, to make them three-dimensional beings that struggle and triumph and fail. I want to take the static stories from historical myths and weave them into a tapestry of new narratives and interactions that transports you to a world of sand and stars; of light and viscous shadows; of beings that exist beyond time, but for whom the stakes are beyond our imagining.
Patreon is a wonderful platform that allows creators to connect directly with those who love what they are creating. By pledging a subscription of your choice, you get access to exclusive behind-the-scenes process as the art is created, digital downloads of wallpapers, high-res files, and even prints to collect as the series grows. You will also be a part of making this project happen! 
Having this Patreon account means that I can afford to work on the book in a more full-time capacity, rather than needing to rely on other work that will consume much of my time. I would love if you would join me on this journey. If you love mythology or fantastical stories, if you love rich, detailed art - then follow along as I create just such a work for you to enjoy.
As I'm just starting out on this new journey, this page will grow and improve. I've endeavored to choose rewards I hope everyone will enjoy and I'd love to hear what sort of rewards you would like to see as well. Together we can make this community as fulfilling as possible! 
Thank you so much to everyone for the support and encouragement! Without you, there would be no reason to create art, to begin with. I am so grateful for those of you joining me on this adventure :) and I hope you have a wonderful time here as well, full of inspiration, curiosities and beautiful art! 
$367.20 of $400
per painting
The rent of my studio - this accomplishment is huge! This is what it costs me each month to rent my studio where I can work uninterrupted, often for 12+ hours a day. Being able to cover the cost of having this wonderful workspace each month with this project goes such a long way towards being able to focus solely on this book!

If we reach this goal, I will send out a signed mini-print to all my backers with a little thank you note!
2 of 5
By becoming a patron, you'll instantly unlock access to 52 exclusive posts
By becoming a patron, you'll instantly unlock access to 52 exclusive posts
Recent posts by Jeszika Le Vye