Jo Mazgay - Soul Circles
is creating Videos, Soul Circles and Communities
Select a membership level
Soul Journey Community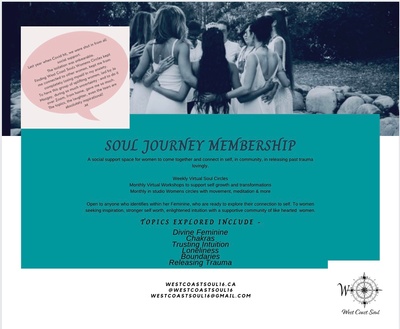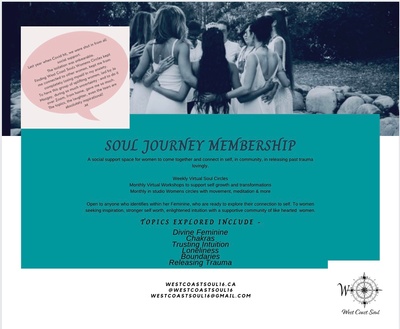 Our Soul Journeys Membership will connect you with a community of like hearted women who come together in a safe and sacred space.
Uniting women in connection to heal and learn from one another.
Connection to self.
Connection to women.
Connection to moon cycles.
Connection to your Divine Feminine and Masculine balance.
Connection to community.
The Soul Journeys membership is for anyone who identifies within their Feminine, who is ready to explore their connection to self, to community, to self worth and so much more. Women seeking a deeper personal growth journey, a support system, inspiration and release.
Find empowerment in stepping into you!
Releasing "shoulds" and societal "masks".
Real change in the way you feel daily, supporting mental health wellness, seeing, hearing, validating and healing old stories.
This exclusive membership includes -
Weekly Virtual Women's Soul Circles
Monthly Virtual in depth workshops
Access to Circle meditations
Preregistration access to all in person events
$100 value for $60/month
We begin April 8th, 2021
Aprils Topics include -
April 8th Loneliness
April 15th Root Chakra,
April 22nd Self Worth
April 29th Being Empathic
Our Virtual Workshop is
April 18th 1-3pm Eastern Time
Red Tent

Zoom link to participate in Soul Circles

Early access to pre recorded Soul Circles, Conversations and Posted content
Exclusive Organic Tote Bag
Fulfilled by Patreon
Sign up by April 15th receive this tote as a thank you.
Philanthropist
A tier for those folks looking to give extra support to everything we do here at West Coast Soul. It comes with the great feeling of knowing you are making an impact by helping us make an impact!
Zoom link to participate in Soul Circles

Early access to pre recorded Soul Circles, Conversations and Posted content

Sponsors a Youth for Generation Empowered Sessions
About Jo Mazgay - Soul Circles
Empowering Feminine Connections

Marriage was lonely.
Motherhood is lonely.
Post Partum was lonely.
Feeling suicidal was scary.
Being completely disconnected from myself, was the loneliest.
I was disconnected from myself, my peers, my family, from those who did try to help.
I feared shaming everyday, because every day I felt like I had failed.
Asking for help, felt like admitting to failing.
I felt vulnerable around people, so even loneliness felt safe. I tried to be invisible.
I sabotaged any social outing to stay in the safety of my home, in pjs watching netflix.
That is no way to live a happy life.
My husband left and my kids, so small, looked at me with those giant eyes, and all I could do was weep.
There was no anxiety hiding mask for this.
And then one woman came to my door.
No ego.
No agenda.
She came to hold space and offer her support.
She just arrived, and my whole world changed.

When women support women, the world as we know it will change.
We have been conditioned to see one another as competition, but that ends here.
We have been domesticated to blame one another for anything that happens to us, but that ends here.
We are no longer weak in our feminine, but rising up and celebrating the strength and beauty in being Divinely Feminine.
Week after week, I invite women in to explore topics such as Boundaries, Sensuality, Self Worth, Inclusiveness and so much more.
Week after week, our community grows as more like-hearted women come in, reclaiming their power, taking on their healing and holding space for one another.
We are also being proactive with youth, offering them similar workshops, age appropriately.
Week after week, we are changing the world, one heart, one soul, one week at a time, and I invite you in to join us.

Because one woman held space for me, she changed my souls path, and I would like to support you to do the same.

Jo



$85.22 of $391.07
per month
When I reach my first $500, I will post a video of answering truth or dare questions from my Generation Empowered kids.
1 of 1
By becoming a patron, you'll instantly unlock access to 6 exclusive posts
By becoming a patron, you'll instantly unlock access to 6 exclusive posts
Recent posts by Jo Mazgay - Soul Circles
How it works
Get started in 2 minutes