Alright!  If you're new to her,
Zebra Girl
is one of the longest running online comics, a monochrome saga grown since the turn of the century.  I'm
Joe England
, artist and writer, and this is the story of Sandra Eastlake, a contentedly normal young woman who falls victim to a magical accident which transforms her into an exotic demonic creature.  From that point forward her tale is an urban fantasy as she struggles to make peace in her altered reality with the help of her friends (and/or enemies), finding adventure whether she wants it or not and crossing the road between her human identity and
Zandra
, the wondrous Zebra Girl.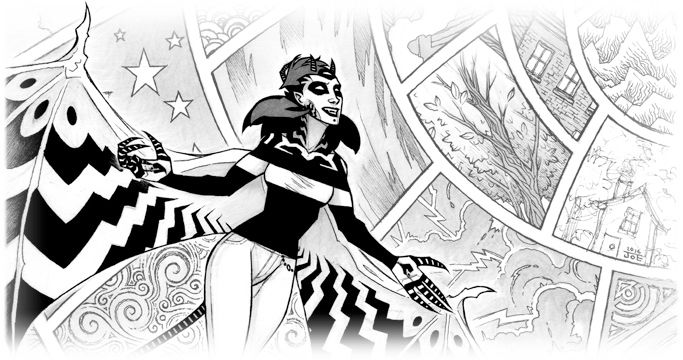 You can help me continue to produce Zebra Girl, as well as any future projects I may undertake to spread beauty and wonder and light throughout the world.  I'll all but guarantee at least two out of three!  Said projects may include
videos
(featuring my gorgeous face and brilliant gestures),
illustrations
, stories, and any incentives or goals you might suggest which seem agreeable and aren't illegal.  Seriously, I ain't a hit man. Don't ask me to cross that line, and don't you go there either. The weed of crime bears bitter fruit my friend.  You'll spill ink on your soul that won't ever wash out. But we're getting off topic (though it's still good advice).
  By setting up recurring payments you'll become one of Zebra Girl's vital organs, routinely pumping life-giving cash into its veins and bringing joy to trillions!  Maybe less.  We won't know 'till we try, right?
-Rewards will be sent at the turn of each month!-