John Merritt & Tentacle Kitty
is creating Collectible Plush, Comics, and Community
Select a membership level
Patron
Patreon Exclusive Fun!
1. One monthly "Definitely Not Lost" comic page featuring Tentacle Kitty's friends back on UnderSky.

2. See this month's Hand-Painted Little One that John is creating

3. Access to our community on the official Tentacle Kitty Discord Channel






Includes Discord benefits
Premium
Creative Curiosity

1. Everything in tier #1 PLUS:

2.  Downloadable Exclusive digital wallpapers in various sizes

3. Work in Progress snapshots of the comic.

4. Speedpaint video of this month's Hand-Painted Little One.




Includes Discord benefits
VIP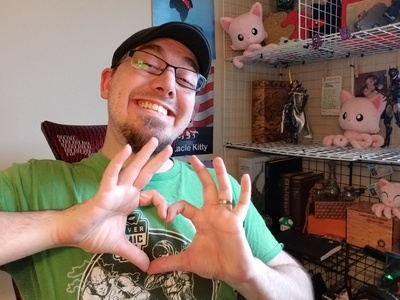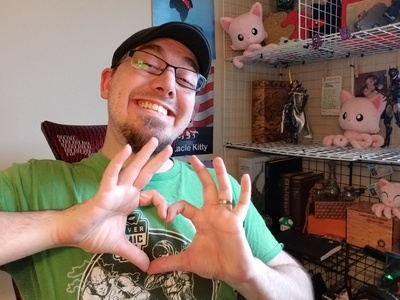 Interactive Intentions
1. Everything in Tier #2 PLUS...
2. Livestreams with John as he works on animation, graphic design, painting, and other art.
3. Interact by voting in our polls that will determine future projects.
Help drive the story and the hilarity in a "Choose Your Own Adventure" style vote on what happens next in the monthly comic "Definitely Not Lost". Will happen at key moments, appx every 3 comics.
Vote on what John will animate next.
Vote on what comic page you would like to color next.
4. Gain Access to the 
Exclusive Patreon Super Secret Shop!
Contains Convention Exclusive Plush designs while supplies last, get them while you can.
Limited Edition Apparel, Etc.
Includes Discord benefits
About John Merritt & Tentacle Kitty
Hi, I'm John Merritt, creator of Tentacle Kitty! 
I am creating Collectible Plush, Comics, and an amazing Community!
Welcome to my Patreon! 
What is Patreon? Patreon is a monthly subscription that helps support creators so we can keep creating!
What kind of stuff will you find on my Patreon?
All kinds of stuff! Read on to learn more
, after this important announcement!

As a thank you to my Patrons (you guys rock!)
I will be hand-painting 12 Little Ones as gifts!
I hope you enjoy these Little Ones as much as I enjoy creating them for you!

Not a Patron Yet?
Join us! 
Click Here to Sign Up

Then, go to Discord to learn more!
Now, back to our regularly scheduled content!
Pushing the boundaries of art with Plush Design is what I do!

Some people use canvas, others use sculpture, but I create art in the form of plush. From concept, through prototype, to finished designs, it's all here.
Right now I create small-production-runs of collectible designs, one-of-a-kind works of art for individuals, and
exclusive designs 
for some of the 
biggest
pop culture conventions.
Join me on this adventure, and I will show you the designs before anyone else. Plus, if you are interested in design you will see what it looks like from Start to Completion of a plush design in the Design Deluxe Tier.
I will also be creating a Hand-Painted Little One each month in 2021 and in December I will be releasing them into the wild as gifts to Patrons. 
More Comics = More Fun!
Rae and I created a comic for our main character Tentacle Kitty.
It is going off for publishing and we can't continue on with it right now, so we decided to create a special comic for Patreon with a small twist. 
We will give Patrons the chance to vote on what happens in the story at key moments which will change the course of our heroes. 
Have you read the Tentacle Kitty Comic? If not, we will get you caught up on the important details. 

Tentacle Kitty Comic Recap: Tentacle Kitty lives with her loving tribe on the verdant ecological planet UnderSky. She spends her days hunting and exploring the wonders of UnderSky, where she often becomes distracted and carried away investigating new marvels.

Despite a warning from an elder of her tribe, the wise and powerful Cat Guru, Tentacle Kitty nevertheless wanders into the forest one night after the suns have set, where she encounters one of the fabled monsters of nighttime UnderSky: a Dark One.

Although Cat Guru saves Tentacle Kitty from the Dark One, she falls through a mysterious crackling purple interdimensional portal during the scuffle, landing in another dimension far away. 
But what happened to her friends who were left behind?
That's where our
new comic
"Tentacle Kitty: Definitely Not Lost" picks up. 
"Tentacle Kitty: Definitely Not Lost" is the story of Tentacle Kitty's friends Magenta, Teal, Orange, and Fuzzy Purple as they attempt to find their friend and end up
definitely not lost
or anything.
These kitties are big enough to roam, but can they find their way back?
Follow their adventure in UnderSky as they navigate uncharted territories, meet new creatures, solve puzzles, and learn to work together to survive. 
Help choose the adventure! Join in on the fun and vote to determine which path they will follow at key moments in the story. 
Will it be a challenge? You betcha! What better way to earn one's name? 
*FUN FACT*:
Did you know that kitties from Tentacle Kitty's tribe aren't given a name at birth? They must earn their name as they grow.
Where do we begin with our community? Our community is amazing!
Our Patreon community is full of funny, caring people who support one another and enjoy hanging out. We are like a family!
They even hold their own fan run contests every month!
When you join our Patreon 
we will show you how
to join our Discord chat rooms where you can join our community (and monthly fan-led contests).
To make incredible Plush!
 Plush is the backbone of what we do at Tentacle Kitty and we LOVE IT! Our big dream, though?
To create a Patreon Exclusive Tentacle Kitty plush! 

To make comics! 
Patreon is how we make our monthly comics!
More Patrons = more comics!
We are halfway to creating two comic pages per month.

To build the most amazing online community of any fandom!
 We are already doing that! All it is missing is you.
To have fun!
We like to do random stuff! For example this year we invited our Patrons to work together to create one of the Mystery Little Ones Series 2 kitties, and it turned out so cute!
Click Here to Sign Up Now


Dear fans:
During the pandemic, Patreon support is how we are able to continue making comics, and other entertaining content.
It also allows us to connect with you on a more personal level. What could be better than hanging out with you?

Please join us! 

BECOME OUR PATRON and help us reach our goals!

Hugs,

John and Rae
If you are unaware, my name is John Merritt. I am the creator of Tentacle Kitty. Together with my wife, Raena, we write the story of Tentacle Kitty. 
For as long as I can remember I've drawn and made up stories. But not just stories, more like entire worlds. I would start with one character, then another, and another, then I would build the plot as I was building the world around them. Animals, beasts, towns, cities, all of them within a single world. I never shared much of anything I made, that is, until Tentacle Kitty. 
Mostly during my downtime, I draw characters from my weekly Sword & Sorcery game. Sword & Sorcery is basically DnD for hardcore RPG players and Game Masters who enjoy killing player characters a lot. That is before the Pandemic. Now I just hang out with the family and think about the possibility of setting up a DnD game of my own. I also plan to share other projects I work on, which may include fixing up our home, furniture, woodworking, and more!
While John might do most of the art you see throughout Tentacle Kitty's world, we decided that it would be awesome to have another artist specifically here to produce the comic! After searching around we ended up finding our friend Amy King, who was actually one of the artists on the official Tentacle Kitty Coloring Book produced by Dark Horse Comics!
She has amazing work and we are BEYOND excited that she producing a new page for us every month! Feel free to click the image above and you can take a look at all of her previous work!
Thank you for being here and being a fan of Tentacle Kitty. Without your support, we really and truly would not be here today. We push ourselves hard to make each and every person who loves Tentacle Kitty smile and in turn, it makes us smile! So again, thank you.
At this point we will start producing 2 pages per month!
1 of 2
Become a patron to
Unlock 120 exclusive posts
Connect via private message
Recent posts by John Merritt & Tentacle Kitty
How it works
Get started in 2 minutes