Jordan Chariton
is creating Corporate Con Job: How Mainstream Media Aids the Oligarchy
By becoming a patron of Jordan Chariton you'll be an active participant in their creative process.
Select a membership level
See Your Name in the Book!
See your name in the
acknowledgments section of the finished book!
Jordan in JAIL Bonus Chapter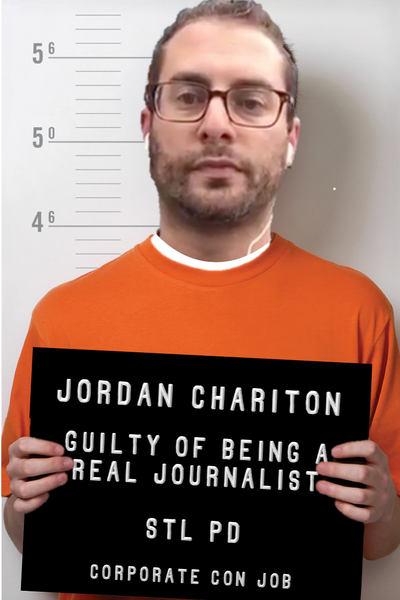 Jordan and Ty were thrown in JAIL in St. Louis for the crime of journalism.
Anyone who becomes a Patron at the $5/chapter level or higher will get  access to a BONUS chapter of Corporate Con Job
where Jordan will share the behind-the-scenes of the corruption of the St. Louis Metropolitan Police Department.
*If  you're already signed up as a Patron at $5/chapter or higher, you'll also get access. Remember,  you can upgrade or downgrade your tiers at any time.  
About
In
"Corporate Con Job: How The Mainstream Media Aids the Oligarchy," 
I reveal my never-before-told, behind-the-scenes experiences as a journalist covering historic movements like the
Bernie Sanders campaign, Standing Rock, Flint, the corruption at the 2016 Dem Convention, the widespread voter suppression during the 2016 presidential primaries, the Disappearing Middle Class, and more.


Consider
#CorporateConJob a smackdown of the corporate media and establishment elite
that have stopped serving the people in favor of plutocrats.
I name names, reveal what drives me, and open up about my very human ups and downs along the way.
I'm releasing the chapters as I write them, and this Patreon is set up so you can support me 'per creation' (per chapter). Sometimes, I might release more than one in a month, so take a look at the monthly maximum you want (you can set it to '1' and only be charged once even if I release 2 chapters in a given month). 

Most importantly, I want to THANK YOU
 so much for your support. Being on the road 80% of the time through 2016/2017 was challenging, I saw heartbreaking things, I saw things that will make your blood boil. Most importantly, I saw people of all ages, races, and political persuasions crying out for help because they're being ignored.
Exposing the corruption of the powerful is sometimes a very lonely thing, and
it's YOU who makes it all worth it.
Whether you support me by sharing this Patreon with your friends or social media, or you sign up to support me at $1+ a chapter,
I appreciate you more than you'll ever know.



DOWNLOAD THE CHAPTERS THAT HAVE ALREADY BEEN RELEASED

VOLUME TWO


'
BONUS CHAPTERS FOR $5+ PATRONS

KEEP UP WITH ME AROUND THE WEB
$500 of $2,000
per chapter
When I reach $2,000 per chapter, I'll start releasing audiobook versions of all chapters and do a special Q&A video call for Patrons! I'll also add to the reward tiers on each level. 
1 of 1
By becoming a patron, you'll instantly unlock access to 21 exclusive posts
By becoming a patron, you'll instantly unlock access to 21 exclusive posts
Recent posts by Jordan Chariton