JubyPhonic
is creating Vocaloid Covers In English
Select a membership level
Opals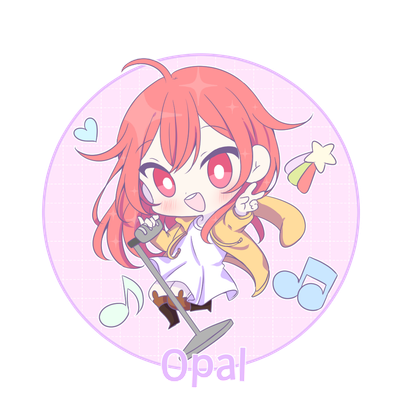 ✥ Patreon Exclusive Covers ✥
Get JubyPhonic covers only available to Patreon. The covers can include anime, vocaloid, and even popular american songs. These will be casual covers (recorded only once or twice) in either native Japanese or English. I'll be continually adding to this collection.
About
Hello!
I'm Juby and I sing Vocaloid covers. But in English.



What is that?
I take Vocaloid songs and sing them in English. Sometimes I sing other things like anime or jpop, but usually just Vocaloid.
As for what Vocaloid is, this wiki is your friend.


Who are you?
I'm literally just some weeb who likes Vocaloid and doing stuff like this.
I was also lucky enough to find something that I was passionate about that makes so many other people happy. So far, I've been covering these songs on YouTube for 7 years now and would like to keep going for as long as I can. Each new year is a blessing honestly.
I also have been working as a professional voice actress in anime dubs at Sentai Filmworks for about 6 years now. It's non-union work but the pay isn't why I do it. I love anime (obviously) and love acting so I try and make time for auditions, recording, and conventions when life allows.
Why Patreon?
On a personal level, I'm a college student part time working on my degree. I've been lucky enough able to pay for my college so far, supporting myself on these passions alone. But because of the amount of time I dedicate to covers and voice acting, it's taken me much longer than expected. I live at home with my parents still to help save money as well, helping out when I can because family is family. 
Don't you make enough from YouTube? Or voice acting?
The short answer is not really.
In voice voice acting, I'm a non-union VA and only get roles once in awhile. 
As for YouTube, the reality is much less glamorous. Youtube is painfully unreliable and virtually impossible to guarantee an income from as I've learned over the years. I'm essentially gambling on every video and the hard reality is that the return is often 0$. 
Why should I support you?
If you donate, you'll be keeping my YouTube alive. It's really just that.
During the time I grew from a dumb teenager to a dumb college kid still doing YouTube stuff, I slowly took on more responsibilities in my life. I have people I care about and, as much as I love it, YouTube will always take backseat to that. But if you support, I can keep singing and doing this without worry. 
What will you give me?
I'll be honest, I've struggled with rewards on Patreon. 
I'm not a social person, I don't value anything I make, and I do this alone.
It honestly scares me just to post on here because accepting money feels wrong and I'll never be able to repay any of you. But I wanna keep trying.
Right now, I can offer are Patreon exclusive covers of songs that aren't Vocaloid.
Anime openings, pop songs, Disney songs, things like that. 
They'll be recorded in my spare time so they won't be perfect, but I'll try my best.

Here are some I've already done:
Purachina (Cardcaptor Sakura)
Helena (My Chemical Romance)
Brightdown (D.Grayman)
Is there anything else?
I just want to say thank you.
If you've donated a dollar or even thought seriously about it, thank you from the bottom of my heart. I would have given up on this years ago if it wasn't for your support. I'm constantly discouraged and feel like what I make isn't good enough, but so many people have given me the strength to keep going. I've been lucky just to make it this far, so thank you.


By becoming a patron, you'll instantly unlock access to 150 exclusive posts
By becoming a patron, you'll instantly unlock access to 150 exclusive posts
Recent posts by JubyPhonic