Kentucky Browncoats
is creating a community of big damn heroes in Kentucky.
Select a membership level
Welcome Aboard!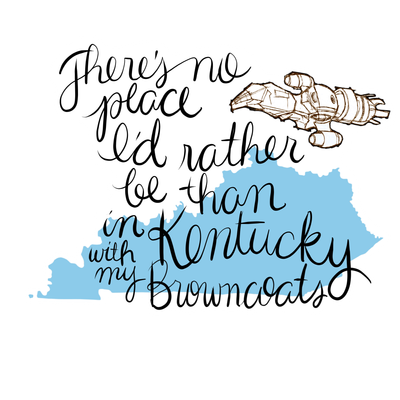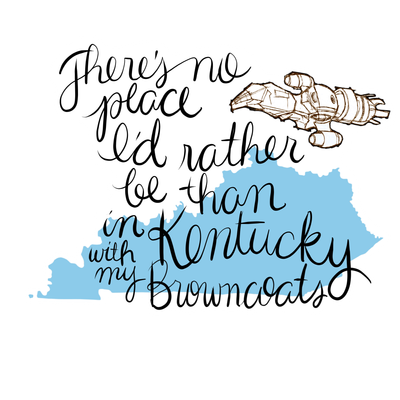 Stow your belongings and find a bunk. You've got kitchen privilege, but clean up after yourself.
- - -

This goes toward our events all year round.

Give the Captain your snail-mail mailing address and you'll get a small but cunning package in the mail your first month with a couple goodies and a note from the Captain. You will also get at least one (1) of each new sticker as they get released!

About Kentucky Browncoats
Kentucky, within the United States of Earth That Was, is our claimed home on the ground. All within are welcome sanctuary as long as they mind themselves. We're not lookin' for trouble, most of the time. So come and sit, bring your rations, there's room 'nough for all passengers and work to be had...
[ Video comin' soon as the Captain works up her nerve and she's not runnin' all over the 'verse. ]
We're a little fandom with a big heart that belongs to a sadly short-lived space-western series created by Joss Whedon – and it's followup movie. We enjoy doing charity work, gathering monthly for bowling and other activities, and would love to have you onboard. The group is on Facebook, but we also have a monthly newsletter (starting 08/19) for those who would like to stay in the know about upcoming events.
 

Greetings! My name is Ana Maria Selvaggio, fka Captain Nyorissa Kel. Thank you so much for being here and for supporting the Kentucky Browncoats!
THE GROUP

Previously the
Kentuckiana Browncoats
, the group originally consisted of three inactive members in a Facebook group that had never met. Now three years and more than 283 events later...
We have 200+ of the finest bunch of Browncoats you'll ever meet
We have handed out more than 2,000 buttons
We have participated in the 4th of July parade in Lexington
We have booths at RichCity Comic & Pop Con, Lexington Comic & Toy Con, The Scarefest, and the Imaginarium. We have also been requested at GalaxyCon but will need sponsors to cover the hotel.
We have partnered with CSTS three times to show SERENITY at the historic Kentucky Theater in Lexington 100% for charity; year 1 we were No. 12 GLOBALLY for the donation.
We have held monthly episode nights in two locations
We bowl once a month in Richmond
We board game once a month in Lexington
We have held parties
And we have two interactive games designed by Renmeleon (me) EXCLUSIVE to us - "Shindig Mingle Bingo" and "Run It Through the Wash"
We have pulled a TRAIN JOB twice in October on an actual train!
We have a long way to go to be where I would like to see us but, at 200+ members, I'm really proud of how far we've come in such little time and I can't thank YOU enough for your support. 
Patreon is our next step.
THE GOAL

Having done this solo for the past three years, I need help going forward. We've had some angels watching over us here and there, but we need to build our funding into something that is sustainable and not just living from event to event. Our bank account is currently housing moths, big gorram junkie moths. 
This is a work in progress, so I will be adding more perks as we go as well as making tweaks here and there. My goal is to help cover our expenses so that more of what we raise at events like our annual CSTS screening can go to charity, I won't have to worry about printing costs (Serenity didn't have a poster this year), and we can get things like PATCHES, vinyl stickers, our vintage-style bowling shirts, posters, temporary tattoos, and more swag for events. 
PROJECTS

Aside from scripting the LARP (live action roleplay) for our TRAIN JOB event in October, I'm working on our crew zine for the Jiu Hai Shen and developing a few ideas for down the road. I want to be able to provide more fun ways for our Browncoats to connect!
GOALS GOING FORWARD


Kentucky Browncoats is self-sustaining.
Gatherings in other parts of the state, not just Lexington, Berea, and Richmond.
A Firefly gaming event at a locally sponsor shop.
An online tabletop game based on the Jiu Hai Shen storyline (details soon) using Roll20.
The ability to mail out something as the Captain to all our members on their birthdays so they know their presence is appreciated. (Because it IS.)
Partner with the Berea Makerspace for a monthly cosplay workshop day for sewing and swapping clothing.
Sponsor/partner with a charity every year for the whole or half a year, not just events.
Deliver meals as a ship at Thanksgiving.
Wrap the Captain's Scion xB to look like "our" version of the Mule so we can use her for parades.

Most of all, we'd like to find ways we can build a community of big damn heroes here in Kentucky that helps those who need it.
Patches, stickers, buttons, more swag in general.
1 of 5
By becoming a patron, you'll instantly unlock access to 13 exclusive posts
By becoming a patron, you'll instantly unlock access to 13 exclusive posts
Recent posts by Kentucky Browncoats
How it works
Get started in 2 minutes