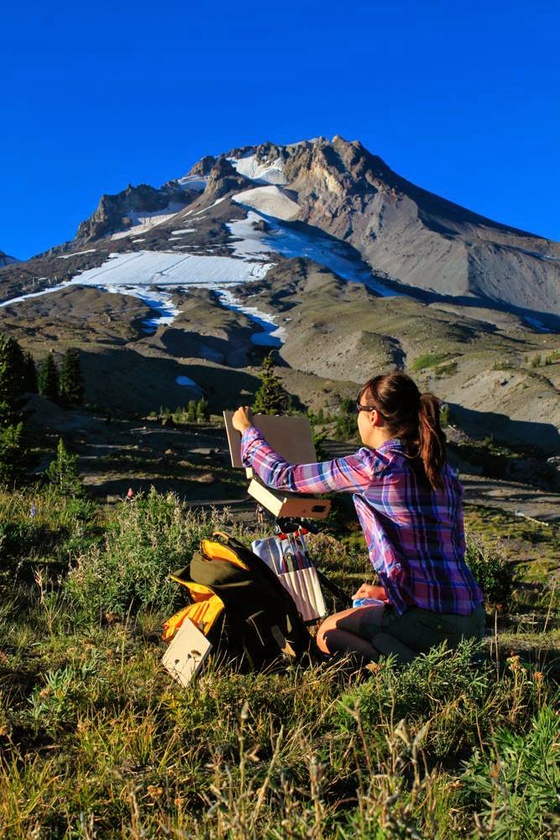 HI!  My name is Karen Whitworth. I am an oil painter and am so excited you're here. :) Welcome to my Patreon Page!

WHAT WILL YOU FIND HERE:

Here you will find all sorts of things to inspire you, bits of my life as an artist, & my artistic adventures.
For Art Collectors and Appreciators: Whether you enjoy seeing art evolve from a small seed of inspiration to a completed piece, or if you desire to observe the craziness that is an artist... look no further! :) I Love to share and am honored to have you along for the ride.
For Fellow Artists: you'll find things to assist you in your art career. From tutorials, to marketing, to encouragement & feedback, this is the place for you! I am so excited to have you join me in my virtual studio. Let's take our work to the next level! Feel free to message me with questions and inquiries. I'm excited to hear from you!
What is Patreon?
It's a way for artists to connect directly with their audience. I get to share my life, art, and inspiration with you, without a middle man. It also creates a simple platform for artists to be compensated for their work. This can be viewed as a tip, or a monthly subscription to content. Other ways that this money is used on my page is for monthly mentoring, or even a layaway option to purchase original art.
Why do I have a Patreon Page?

From the very beginning of pursuing my art I have been enamored with the very special connection we artists have with our audience. It is a unique and beautiful relationship, one based on sharing on a deep level. The artist puts a lot on the line, sometimes even becoming vulnerable in sharing their heart in the form of their craft. It isn't always easy to do. But when the artist is connected with their audience, this sharing is embraced in an incredible way. Those scary moments of baring one's raw emotions are received with such grace and sensitive acknowledgement that the artist is encouraged to do it again... and maybe this time try even harder, reach even farther, because she knows she has a team standing with her, watching, waiting, all with great anticipation. And should she fail... because we all dwell on this often... she knows this same team is still there waiting... offering their support and encouragement for the immense effort that was made.
This is why I have a Patreon Page. It is a platform where I can share not just my art but what goes into it, to engage and involve anyone who is willing, in this amazing art journey.
How do I use the money?

The money from my Patreon Page is something that allows me to take on more creative risks than I would be able to otherwise. While pledging is not required to be a part of my team (It is just one way to participate of many) it does provide me with resources to pursue that next creative hurdle with great gusto. Yes, I make money from the sale of my art. But just like any other business there is overhead and those bills get paid. So when I receive money above that threshold, it allows me to pursue things that didn't fit in the budget before. One example is for Patreon funds to pay the entry fee to a competition (The last one I submitted to was $45), should I win - that investment will bring more income, should I loose - it won't. So those types of expenses often aren't made. But with Patreon, I can!
If you are considering becoming a patron, first I would like to say:To support an artist with your hard earned money is not only a financial blessing to the artist, but an incredible compliment that encourages the artist to strive even harder to passionately chase after that which inspires them. It is an ultimate honor that words fail to convey. Whether it's $1 or $1000 your act of support is worth more to me than you will ever know. - Thank you!


In an attempt to share my gratitude with you, I have put together some pretty special reward packages. How will you choose?! :D

And Finally...
Thank you for checking out my Patreon Page and all the fun stuff we're doing here. It's a pretty amazing platform that I am so thrilled to be a part of it.
All my best, 
Karen
Let's connect!
Pinterest:
http://www.pinterest.com/karen_whitworth
Twitter:
https://twitter.com/KarenWhitworth
Facebook:
https://www.facebook.com/karen.whitworth
Instagram:
http://instagram.com/karenwhitworth