Kate Elliott
is creating fiction, essays, worlds, adventure.
Select a membership level
Friend of Finn
Thank you for your support. Seriously, it means the world to me.
A weekly Patreon-exclusive Finn photo. Because Finn.
Craft posts on writing and world-building.
The 2022 "old WIP" chapters, monthly.
Host of Finn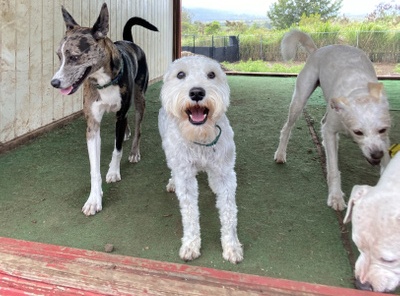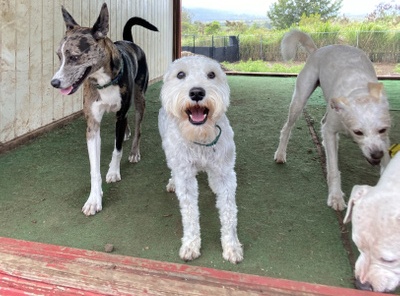 "Fingolfin led the largest host of the Noldor"
Thank you!!!!!! There can never be too many exclamation points.
Everything in the $2 tier.
My series/books related flash fic & snippets, including requests and out-takes.
Occasional sneak peaks of work in progress.
Shield of Finn
Thank you SO SO SO MUCH.
Everything from the $2 & $5 tiers.
Exclusive monthly peeks into a new world I'm building.
About Kate Elliott
Who knows where the path will lead? My challenge, for myself, is to walk into the unknown with courage, humor, curiosity, and compassion. I'll be sharing fiction, snippets, essays, worlds and world-building conversation, explorations on re-building when life takes an unexpected turn, and photos of whatever takes my fancy plus of course my white schnauzer Fingolfin, High King of the Schnoldor.
Why Patreon now?

A long time ago I committed to writing as a career. For one thing, it's a good match for my temperament, and for another it turned out to be a good match for the life that developed which was not the life I thought I was going to have when, as a teen, I thought about My Life.

With three small children and a spouse who, by turns, worked lots of overtime, worked full-time while attending school full-time, went to grad school with frequent field work and then took a job that included multiple long absences, I found that writing kept me sane and also allowed me to be available as my children grew up. Writing full time is often doable in a two income household when one of the partners' work provides health insurance (or if health care is part of the social safety net, but I live in the USA). In my case I have been able to maintain a decent mid-list career over 30 years. For that I am immensely grateful and privileged.

We get ideas about how life is going to go, and then life doesn't go that way. 

While it wasn't entirely a shock, nevertheless I did not quite expect to find myself separated after 34 years and, as with many women who end up entangled in the midlife crises of others, suddenly and scarily financially insecure. I didn't think I would be here, but here I am.
With the exception of the work for hire Magic the Gathering novellas (which I was glad to have at a time I needed those two incredibly fun projects), I struggled to write new first-draft fiction from March 2018 through the end of 2019. In early 2020 I finally had a great start but, as with many, my productivity foundered within ongoing pandemic stress (I and my extended family have been fortunate enough to so far remain healthy), and an unexpected second bout of depression centered around the launch of UNCONQUERABLE SUN left me questioning whether there is any future for me as a writer. In the depths of that I was finally able to start restructuring the way I look at my work and my goals, and had to face up to my reluctance to ask for help.

Patreon has proved to be a lifesaver and game changer for artists, activists and people doing work that our economic system won't necessarily pay for. This site has been a huge help to friends and colleagues. All those who contribute to Patreon are helping our larger social network be a healthier place. I truly believe that.

What Next?
Writing fiction is my skill set. My goal is to continue writing full time. I have a few projects under contract and more potential projects on the way -- probably more than I can write in the next thirty years although I'm going to try my best to write them all.

I've been fortunate for the last year that one of my sons has been able to share household expenses with me (although let's be real, who wouldn't want to hang out with Finn as much as possible?). Now, a cool opportunity is taking him off island. So while I have options, to begin with I'm seeking the basic security of covering my mortgage. If I can do that, I can manage the rest.

And What Am I Offering You?
To start with, more fiction. Time and security to write this big gender-spun Alexander the Great in space trilogy with all the care and attention it deserves. Old worlds to return to with partly written projects I've not had the psychological confidence to work on. New worlds I'm already creating because making up worlds is what I do for some strange reason I can't explain.

Besides the usual things--news, Finn photos, WIP excerpts, Q&A, a dedicated Discord channel--I also plan to

1) take requests for flash fiction and short cameo scenes of characters you, the patrons, love and want to see a bit more of

2) the craft of world building project I've been meaning for years to continue on a regular basis

3) the process of me creating a new landscape for a future story universe brewing in the backwaters of my mind

This Patreon will be a place I can share thoughts, questions, and progress with people who will be glad for what I'm doing, because I've learned with the greatest clarity over the course of my career that it is the support of my readers, friends, and colleagues that has kept me afloat.

Thank you.




Goals:

$1200 a month will cover my mortgage (and if my refinance application goes through, it will cover mortgage AND utilities). I recognize that it's a lot. Any amount toward the goal makes a difference.


Art Credit: 

The gorgeous image is part of a larger illustration by Julie Dillon which you can find here: 
https://www.inprnt.com/gallery/juliedillon/spiritwalker-dragon/
Become a patron to
Unlock 110 exclusive posts
Connect via private message
Recent posts by Kate Elliott
How it works
Get started in 2 minutes