Jokes & Puns
is creating awesomely funny, politics-free, religion-free pun groups
Select a membership level
Pun Supporter
You're fighting the good fight, helping us grow a family of hi-fucking-larious groups that fill the newsfeeds of more than 350,000 people with stuff that's not politics, trolling, or negativity. You, my friend, are the real hero here. 


Your donation will go toward hiring the fiercest mercenaries we can find to swoop down upon those who troll, flame, post off-topic, or simply unfunny posts.

NB: This tier of support is just to show you care. If you want the mail-a-mask thank you, you'll need to look at the option next to this one.


Pun Enthusiast
All that stuff for Tier 1, but we'll also thank you by name once in a while for keeping our groups free of spammers and jerk faces.

Staying Punny!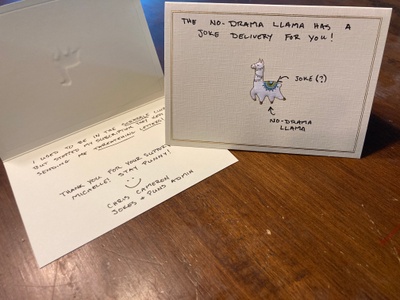 You're not just a believer in keeping FB positive — you believe it $1 more than those people in the $2 tier! Plus, the first month you pledge, you will get a joke delivered to you via snail mail! Each one is different, so be sure to compare with your friends!

Thank you! I spend untold hours dealing with strange cultists, purveyors of what can delicately be described as interspecies erotica, and spammers trying to get you to believe they are psychics who can cast spells on your ex. This is my coffee money. And as you can imagine, it takes a lot of coffee to unsee some of that stuff...

About
First, thank you for being a part of one or more of the following communities:
Their collective missions are to make your FB newsfeed full of themed humor and free of the trolling, flaming, and politicking that can make the platform a cesspool of negativity. We're all here to do our part to have a laugh, share a laugh, and keep it easygoing. Or, as my daughter would say, "easy peasy wheezy sneezy lemon squeezy" (whatever that means).
I'll cut to the chase. These groups are very big, and there are regular flare ups of people posting stuff that's off topic, hateful, or simply acting like a bag of dicks to each other. Our goal is to keep our communities -- which as of writing total more than 350,000 people -- as fun places that are free of spam, hate speech, politics, religion, and other serious content.
So please chip in if you can afford to do so. It takes huge amounts of time to preserve the upbeat, positive atmosphere of our communities.
As always, stay positive and punny (or GTFO!)
By becoming a patron, you'll instantly unlock access to 2 exclusive posts
By becoming a patron, you'll instantly unlock access to 2 exclusive posts
Recent posts by Jokes & Puns
How it works
Get started in 2 minutes