Kelly Borsheim
is creating paintings, murals, and figurative sculptures, and writing a book
Select a membership level
Shaping Tools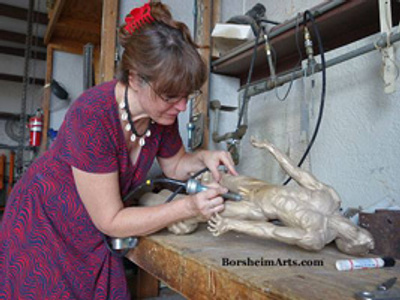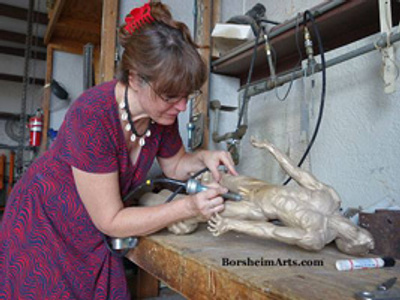 Thank you! You are the necessary ingredient to create beautiful forms! You will receive:
Access to my art-process images and descriptions in my patron-only feed and you have my gratitude.

Sharing is Caring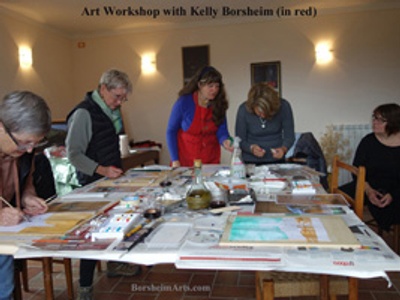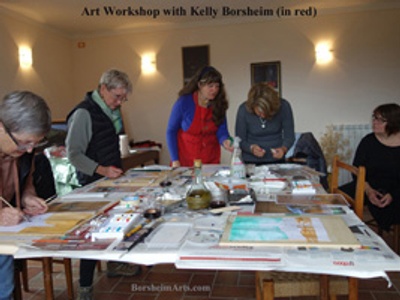 The art will go so much further with your appreciated support! You will receive:
Access to my work-in-progress images, videos, and descriptions in my patron-only feed, which I hope inspire and teach you about art-making.  And my thanks.

Palette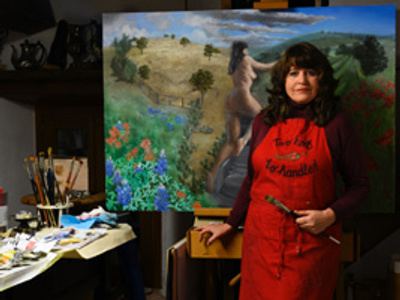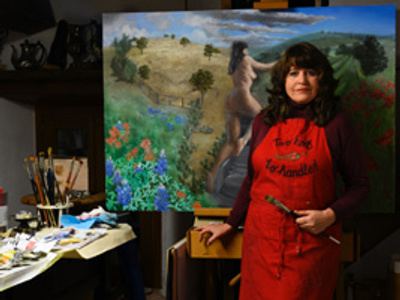 Thank you, you help me add interest in color and tone! You will receive:
Access to my patron-only feed, and save 10 % on any available Borsheim artwork, as well as my appreciation.

About Kelly Borsheim
     Well, HELLO there!
My name is Kelly Borsheim
. I would like to invite you to share in my art adventures! I create stone carvings, bronze sculptures, paintings, drawings in charcoal and pastel, as well as murals. I also wrote a book
My Life as a Street Painter in Florence, Italy
that gives a pretty good taste of what it is like to spend long days, mostly on one's knees, re-creating art masterpieces and working for tips in the streets of Italy. (It is available on
Amazon.com
or directly from me.)
      That book was well-received and for years, I have been looking for another idea for a book that would be worthwhile. I recently found one that has stayed with me long enough to think it has potential. With the new year came the newly written words of my very first novel! It will be set in
Venezia
(Venice, Italy). As I paint and draw (a much quieter action than stone carving), I continue to listen to audio books in the genre in which I wish to write, as well as interviews with a variety of writers and editors. In this way, I hope to learn how to write a novel and how to distribute it to readers. I expect this to take about one year.
Why Am I Writing another BOOK?
      I do not really know how other artists are managing to pay rent and living expenses, or even if they are. I work a lot on my art and it is my sole source of income, other than what investing my savings does for me. Still, I realize that my work is not often gallery friendly, and that is my fault.
      Like most artists, I have been shown the way to success: Create a consistent body of work, get famous with it, and ONLY then may you branch out into your other interests, usually as long as you keep producing the well-known stuff. Over the more than two decades that I have been making art for more than myself, I have tried to focus on only one or two subjects or mediums. It is a hurdle I have yet to overcome. I am not sure why, but my brain sees everything as connected and the same. Yet, the market does not.
      It is difficult to market figure paintings, still-life, landscapes, and lately some mythological and non-traditional self-portrait works in oil, charcoal, pastel, and acrylic to a variety of audiences. And then add the sculptures! Murals are usually by commission and are a great fun, but they are not often seen by a lot of people since they have thus far been inside private homes.
      My savings are dwindling, despite my choosing wisely how I live and spend my money. I am not extravagant. To be fair, my life does not exist without the generosity of many others, who treat me to dinner, let me sleep in their home as a guest (usually this while I am exhibiting in shows distant from my home), sometimes give me art supplies, . . . you get the idea. I so appreciate every single thing kind people do to help me! But, most living expenses must be paid in cash, and it is clear that something has to change. This is the year.
      Practically speaking, a book is easier to sell than a work of art, or even a reproduction of a work of art. The price is just really low in comparison. Granted, one must sell more, but a book seems accessible to more people and we all love stories! Plus, I have found through my work that the more personal it is, the more others seem to see something of themselves in the art. I hope to show you Venice as I have seen it and maybe even use the book as an excuse to explore further.
      While this book project is newly started and a serious idea, I cannot give up my painting, drawing, and sculpting. However, I hope to focus them more. I have not given up on my previous desire to create a series of at least SIX large paintings, compositions of men with animals. It is a theme dear to my heart, especially as I have the sense that we move further and further away from the notion that we are superior to Nature, not just a part of her. I have the supplies. I just have a difficult time tackling complicated compositions when I need cash flow.
ANOTHER CHANGE and BENEFIT:
Patreon does a great job of making it easy for me to see the total contributions of a single patron. Thus, I offer you this:
If at any time you wish to buy or commission a work of art from me, NOT ONLY will I allow you to enjoy a 10% savings on my art, but I will also apply ALL of your Patreon balance paid to me (I think that means less Patreon's fee taken each month), as listed in my patron account towards your chosen work of art.
It is totally your choice as to whether or not you wish to take advantage of this offer, but I hope that you will.
Here on my Patreon page, I will show you glimpses of my creative process in all mediums in which I work. I will share with you inspiring trips I make (such as to Venice for research) and things that can help fill your life with art and culture. I hope you will choose one of the patron levels in the Fibonacci sequence offered. And comment on your favorite posts so that I can make sure the content here is of interest to you.
I cannot thank you enough to helping me pay my rent and other living expenses while
I continue to work on more complicated compositions and creative projects. And I encourage you to take advantage of my offer above to apply your Patreon balance towards any of my available artworks with a 10% savings on the price, in any medium, or commission your own dream.
Thank you.
Kelly Borsheim, artist (sculptor, painter, writer, teacher)
If you would like to see what I have created thus far, please visit my Web site at
http://BorsheimArts.com

Blank Canvases Await . . .

Sadly, it is time for a new Sony RX100 - a digital camera small enough to carry with me at almost all times, yet has VERY good quality.  And also video capability, a topic of which I have succumbed to learning in this period.  To that end, it is also time that I invest in a quality tripod.  I can do this with your help once I reach $100 per month.  Thank you so much!

1 of 2
Become a patron to
Unlock 131 exclusive posts
Connect via private message
Recent posts by Kelly Borsheim
How it works
Get started in 2 minutes