Tobias Svalås
is creating comics
About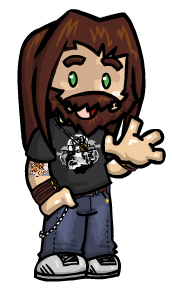 Hi guys!
My name is Tobias Svalås and I am the creator of a webcomic called King Of Slackers! :) KOS is a comic I draw and put out on the internet FOR FREE. I do this whenever I am not at my day job. and have the time. 
A little about the comic: KOS is a webcomic semi-based on my life as a Swedish father in my early 30's who lives with my Aussie wife, our baby Annika and the Elder God Cthulhu! 
Some people would call it a "pop culture parody webcomic" (I know. Sounds fancy, right?). I've been going at it since 2006 and, I've got to admit, I am really proud of this comic :)
If you enjoy King Of Slackers and want to see it grow, please consider becoming a patron!
Any amount would be super appreciated! Take a gander below and see which rewards tickles your fancy. 
Thanks for reading!
Tobbe


FAQ:
How often do you update King Of Slackers?
I try to post a two comic strips per week. 
What if you post  A METRIC BUTTLOAD comics in one month?
It is very unlikely, I usually post 7-8 comic strips in a month, but you can set a monthly limit when you sign up to make sure that you NEVER spend more than you're willing to each month!
Can I change (or cancel) my pledge amount at any time?
Absolutely!
I have more questions!
Awesome! Either ask me on Twitter or check out
Patreon's FAQ here
. 
When I hit $50 per comic I'll upload a KOS wallpaper in an epic, super sexy 80's style for all patrons!
1 of 4
By becoming a patron, you'll instantly unlock access to 529 exclusive posts
By becoming a patron, you'll instantly unlock access to 529 exclusive posts
Recent posts by Tobias Svalås