Kit Whistler
is creating Honest Art from the Road
Select a membership level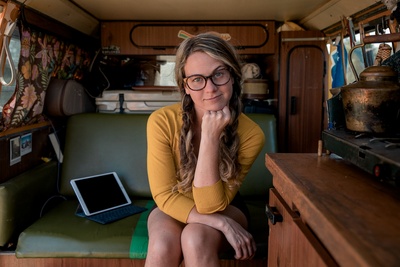 Let's Spread Idleness!
This tier is mostly to say "Your work has touched me. Keep making stuff, make it more often, and start making videos, you crazy kids." 
You, fellow dreamers, bring all of this to life. Thank you for making it possible for JR and I to create ongoing art, to begin creating videos, to spread the messages we're passionate about, and to continue creating what we envision: a brighter, better, more idle world for all of us!
Your Gifts:
Do-Nothing Club Membership;
Access to Patron-only Groups and Content, including: 
-Monthly Live Videos (in which we answer any and all of your questions!)
-My Private Do-Nothing Group, where we'll have in-depth discussions about...well, anything, but especially idleness and the many ways we can go about living well. 
-Long-form Essays (yes—way longer than my Instagram/FB captions), written about the topics that burn heavy on my mind, or topics that you all suggest.
-Monthly Reading Lists, with book and articles I've been digging into, as well as reading recommendations and reviews by me.
-Extra videos not released on our regular YouTube Channel
-Direct access to us, with intimate ways to talk and connect and share one-on-one
Snail Mail, sent from me to you:
-A love note surprise, handwritten with love from me 
-an-oh-so-official Do Nothing Club Membership Card. 
Together, we'll change the world!
With your help, we can realize our dream of making beautiful, meaningful videos and hopefully podcast episodes, on a consistent basis, which would help us create the world we want to see, one that's beautiful, sane, and filled with gorgeous idleness.  
Hope You Like Snail Mail! You better believe I'll be placing some extra special items in the mail for you, because I love hand-touched pieces of paper, and it makes me beam to think of you hold a piece of my art in your hands.  
Your Gifts:
-Membership to my Do-Nothing Club, which includes: 
-All Online Access to Patron-Only Content, as Listed Above: 
Plus, You'll Receive the following Snail Mail, sent from me to you:
-A Love Note surprise 
-Official Do-Nothing Membership Card 
-Do-Nothing Sticker Pack  
You Idle with the Best of 'Em.
At this level, we can really make an impact together. Your patronage will go towards developing the Idle Theory Podcast I've been wanting to launch, to video gear for our Youtube Channel and time to create all of the essays and cartoons set to release throughout 2019. Without you, all of these endeavors would be no more than hopeful dreams. Thanks to you, I can make this a reality. 
If you're here, probably know that I'm passionate about all things paper. Let me make you some customized art to say thank you for supporting this big ole project and journey of ours. You have no idea how much it means to me to create what I love each and every day, and to change the world with your help. We strive to make the world a more beautiful, thoughtful, and idle place. Thanks to you, we can. 
Your Gifts:
-Official Membership to my Do-Nothing Club 
-All-Inclusive Online Access (read above for the rundown)
Plus: You Will Receive the Following via Snail Mail:
-A sneaky piece of surprise piece of Love Mail
-Do-Nothing Sticker Pack 
-An official Do-Nothing Membership Card
-Customized Art, from Me to You: An illustrated personalized poem or cartoon, hand-drawn to your specifications! 
-A copy of Kit's upcoming poetry chapbook, a beautiful, printed book filled with illustrations, poetry, essays, and photos, personalized for you by me, Kit! I'm really excited about this one guys. Let's make this little book happen. (To Be Released Summer 2019)
About Kit Whistler
Hello there, Fellow Idlers and Dreamers, Weirdos and Wanderers!

Kit here.
As most of you know, my partner JR and I have been traveling the backroads of the USA for seven years now, rambling from ocean to mountain to desert and creating art about what we find out here on the cracked byways and faint dirt roads of the USA.

We've been sharing our art from the road through our blog and social media accounts for over 6 years now, and it's been a blast. I, for one, never expected to find true community through this little project of ours, as we shared our thoughts and photos from the road, yet here we are, connecting with and learning alongside you guys in this crazy place called the internet.

New Year, New Projects on the Horizon
Now, after publishing a book and zines and thousands of Instagram posts, we're itching to launch projects that are bigger and more ambitious than anything we've done before. We are in the midst of initiating a number of exciting new fun-filled ventures, ones that we believe will impact the world for good and create the colorful world we'd like to see.

Your Support will Make This Possible
This is where you guys come in. I have this vision of releasing new, long-form art every week, and in order to do so, I rely on the support of you, my fellow idlers and dreamers who believe in the art and message and vision created by JR and me. On the sides of this website are tiers at which you can support the release of our art, and we'd be so honored if you did. Without you, they'll remain nothing more than hopeful dreams By supporting, you will help us transform all of these sparkly new projects into reality.

As a huge Thank You for your support, you'll receive access to my private Do-Nothing Club, where we idlers can gather in small numbers to commune and discuss the matters that weigh heavy on our peaceful hearts. I'll also be mailing out gifts for you all to say thanks: little tokens from me, such as handmade art, small-group hangouts with me, heartfelt notes sent from the road...as well as lots of new art: extra essays, videos, and blog posts released for only you, our patrons.

Projects We'll Launch With Your Help
There are so many projects we are launching in 2019. With your support, all of this will be possible: I'll be creating cartoons and essays, all released on a weekly basis. We're in the process of kicking off our brand-new YouTube channel, which contains a Vlog from the road, a cooking show, and an upcoming series on Travel and Idleness. We are also ready to finally make a dream of mine come true: an Idle Theory Podcast, which will delve deep into the world of doing nothing.

Thank you for Your Patronage. You Guys are the Best!
JR and I live to create art. And we create to transform the world into the magical place we see our minds. We are travelers and artists equally, and the honor of sharing with you guys means more than you know. Thank you for your support, for making it possible for JR and me to share our mission, and to transform the world into a better, brighter, more optimistic place...a place in which we can all Simply Be through Idleness.

I have so much leaking out of my soul, and I can't wait to share it with you all.
Thank you for all of your ongoing support. Sending you gratitude, love, and lots of light.
-Kit

Recent posts by Kit Whistler
By becoming a patron, you'll instantly unlock access to 2 exclusive posts
By becoming a patron, you'll instantly unlock access to 2 exclusive posts