KityCrylics
is creating Enamel Pins, Apparel, Digital art
Select a membership level
Support and Exclusive access!
This tier is for those who are wanting to show support, wanting to eventually join the pin club, or for those who really like coloring pages! This unlocks all Patron exclusive content including printable coloring pages! 
Receive 1 3" Sticker of the current months design! 

- Stickers will be mailed via stamp & envelope! 
- Address is required! 
- There is no tracking for this tier! 

Absolute Basics: Enamel Pins
Limited (6 remaining)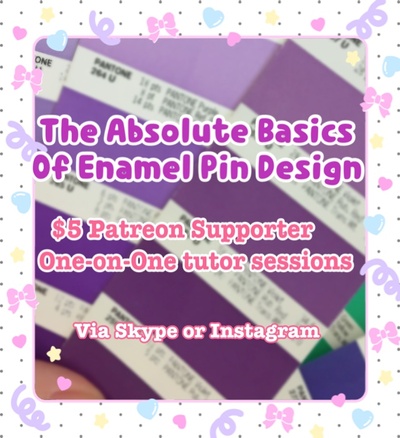 Have a design you're interested in getting Pinned? This tier gives you access to my 1-on-1 individed attention for all of your questions and inquiries as well as assistance with the design and artwork of your pin!

Patrons: Feel free to DM me or direct message me with your design and any questions you have! I will be more than happy to guide you along the way!
This is a great tier for showing support as well as receiving personal tips and suggestions.

Members may regularly receive a small 'thank you' package every few months with a random pin design!

About
My reason and hopes and goals for using Patreon as my support outlet.
I have always had a need to create. Working with my hands, and putting my imagination to work. As a kid, I obviously was the weirdo because I thought so far out of the box that it intimidated my peers. I had goals and dreams to the end of the world.. So I have dabbled in MANY avenues..Some with great success, others with bittersweet endings. Patreon is a great platform for the unique ones such as myself, who struggle in the typical society because I wasn't cut out to become a Lawyer, or a Doctor.

I help by bringing creative inspiration to those around me. I use my visions to tastefully challenge the norms while still being classy, professional, kind, and fun.
I recently have fallen in love with the art of Enamel Pin making, and have worked hard with the amazing help and support of my followers and patrons to bring just over 30 designs to life. I have a passion for art, Otaku and Japanese street fashion, gaming, and mental wellness. My artwork is inspired by an array of things, mostly within those areas.
If you're still here...
My life evolves around art and crafting, learning, and cats. Anybody who knows me will tell you that I have always had a passion for working with my hands and that I have a thirst for knowledge and exposure to new experiences. I'm always looking for new things to try, and am always thinking outside the box on how I can do something better and better. I prefer to work from home and enjoy it thoroughly, but a large reason why I work from home is due to health reasons. Investing my energy and life into my art and shop is a way for me to cope with my health issues, a way of making a positive out if it.
I live with a high functioning anxiety disorder as well as live with Chronic Fatigue Syndrome, and struggle even more during the winter months with seasonal depression. The simplest of tasks are absolutely exhausting, but being able to work from home allows me to be in the safety of my home during the times my fatigue or anxiety spikes, allowing me to rest when my body needs it and being able to recharge to keep going with the day-- something that is not easily given or understood with 99% of employers otherwise. Allowing me to continue to work from home allows me to continue my passion for art as well as allows me to take better care of both my mental health and my physical health.I cannot express this enough, that your support enables me to be the best that I can be, and it goes a lot further than just my art.
You're saying you care, you're saying you understand, you're saying you believe in me. That has so much power, that even just $1 brings so much hope to me that I will be able to live a somewhat normal life.

Where and what is your hard-earned money going towards?
On a basic level, your patronage goes towards keeping my website active, helps me in covering necessary loose ends (etsy fees, gas costs for trips to the post office, little things like that), but on a deeper more personal level:
Your support helps me to afford my doctor/psychiatrist appointments, as well as help me to afford my medications and to afford investing in more/better quality materials when possible, and helps to keep food on the table for myself and my husband and four cats. My husband works very hard to support us, but it is unrealistic to think we can survive as a six individual household on just one persons income. The support will help to enable me to keep improving my skills, and my hope is to one day be able to pay it all forward, and use my skills to help those around me. I hope to someday be able to teach and share the knowledge i've learned over the years, but I myself still have so much learning to do on my own.
I love constructive criticism, I love to know what works for you; the supporter. I love to know what more I can do to help bring creative joy to your world.

Other ways you can support me:
Visit my shop: Http://www.kitycrylics.com
Share my page! Spread the word!
Follow me on Instagram! @Kitycrylics
I am dedicating this year to pushing myself even harder and to use Patreon more exclusively as well as work to bring more creative content to my viewers!
1 of 1
By becoming a patron, you'll instantly unlock access to 51 exclusive posts
By becoming a patron, you'll instantly unlock access to 51 exclusive posts
Recent posts by KityCrylics