Koe Creation
is creating Non-Monogamous Family Media
Select a membership level
Koe-nnected
(1) Monthly Newsletter - 2nd Wednesdays
    A digest of blog posts, media and exclusive offers! 
• 24hrs Early Access to External Media* 
•  Access to "The Koexistence" aka the Patreon post blog
•  Shout-out on all @Koecreate Social Media
---
 *Fulfillment ultimately based on producer timelines and openness to negotiation. 
Koe-mmunity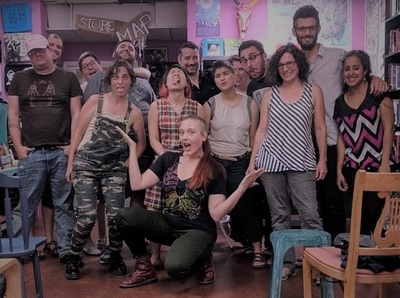 (2)  Media Recommendations - 1st & 3rd Wednesdays
Covering Queer, Sex-Positive, Non-Monogamous and BDSM related, educational content taught from an intersectional viewpoint. 
 • All previous rewards 
---
Media forms will include:  
 •  Videos, Podcasts & Articles
 •  Memes & Infographics
 •  Books and Web-comics
 •  Tools and Resources from other Educators!

1st Wednesdays - Children's Media
3rd Wednesdays - All-Ages Media
Co-Kreator
(1)  Monthly Livestream - 4th Thursdays, 7pm PST*
•  A monthly themed Q & A, covering your questions regarding: Queer, Sex-Positive, Non-Monogamous and BDSM relations.
• All previous rewards
---
20 minutes of the Livestream will be discussing tools for sex-positive and alternative families! Topics will include:  
Jan - Getting Through the Cold Coping Strategies for Depression
Feb - Gray Scale Platonic & Online Relationships, Ace & Arrow
March - Sprung! Crushes & Heartbreak
April - Let's Dance! Peer Pressure, Rejection & Class
May - School's Out for Summer!
June - Pride Month! History & Tips for Celebrating!
July - Summer Camp Stories and Strategies
Aug - Last Daze of Summer Annual Pop Culture Wrap-Up
Sep - Back to School! 1st Impressions & Stress Management
Oct - Trick or Treat! Harm Reductive Trick or Treating!
Nov - The Holi-gays, part 1 Sur-Thrive-al!
Dec - The Holi-gays, part 2 A Koexistence Solstice
*If a Livestream date needs to be changed, Patrons will receive 48 hours notice and a prompt rescheduling.
About
Koe Creation is truly a Sex Educator for the 21st century.
Having grown up as a child of a sex-positive, polyamorous family, Koe uses their unique knowledge as a second-generation queerspawn to provide prospective parents & families a framework for successful cross-generational communication about their identities and relationship(s).
Now freshly 30, Koe literally has a lifetime of hands-on training in nonviolent communication, intentional relationship building and sex-positive parenting, from the child's perspective. Koe's interest in relationship dynamics and Koe's award winning involvement in the Sex Education, LGBTQ Activism, Public Health Advocacy and work within Polyamorous and Kink communities has only grown throughout their life.
Koe has always been a performer; from early beginnings as their family's resident ham for the camera to eventually working as a professional actor, model and dancer through their young adulthood. Koe was also deeply influenced by the positive role modeling they received, as a youth, attending summer camps for alternative families. In their current work with families, Koe brings the dedicated passion and vulnerable strength of performance to support their struggling clients, filling much needed roles like "Personal Gender Cheerleader", "Sex-Positive Camp Counselor" & "Polyamorous Auntie You Never Had!"
Currently Residing in San Francisco, Koe finds time to run away to the forest in between balancing clients, partners and, of course, their thriving, polyamorous family!
SF Business License - Sole Proprietor, Tax Help

I know infrastructure isn't the sexiest Goal to read about, BUT how attractive is it when you find someone who has all of their financial life put-together?
I want that kind of power and confidence for the Koexistence. 

When this Goal is Reached; I will do a Special Giveaway of
signed copies of This Heart Holds Many!

Funding goes towards:
- Initial purchase of SF Business License ($200)
- Accounting help from local Sex-Educator friendly Accountant, 2 hours. ($100)

(I've been running my business out Washington State & it's time to update to where I actually live!)


3 of 6
By becoming a patron, you'll instantly unlock access to 43 exclusive posts
By becoming a patron, you'll instantly unlock access to 43 exclusive posts
Recent posts by Koe Creation