La Drome Donkeys
is creating Videos and cool stuff to support our rescue Donkeys
Select a membership level
Supporter
A big Thank you from our Donkeys PLUS:
Special videos all about the donkeys
A special 5% discount on stays at our holiday Gites when booked direct with us
Patron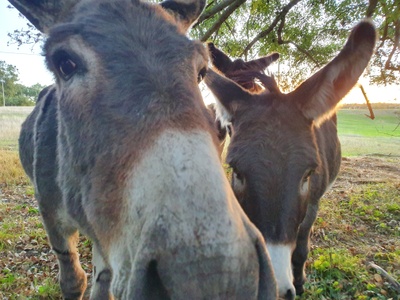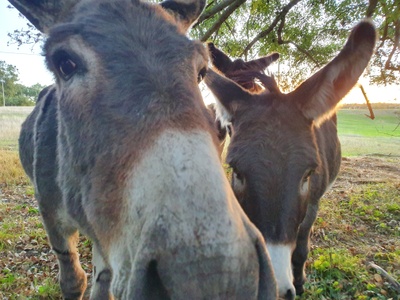 A big Thank you from our Donkeys & all of the benefits of lower tiers PLUS:
Each month you can suggest and vote for what you would like to see feature in future videos.
A special 10% discount on stays at our holiday Gites when booked direct with us
Sponsor Dobble
A big Thank you from our Donkeys & all of the benefits of lower tiers PLUS:
Get answers to your La Drome Donkeys questions in a monthly Q&A video.
Your personalised Donkey adoption pack including a picture of your Donkey and a certificate.
Your name will appear in video credits as the sponsor of the Donkey of your choice.
An optional walk with our Donkeys in the beautiful Drome Countryside when you stay with us
About La Drome Donkeys
We support rescued and re-homed Donkeys (and other assorted animals) at our Gite business, Les Beaux Chenes, in the Drôme-Provençale, South East France.
Currently we are home to:
The Three Musketeers, brothers - Athos, Porthos and Aramis, three young Provence Donkeys saved from a grisly fate at the abattoir
Bamako, a rare, pure race, Baudet de Poitou donkey, who arrived pregnant in 2018. Almost impossibly, she had twins full term but born dead. Happily she has given birth, at the end of April 2020, to our first special Poitou arrival, Kismet de Barret.
Our latest arrivals, two more Poitou Donkeys, Anissou Du Vern and Dobble, whose owner was too ill to care for them. These two arrived in a terrible state, malnourished and full of worms. Ani has ongoing foot problems, due to long term neglect, with abcess on top of abcess and laminitis. She is very gentle but timid and has certainly been maltreated, which is just so sad. Slowly, we are gaining her confidence but it is a long journey. Anissou is pregnant for September 2021 and we are carefully managing her diet and feet problems on-going. Dobble arrived pregnant and we are delighted to announce that, despite an incredibly complicated time and serious health issues, she gave birth to a glorious foal, Kiaria de Barret, in September. Dobble is very calm and relaxed but arrived with a tumour (sarcoid) on her throat, which has not responded to veterinary treatment and will now require surgery after she has finished feeding Kia.
The Baudet du Poitou is a critically endangered species, with the numbers of births declining over the past 10 years and so we are so proud to have succeeded, despite serious difficulties in both cases, to have helped 2 new Baudet de Poitou girls into the world, born here, at home, with us. Hopefully they will eventually go on to contribute to the safeguarding of this incredible breed.
They live at Les Beaux Chenes and are supported by our Gite business. 
Unfortunately, with the current global COVID 19 challenge we are not able to receive any visitors and need to find a way to support these wonderful creatures.
The Baudet de Poitou is an ancient, endangered species, brought to France by the Romans. Known as the 'Woolly Mammouth' donkey, it's trademarks are its size, huge ears and woolly coat. They are notoriously difficult to breed, otherwise they would no longer be at risk. There remain very few in the world and we feel privileged to have our girls here at our Gites. We are members of the French preservation breeding programme for the Poitou and are thrilled with our latest additions.
Despite serious difficulties, incredibly, two of our girls both gave birth to beautiful females this year and they are also now thriving here! So despite having to close our business at short notice twice this year, we have even more hungry mouths to feed, all needing lots of hay, carrots and attention!
The 3 Muskateer boys were saved from becoming sausage meet. They are so curious, such fun and really protective of the girl donkeys.
It is such a privilege to have them all and we have set up this Patreon page to ensure that we are able to continue to ensure their future care.

By becoming a patron, you'll instantly unlock access to 214 exclusive posts
By becoming a patron, you'll instantly unlock access to 214 exclusive posts
Recent posts by La Drome Donkeys
How it works
Get started in 2 minutes