Lady Brigante
is creating Stories, Sculpts AND Seeking the Dead...
Select a membership level
'Common Carpet'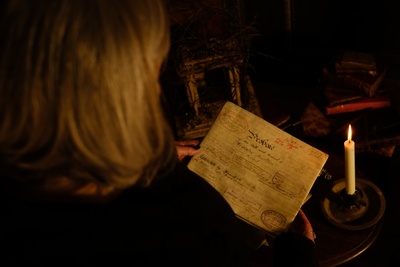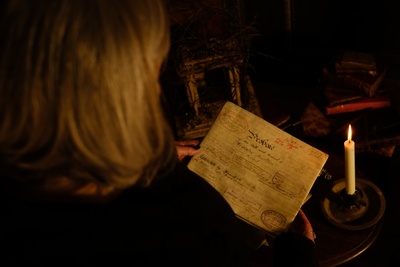 'Common Carpet' Treats:

Peek inside the Brigante Archives at the bundles of old documents, and the other exciting discoveries of those folk lost to history – until now!

Appreciation for your belief in my work - thank YOU!

'Feathered Footman'
'Feathered Footman' Treats:

ALL of the 'Common Carpet' treats.

Peek at the miniature designs in creation.

Exclusive Patreon musings and there will probably be a cup of tea nearby with perhaps a biscuit or three...

'Dark Dagger'
'Dark Dagger' Treats:

ALL of the 'Common Carpet AND 'Feathered Footman' treats.

Peek at the design and creation of the ghostly sculpts and be the FIRST to enjoy a look at the finished art!

Pitch in at the Lady B Polls.

About Lady Brigante
As a child I loved to shock others with the tale that I had been abandoned at birth by gypsies and raised en famille with kindly mice in the crypt of an old church.
Alas! The truth is altogether more unremarkable!
For I was born and raised in the ancient City of York – a Yorky who lives by the ethos that a book, a decent cup of tea and a bar of chocolate can ALWAYS make the world a better place. 
A dreamer from birth with a taste for history and the irresistible urge to create – by day you can usually find me along with my battered tool box inside my atelier creating away with the radio blaring out and surrounded by shelves of weird creatures, baskets of fabric, tubs of paints, the odd pot of glue, stacks of paper and exotic woods AND usually under the watchful eye of a black feline with an abundance of cattiude!
However, and as the sun falls on another day and with the messy apron discarded – I go in search of the dead.
For if I'm not thrilled by a bundle of old documents, poring over the details of a tatty burial record or recording an exciting discovery of an elusive ancestor in my old notebook – I will be waking the dead of York while clad in my distinctive feline boots as the Lady Brigante leading unsuspecting visitors through the snickelways and secret passageways of York and sharing the tales of the illustrious, miscreants, artists, misfits and those ordinary folk who have ALL been lost to history – until now!
I have been asked on more than one occasion how I can move between two very different worlds – one which indulges my passion for creating all things miniature and the other in which I can be found wandering through cemeteries in a quest to wake the dead.
For me, it's not a question of 'why' but rather 'why not?'
But WHY Patreon?

Although I love what I do and cannot imagine myself doing anything other than this – I know that in this world of mine that it's impossible to survive on fresh air with only a diet of hope and the occasional box of donated teabags.
Patreon is a membership site for creatives just like me and as my Patron – you will be invited to cross the portal, step into my world and enjoy some unique rewards including first peeks, anniversary gifts, exclusive images, untold tales and 'ChocBox' tickets!
AND all with the freedom to cancel or amend your pledge at any time.
Whether your preference is for miniature art rather than murder or creating stories to wandering around a cemetery or that you'd rather be a savant of the small sculpt than a tombstone tourist – there's a Patreon just for YOU!
As Lewis Carroll once said that "Imagination is the only weapon in the war against reality" – why not come along with me and we fight this battle together?
Every penny I earn gives me access to genealogical research, newspaper archives, probate deeds, insurance and marketing for the 'ChocBox Walks' AND those all important packets of polymer clay for my ghostly sculpts.

And as such EVERY Patron who believes in my work makes me VERY happy too!

Happiness is also enjoying a delicious cup of tea now and then...
1 of 1
By becoming a patron, you'll instantly unlock access to 5 exclusive posts
By becoming a patron, you'll instantly unlock access to 5 exclusive posts
Recent posts by Lady Brigante
How it works
Get started in 2 minutes