Laugh Healthy with Sarah Routman
is creating interactive laughter workshops, coloring books and more
Select a membership level
Laugh and Color For Your Health!
Laugh and color for your health! Receive a FREE laughter-themed page to color. Download it and then JOIN ME for a Zoom LAUGHTER and COLORING PARTY! De-stress, be creative, and get energized with this meditative activity prescribed by Carl Jung, founder of analytic psychology, to help with anxiety. With a backdrop of laughter to create an optimistic mindset, energize, and inspire, you're sure to end up with a masterpiece worthy of sharing!
Laugh and Color For Your Health
Let's Share Contagious Laughter!
Let's Share Contagious Laughter! Patreons at this level will be invited to a special laughter party each month, sometimes on a private conference call line, sometimes in a private Facebook Group and sometimes on Zoom. We'll rotate between platforms, taking advantage of special features each one offers. We'll laugh 'til our bellies hurt and then just a little bit more. I'll choose one Patreon from all those at this level each month and create a customized exercise just for you that we'll do at the party. I'll share tips and tools for self-care with purposeful, playful laughter. We'll have a great time together!
Let's Share Contagious Laughter!

Laugh and Color For Your Health
VIP Monthly Laughter Party!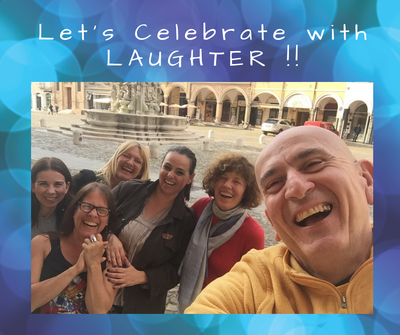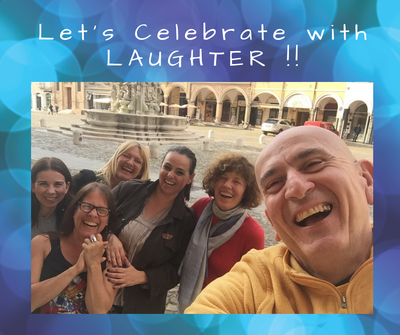 VIP Patreons will receive a special invitation to a VIP Zoom Laughter Party with Sarah. Enjoy the festivities with fellow VIPs and up to 3 of your own invited guests. Each month will have a different celebratory theme with suggested food, decorations and extra interactive activities. We'll end with Q&A and I'll provide additional resources following the 60-minute zoom party. If your schedule doesn't allow you to join, I will send you a link to watch at your convenience.
Let's Share Contagious Laughter!

Laugh and Color For Your Health

VIP Monthly Laughter Party!
About Laugh Healthy with Sarah Routman
Let me take you back to 1993. I'm with my daughter, living on the bathroom floor of her hospital room for months on end while we attempt two bone marrow transplants. Laughter is the farthest thing from my mind. It was an intense and serious time. My 18-month old daughter, who is playful and joyful and most of the time, has no idea she is sick. It doesn't cross her mind that the masks, gowns, and gloves even the doctors and nurses have to wear to enter our room, are the least bit unusual. In a random moment, my life course is set for me, but I won't realize it until years later.
My then-husband sits in the rocking-chair, our daughter in his lap. He points to the colorful 'I Love You Very Much' poster that adorns the walls of the otherwise sterile hospital wall. When he gets to the word 'you', he tickles her. You would expect that she might laugh, but she begins to giggle and laugh with so much joy and glee, I cannot help but join in. I was transformed. My daughter's laughter literally took me to another place, and in that moment, I forgot the hospital room, her illness, and all the related stress and anxiety we had all been living with for months.
From that day on, I knew the power of laughter. Without my daughter, I didn't know how to access it, though. Many years later, I discovered Laughter Yoga. During my first session, I was immediately transported back to that moment in the hospital room. It was a powerful experience and I knew I would spend the rest of my life teaching others how to get to that magical place that only joyous, uninhibited laughter can take us.
I've spent the last 15 years sharing healthy laughter with people all over the globe. I make laughter-themed coloring books, too, and spend my time asking people the question, "Have you laughed today?" Most people don't laugh nearly enough, and most often wait for their laughter to be triggered by an outside source, not knowing they have the power to change their own lives with unbridled laughter and reap the many health benefits - whenever they need it.
My goal is to put purposeful playful laughter in the hands of as many people as I can. Laughter really is the best medicine. Your support will enable me to continue to bring health laughter to the world.
You can join me every Monday for a FREE Laughter Call:
9am Central Time for 15 minutes
CALL: 218-339-2460
CODE: 52844# (LAUGH#)
Since March 19, 2020 with COVID-19 I'm on Facebook Live every day at 1:00 pm Central Time for 20 minutes.
https://www.facebook.com/profile.php?id=13953183
I also make Laughter-themed coloring books and you can find some free downloads here:
https://www.facebook.com/laughterdoodles
I use social media as much as I can, but I have to leave time for creativity - you can find my posts here:
Facebook:
https://www.facebook.com/LaughWithSarah
Instagram:
Twitter:
https://twitter.com/LaughHealthy1
Instagram:
https://www.instagram.com/laughhealthy/
YouTube:
https://www.youtube.com/channel/UC4b3DmYk2F8mJ5ctXcBWUcA?

WEBSITE:
https://www.laughhealthy.com/
(PLEASE NOTE: This is the correct website - the one listed at the end of the video is incorrect)
By becoming a patron, you'll instantly unlock access to 2 exclusive posts
By becoming a patron, you'll instantly unlock access to 2 exclusive posts
Recent posts by Laugh Healthy with Sarah Routman
How it works
Get started in 2 minutes