LazingInTheHaze
is creating Adult Games
Select a membership level
Lazing occasionally
You love to laze, but you don't have much time to...
You'll get access to previews to new game versions.
Lazing asap
You love to laze and you do it As Soon As Possible.
You'll get access to new game versions as soon as I complete them: this means two weeks before public release.
Lazing as I do
You love to laze everytime and anytime.
You'll get access to new game versions as soon as I complete them and to Extra content I'll add to them. Extra content is never released to public.
Includes Discord benefits
About LazingInTheHaze
A Happy Marriage
The game is about the story of Jenny and Jim.
They're married for 5 years but routine has set in the life of the couple.
Jenny is sexually and professionally unsatisfied and Jim jerks off to porn whilst fantasizing about his colleague, Claire.
Perchance Jenny finds an article in a magazine that acts like a catalyst which gets her back on the fun loving and adventurous woman she used to be at college. And Jim makes the mistake of leaving his door open during one of his office fapping sessions which eventually leads him to agree to Jenny's proposal, as indecent as he may think it is. Game on.
Public Downloads
Current Public Versions
Chapters Assets (
download to "Chapters" folder
):
Game Structure
The game is organized in
Chapters
to make clear the progression in the game development; normally a new
release
of the game will be made when a chapter is complete in terms of graphical contents (
CGs
) and
dialogues
.
The story of Happy Marriage is very articulated, with many different characters interacting for various reasons and goals. For this reason the story is organized in
Storylines
; each storyline is dedicated to one or more characters to better follow their evolution and search for goals. The game will show Storylines view when in "Map" mode.
To better follow and play the story, each storyline is divided in a sequence of
Steps
. Each Step tells a part of the story, in terms of
location
, characters involved and events happening; the progression of the steps, what happens in each one of them, the characters mood and actions, will all finally contribute to the complete picture of the story. When in "Step" mode, the game will present the CGs and the dialogues composing the step.
Sometimes it can happen that a storyline offers different
Paths
, which means different actions, dialogues and CGs; the paths, anyway, are always confined in a single storyline and have no effect to the other ones (the story would otherwise too complicated to be followed); paths can even be confined in single step.
Gameplay
Which is the role of the player? Starting from the opening "Narration" and "Swinging, Cheating or Hotwife?" storylines, the player will start to know the characters, their attitudes, their doubts and so on. At some point in the narration opportunities will present to open new storylines.
Mainly the player actions will be:
In Map mode
Map mode is where the player has an overview of the current state of the story. For each storyline and character the game presents, respectively, the current state and the current mood and feeling. The player should choose which characters are involved in which location to enable the playing of a storyline step. This done by the following means:
Understand the current state of each opened storyline by reading its summary: the storyline is chosen by clicking on its icon.
Understand the current mood & feelings of the characters by reading them when hovering the mouse on the character's corresponding icon.
Inspect the currently open locations in the map (those marked with a yellow symbol).
Drag&Drop characters over the correct location to play the step.
Replay a step by clicking on the "replay" icon on its interface box.
In Step mode
Step mode is the most important in the game, since all actions and story evolution appears here. The game presents a sequence of CGs and dialogues; sometime the game poses an opportunity to the player to contribute/interact with the story. This is done using
hotspots
or
choices
.
Hotspots: small points on the screen, increasing in size when mouse pointer approaches them, that allow to discover more CGs with details of the current action/situation.
Choices: buttons presenting two or more options to the player as possible answers/actions the current character can give/do. Eventually, choices determine different paths.
When necessary, the game will present some status bars (in the upper left corner of the screen) to expose current states determining paths.
The main characters
Jenny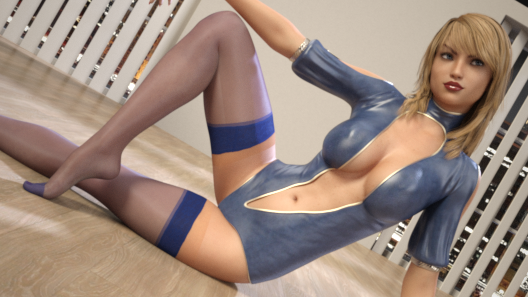 Wildchild and adventurous. Getting married to Jim brought stability to her life but her love of the unknown, the exciting and her high sex drive have been muffled to the norms of the society she lives in. Salvation came in the form of an opportunistic sequence of events. From sexual adventure to adventure, she will enjoy the highs and the lows of a new sexually open life.
Jim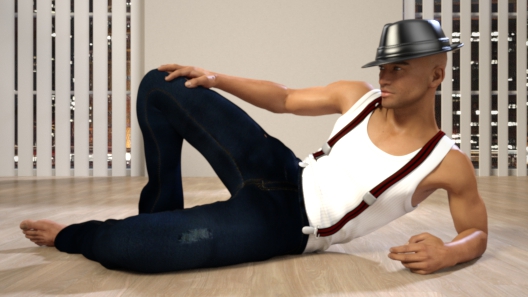 Slightly macho and restrained. Loves his wife very much but loves women in general. He will go along with everything Jenny wants but he has strong feelings for Claire. Now that their lifestyle has changed he is a bit lost but he is also glad that he can have a lot of women with Jenny's approval. Will he continue to have affairs and adventures with or without Jenny?
Claire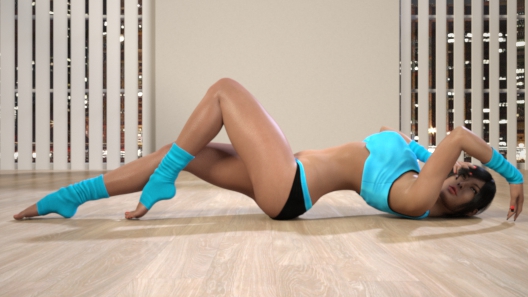 She is infatuated with Jim. But she too has a very high sex drive and likes kinky sex. Definitely bisexual. She is now falling for Jenny as well and wants them to form a trio. Will she accept Jim having other women apart from her and Jenny?

About Me
Being a long time player and a programmer I decided to dedicate my spare time to adult game creation. I'm not native English, so be patient for any errors I'll put in my texts; but I'm willing to accept any corrections and I'll certainly appreciate them.
This Patreon page aims to present my games, my renderings and creations, hoping to find people who loves them and can help me by founding new graphics card, computer and digital stuff I use.
Thanks for now and see you on my page !
I'll buy more digital content adding more spicy clothing and situations to the games.

1 of 3
Become a patron to
Unlock 41 exclusive posts
Connect via private message
Recent posts by LazingInTheHaze
How it works
Get started in 2 minutes