Levtai-howl
is creating Pocket Rain Files
Select a membership level
Punky Otter
You deny the system but support what matters to you.
You will have access to the demo once at month depending on our schedule

Your name will be in our credits section.
Seductive Coyote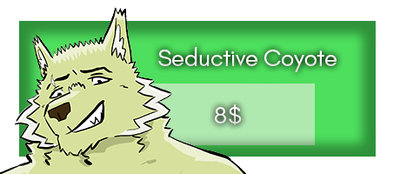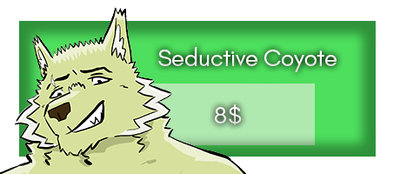 You know what you want and you will get because you dont have fear to give love.
You will have access to the demo after we have checked for errors

Sometimes you could chat with us at discord or another plataform

Your name will be in our credits section.
Fluffy Mastiff
You know how to take care of everything and you like to see how the things grows and grows because you are loveable.
Sometimes you could chat with us at discord or another plataform

You will have access to the demo right after we have finished the writting

Your name will be in our credits section.
About Levtai-howl
LEVTAI-HOWL
Hi guys, we are Levya and Himanntai, and together we have formed Levtai-Howl. We love video games, furries, and visual novels. For this reason we have decided to create a visual novel in which we are putting all our hearts. We hope you like it and if you can help monetarily it would help us a lot to continue, if you cannot with money, you can always help us by sharing this page and spreading the word.
What is Pocket Rain Files?
Pocket Rain Files is a furry visual novel, gay NSFW, that is focused on the personal relationships between the characters, with a much larger background plot that will be discovered as the story progresses. Decisions will be key in determining who and how you will end the story.
Characters
Meet Emeka the Cheetah protagonist; Jack, a scary German Shepherd detective; Willem, Emeka's childhood friend otter; Erik, a black bear head of the university; Toki, a computer Tibetan Mastiff; and Matt, a coyote who currently runs the Pawkoffee.
Synopsis
Emeka is a beastman cheetah who moves to the city of Verna to study. He's always been a homely and hasn't had too many friends, partly his fault and a little for living with a mother protective  than usual.
His mother rents him an apartment for himself since he does not know anyone from the place, and on his first day, he will meet a lot of people who will make hisr life more interesting. Some will be very kind, maybe even too much in some way, and strangely they all seem react with an unusual show of surprise the first time they see him.
As he gets to know them little by little, something in his mind begins to not quite add up, and doubts about himself and his whole life will begin to arise, and he will discover that what was assumeded, it was not, and the foundations on which his world was built will begin to crack.
So what happens when our origin reaches us and hits us in the face?
What happens when our apparent normality turns out to be a lie?
What do you do when in search of your destiny you end up trapped in your past?
Updating the game
We will update the game about once a month, maybe more in the future if we get enough help. The game will be free, but the latest version will always be obtained by our patreons.
Language
The game will have 2 versions, English and Spanish
Also you must have in mind, that English isn´t our native language, so please be easy on us, and every error or mistake reported, will be considerated. Thanks.
Download
You can download the game file on 
https://levtai-howl.itch.io/pocket-rain-files
We can have a greater consistency in publications and  hire help for programming.
1 of 3
By becoming a patron, you'll instantly unlock access to 14 exclusive posts
By becoming a patron, you'll instantly unlock access to 14 exclusive posts
Recent posts by Levtai-howl
How it works
Get started in 2 minutes