Living Joyful Now With Yayi Joyce
is creating Space for you to evolve live in God's joy and ancestral wisdom
Select a membership level
$5.00 Per Month Sow Seed
Blessed Greetings Dear Souls,

This is if Yayi Joyce content creation and ministry has blessed you and you would like it to continue here you can contribute your blessings of a seed to keep going.

Soul Sunday School Recording Access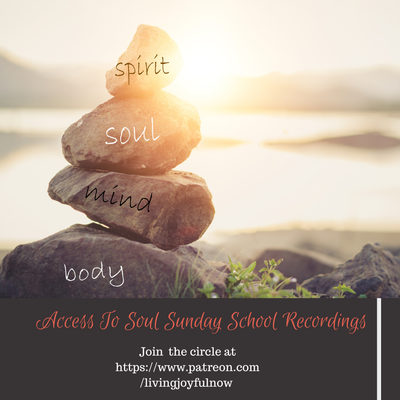 Blessed Greetings Dear Souls, If you commit to $14 per month, this allows access to The Soul Sunday School Recordings. Your donations help assist in keeping the ministry going.

To have the recordings edited and recorded and submitted weekly in a timely <g>fashion</g> please see the tier <g>goal</g>

Thank you for understanding that until this tier reaches at $500.00 per month that it will take at least 14 days to upload the recordings and get them edited.


Manifesting Monthly Recordings
   
Blessed Greetings Dear Souls, if you commit to $20.20 per month, you will have access to Manifesting Monday's core message.

This access is excellent for those that want to get the good news of manifesting, monthly however unable to attend the actual two-hour Mastermind with Yayi Joyce every single Monday for the year commitment.

Manifesting Monday is about you living your life in G-d and the angelical as well as ancestral joy. These videos and recordings are a fit for those who want to live their highest and most ideal experience here on Earth School.

You receive a recording once per month that it is best listened to every Monday or once weekly when you have the time adopt the principles for the Full Month make it a part of sacred self care routine 

About
Hello Joyful Souls, Welcome and ancestral blessings to Living Joyful Now Community. Here you can have access to Yayi Joyce as a spiritual thought leader, root worker, and holistic herbalist.

This joy-filled healing is a space for you if you desire to be powered by G-d and ancestral wisdom, Heal Dat Ish! and grow in your joy.

My joy-filled prayers and intent are that all who are here can thrive, grow in their spiritual business, become leaders, and excel in their self-development journey.

Yayi Joyce is the founder of Hoodoo Healing & Living Joyful Now, leading people to success in a healthy herbal practice and joyful living system to teach people to embrace their God-given and ancestral joy's.

Thank you for stopping by join, support pick a tier and know you are
G-d's joy now let's live in that joy,



The goal is to get all those to live a life of divine joy. Become inspired, mind, body, and soul.



Our mission is to bring the spiritual elements of positive psychology, ancestral wisdom, herbalism to help the community at large POC and Ingenious people; Black, Brown know that they were created to live in divine joy, prosperous, whole and complete. 

Yes, that includes wealthy as well.

Your contribution will help pay for editing, of the podcast, Youtube and videos here which will  allow me the time to have more to produce content 

When I reach $500.00 per month, I will start a podcast of once per week edited exclusively for here on any subject matter that is important to the group. 


1 of 1
By becoming a patron, you'll instantly unlock access to 52 exclusive posts
By becoming a patron, you'll instantly unlock access to 52 exclusive posts
Recent posts by Living Joyful Now With Yayi Joyce