Liz Danforth
is creating Mages and Sages
Select a membership level
Sparktacular!
Thank you! Your spark of magic lifts me off the ground! I am grateful you believe my art is something you want more of in your world.
Also:
Access to patron-only content
My very sincere thanks!
Includes Discord benefits
Eldritch Wizardry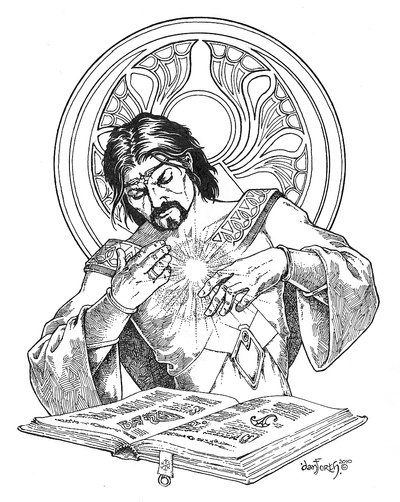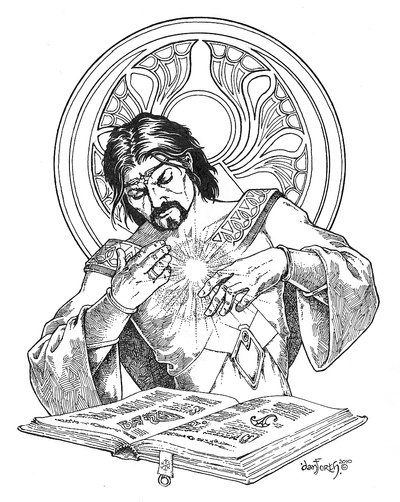 Thank you! Your wizardly ways effect a change in reality. With a wave of your hand, you cause more art to appear in the world.
You will receive a high quality digital copy of each completed "Mages and Sages" painting for personal use. Use it (for example) as a desktop on your computer, wallpaper for your phone, or to show the players in your role-playing game exactly who they are messing with... and maybe they want to weigh their words more carefully?
Plus all previous rewards
Includes Discord benefits
Wise and Sagacious
Thank you, oh clever sage! You know that the Earth without art is just eh. You also understand that making art doesn't happen by chance.
At this level, you get first shot to bid on the purchase of original sketches and other small works created as part of this project (as available).
Plus all previous rewards
Includes Discord benefits
About Liz Danforth
Hi there!
I'm Liz Danforth and I have been illustrating fantasy and science fiction games, novels, and anthologies for 40 years. I do a few other things like writing, editing, and game development, but most people know me for my art. I work full time at this unorthodox mix of creative works. I call myself "a Maker" and "a professional eclectic" because the simple lable of "artist" (while also accurate) leaves a lot of gaps in the picture.
What are you doing on Patreon?
Making Wonderful Things with a little help from my friends, fans, and professional associates. « Pour mes ami(e)s francophones, la version française se trouve en bas de la page »
Primarily, I intend to create a series of full-size paintings of "Mages and Sages." I am drawn to the idea of magicians and clever folk who reshape reality by force of will and the power of their minds--and I've depicted a lot of them over the years. Long-time players of Magic the Gathering might know the circle of conjurers in my "Hymn to Tourach" card, for example. I have also created studious mages, musical mystics, nasty necromancers, fairy-slaying summoners, and more.
Taking time outside of my regular assignments and commissions proves difficult to do. It is my hope that Patreon might afford me the time-shifting that a little extra funding can buy. 
Is that all?
Actually, no. The big paintings are the main thing. However, I would hope to do some smaller paintings, drawings, sketches. With extra slack, maybe I can fit in more tangential things. Coloring pages? Maybe; I know there is interest. A short chapbook featuring a particular mage or sage, a bit of story or an adventure sparked by that character in their setting? Not out of the question.
You can read more about me, about why I decided to take this leap of trust just now, and my immediate plans for this project, on my website at
http://www.lizdanforth.com/2017/01/art-lemons-plans/
.
So why a Monthly pledge instead of Per Wonderful Thing?
I thought about this awhile but the main "Wonderful Things" I expect to make will take months under the best conditions. I paint slowly, in traditional media, and I can not (will not) abandon my loyal clients and personal patrons. I just won't need to go beating the bushes to roust up new assignments quite as often. More to the point, I'll be able to realize some of the art and imagery that begins inside my head alone, and then share it with you and the world:
ars gratia artis!
Dependable donations allow me to plan how much time to put in, and then execute those plans. Although I expect to make smaller, more random things, rushing something to completion just to snare an influx of cash feels all wrong, and counterproductive to the whole idea.
So then...
What do you say? Do you want to be part of this adventure? Every donation helps and I want
you
to be able to say
Wow, I helped make this cool thing happen.
Your support means everything to me, and I am deeply grateful for your trust and your confidence in my ability. Thank you!
------------------------------------------------

Bonjour tout le monde !
Je suis Liz Danforth et ça fait maintenant 40 ans que j'illustre des jeux, des romans et des anthologies dans le domaine du fantastique et de la science-fiction. Je fais bien quelques autres petites choses à côté, comme écrire, corriger des textes, et participer à la mise au point de jeux, mais la plupart des gens me connaissent comme artiste. Je consacre tout mon temps à ce mélange hétéroclite de travaux créatifs. C'est pourquoi je me vois plutôt comme une « créatrice » et une « professionnelle éclectique » que comme une simple « artiste », appellation qui me correspond en partie seulement.
Qu'est-ce que je fais là sur Patreon ?
Je fais des choses extraordinaires grâce à l'aide de mes amis, de mes fans, et de quelques professionnels à l'âme de mécène comme
Patrice G., de Grimtooth
, qui m'a aidée à écrire cette page en français.
Avant tout, j'aimerais créer une série de peintures grandeur nature de « mages et autres sages ». Je suis très attirée par l'idée de magiciens et de gens intelligents qui transforment le monde réel par le pouvoir de leur volonté et de leur esprit, et il faut dire que j'ai fait beaucoup de portraits de personnes de ce type au cours de ma carrière. Les habitués du jeu de cartes
Magic : l'assemblée
connaissent peut-être le cercle de conjurateurs qui figure sur ma carte « Hymne à Tourach », par exemple. J'ai également créé des mages studieux, des mystiques musiciens, des nécromants maléfiques, des invocateurs tueurs de fées, entre autres.
Il s'avère pour moi difficile de prendre du temps en dehors des travaux réguliers ou ponctuels qui me sont confiés. C'est pourquoi j'ai l'espoir que Patreon puisse me donner ce bol d'air frais dont j'ai tant besoin en me libérant un tout petit peu de l'obligation d'enchaîner les commandes sans relâche.
Est-ce que c'est tout ?
En fait non. Bien sûr, les grandes toiles sont ce qui compte le plus. Cependant, j'aimerais bien réaliser aussi quelques peintures, dessins et esquisses de plus petite taille. Avec un petit peu d'argent de côté, je pourrais peut-être me permettre d'insérer quelques autres petites choses à l'occasion, comme colorier des pages, par exemple. Tout ce qui peut intéresser mon public entre en ligne de compte. Et pourquoi pas non plus un petit livret mettant en vedette tel ou tel mage ou sage, avec son histoire personnelle, voire une aventure inspirée par ce personnage et son histoire ?
Si vous voulez mieux me connaître, savoir pourquoi j'ai décidé de faire ce saut dans l'inconnu à ce moment précis, et connaître mes plans immédiats dans le cadre de Patreon, je vous donne rendez-vous sur la page de mon site consacrée à ces questions :
http://www.lizdanforth.com/<wbr>2017/01/art-lemons-plans/
.
Alors, pourquoi cette formule mensuelle de Patreon plutôt qu'un paiement par œuvre réalisée ?
En y réfléchissant, je me suis dit qu'il me faudrait des mois, en mettant les choses au mieux, avant de réaliser la principale des peintures fantastiques que je prévois de faire. C'est que je peins lentement, à l'ancienne, et que je ne peux pas (et je ne veux pas) abandonner mes fidèles clients et mes mécènes personnels. Grâce au revenu mensuel que va m'offrir le système de Patreon, je n'aurai pas à me mettre aussi souvent à la recherche de nouvelles commandes qu'auparavant. Mieux, je pourrai enfin donner une forme aux images nées de mon imagination et ainsi les partager avec vous et le reste du monde :
ars gratia artis !
Des dons réguliers me permettent de prévoir combien de temps consacrer à cet art pour l'art, puis de mettre ces plans à exécution. Bien que je prévoie de réaliser des œuvres plus petites et plus aléatoires, je déteste me dépêcher pour terminer une commande juste pour encaisser de l'argent, car cela va à l'encontre de ce que je cherche à faire dans la vie comme artiste.
Alors...
Qu'en dites-vous ? Êtes-vous prêt à partir avec moi pour l'aventure ? Chaque nouveau don est bienvenu, et vous pourrez être fier d'avoir contribué à mon projet. À chaque fois que vous verrez l'une des nouvelles œuvres que vous m'avez aidée à réaliser, vous pourrez vous dire que c'est un peu grâce à vous si elle est là
.
Votre soutien m'est indispensable et je vous remercie du fond du cœur pour votre confiance. Merci !
This would be an awesome goal to achieve, showing your confidence in my work and your hopes for the next painting. I I would have most of a week from each month to devote to the magic makers and the dreamers of dreams.

3 of 5
Become a patron to
Unlock 137 exclusive posts
Connect via private message
Recent posts by Liz Danforth
How it works
Get started in 2 minutes