The League of Extraordinary Red Heads
is creating Good Times For Gingers
Select a membership level
Adding kindling is the first step to building a fire. Your reward is our sincere thanks. After 12 months of giving, you  will receive one enamel pin with the LoERH symbol.
You could have spent this on a ginger ale. Instead you'll have many a ginger tale to tell. And that is a fine reward, indeed. But after 6 months, you will receive 1 LoERH Ginger Santa card. After 12 months of giving, you  will receive one enamel pin with the LoERH symbol.
Viking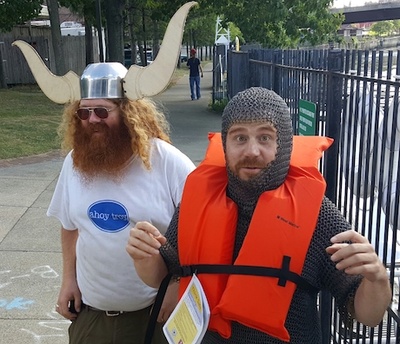 This level is reserved for red haired Vikings. After 6 months, you will receive and two blank LoERH Ginger Santa cards. At the end of your first 12 months, you will receive one enamel pin with the LoERH symbol.
About
Patreon is a way for creators to receive funding from their fans, or patrons, on a recurring basis.

About The LoERH

The League of Extraordinary Red Heads is a social club for red heads and those who love them. Headquartered in Troy, New York (a.k.a. "Ginger City, USA"), The League assembles in early October for its annual meeting, pumpkin ale toast and party known as "Night of the Walking Red." Since 2013, attendance at this fiery autumnal rite has nearly tripled to well over 225 red heads as word has spread. Those who gather receive their "Member" cards and learn the secret cant (lingo) of the LoERH. Artists, musicians and performers enliven the festivities.
The League has been known to gather at other times throughout the year for special reasons and for no reason at all. Those occassions have included: a screening of the documentary film "Being Ginger" and talk by filmmaker Scott P. Harris; a spring "Fire on the Hill" beer garden party; and a theatrical performance of Julianne Moore's "Freckleface Strawberry."
Why Support LoERH
Duncan Crary is the mysterious founder of The League of Extraordinary Red Heads. Though the exact nature of his founder role is shrouded in secrecy, it's apparent that the League requires a great deal of work to maintain and grow. From the hilarious posters, to the gigantic vinyl banners, to very official press releases, our Founder spares no expense on marketing and publicity. The League also employs the service of several professional graphic designers, photographers, musicians, caricature artists, fire dancers, and other entertainers.  LoERH also works with various business owners and proprietors to provide free "swag," a photo booth, and drink and food specials. 
The simple truth is, as the League grows more popular, the time, effort and expenses grow. Your financial support here on Patreon will ensure that our team of mirth making publicity artists can continue to engineer hilarious League accouterments like our trademark Member cards, our infamous Agenda, our slightly inappropriate bathroom signs, the Ginger City Mayor's Proclamation, the official get out of work early excuse letters. With a proper budget, there's no end to what this crew will come up with. (LoERH really should be mailing flyers to every hair salon and barber shop in 150 miles!)
ESTABLISH CHAPTERS
Scores of red heads from around country have asked if the League will establish local chapters in their part of the world. This is something we would like to make a reality, but we cannot do it without your financial support. In order for new chapters to succeed, the League will need to write and assemble a comprehensive guide and put in considerable time and effort o assist with local organizers (perhaps even travel to them). Some legal fees will be necessary to pay. And our website will need some beefing up to provide space for new chapter information. 
But here's why we all benefit from other local chapters.
1) Local chapters allow more red heads to participate in the joy and camaraderie that The League brings. 2) Having local chapters means members can travel the country meeting and making new friends where they go. 3) All local chapters will be called to attend the League's annual meeting in Troy, NY in October. This is the best way to keep growing that event, where the more the merrier is true in every sense. 4) With a national network of chapters, The League can orchestrate all sorts of fun and field trips. (Fill the audience of Conan O'Brien with Reds, you bet! Represent at all the Red Head gatherings across the globe, absolutely. March in parades. Compete in races. Orchestrate "flash mobs.") There's no limit to what we can do. Wouldn't you like to make a trip to visit our friends here in Ireland?


If we reach 30 patrons, giving $1 or more, during the month of December then Patreon will reward LoERh with a bonus $50.
1 of 4
By becoming a patron, you'll instantly unlock access to 2 exclusive posts
By becoming a patron, you'll instantly unlock access to 2 exclusive posts
Recent posts by The League of Extraordinary Red Heads