The Lone Animator
is creating Stop-motion monster videos on YouTube
Select a membership level
Stop-Motion Puppet Archives
You have my heartfelt thanks for your support, plus you'll get a monthly PDF with info about how a specific puppet was constructed, with photos and explaining captions. Start building your own puppet making how-to library :)

Workbench Videos
You get my monthly puppet PDF, plus a monthly "On the Workbench" video, showing behind-the-scenes stuff from my various monstrous projects -puppet construction, prop-making, mask-making and more. I simply film what I'm working on at the moment and explain the techniques and materials I use while showing how I use them.

Patreon Premiere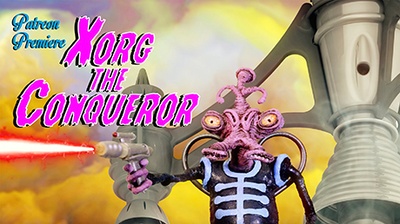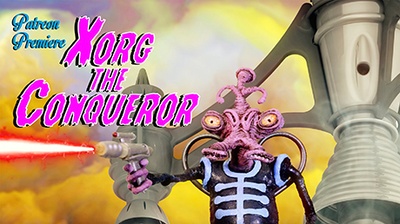 You get my monthly puppet PDF and the monthly Workbench video, plus I will send you a monthly behind the scenes commentary of one of my films, talking about the making of it, warts and all, with an extra close-up look at the puppets used! And when a new film is finished you will have the first exclusive viewing of it, plus making-of behind the scenes stuff.

About The Lone Animator
Greetings!
I'm a Swedish puppet-builder, stop-motion animator and non-profit video maker producing films for an international audience. At an early age I was subjected to the delights of classic monster movie fare, such as the original "King Kong", the Japanese Kaiju films, the Universal horror films and the wonderful Dynamation epics of Ray Harryhausen. Such a healthy diet of colourful and reality-defying cinema apparently fried my brain, and I became obsessed with trying to bring monsters of my own to life. And many decades later, here I still am, now using the medium of YouTube to spread my homemade efforts to the world.

I am obsessed with stop-motion animation, and I think that very special world created in films such as "King Kong", "Jason and the Argonauts", etc, is the most wonderful thing to experience. It's the mix between live-action and animation, to see real people interacting with stop-motion creatures, that gets my imagination going, and apparently those of many other people as well. I have made it my mission to try and produce as many films of this sort as I can, time and finances permitting. More than anything I've been seeking out older horror literature, such as the stories of H P Lovecraft, to give life to the many weird and wonderful creatures in those tales through my video adaptations. If I'm working towards leaving any sort of legacy, I guess it would be to become "that Lovecraft stop-mo guy". I think Hollywood has mostly done this particular author ill service, and that it's up to us "amateurs" to give his work the respect and fidelity it deserves.

I make my films for two reasons. Firstly because I enjoy it myself so immensely, and that through my efforts I actually help keep the now quite rare art of stop-motion animation alive. Secondly I have over the years seen that my videos inspire others to give it a go themselves. To further this effort I also make short videos explaining how my puppets are made as well as some of the effects I use. If my videos are good for nothing else than providing inspiration and fuel for new creators, than I'm more than happy.

So, what can you as a patron help me out with? First of all, any income generated by my videos would allow me to say no to other work that steals time from my filmmaking. And believe me, that's quite a lot, every month! Secondly, more money spent on my films means I can build more stuff -more puppets, more props, more masks, and also make more videos talking about how you can make the same stuff yourself. Thirdly, It could also allow me to spend more money on things I can't make myself (mostly) such as costumes, footware and music. In short, some extra money will allow me to make better videos, and lots more of them.

I sincerely believe that the future of media and entertainment is created right now and online by millions of enthusiasts using thousands of creative methods, both old and new. I'm so happy to be a part of this huge wave of creativity, but I never want to stop simply because of a lack of time or funds. I want to keep making my stuff, keep inspiring others, and then partake in their creations. There is so much I need to do, so many stories to tell and so many characters to bring to life. If you feel you could help out in any way it would be greatly appreciated indeed.

Many thanks
Richard Svensson, The Lone Animator
$202.79 of $300
per month
This sum will allow me to add more polish to my videos, such as fixing bad sound, adding good music or buying/renting costumes for characters.
2 of 4
By becoming a patron, you'll instantly unlock access to 262 exclusive posts
By becoming a patron, you'll instantly unlock access to 262 exclusive posts
Recent posts by The Lone Animator
How it works
Get started in 2 minutes