Lou Yardley
is creating Horror and Dark Fantasy Fiction
Select a membership level
$1 a month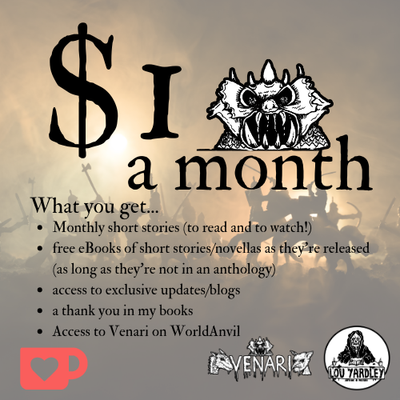 This is the tier to just throw a little bit of love (and a dollar) my way.
$1 per month will get you:
monthly short stories (to read and to watch!)
free eBooks of short stories/novellas as they're released (as long as they're not in an anthology)
access to exclusive updates/blogs
a 'thank you' in my books
Access to Venari
Includes Discord benefits
$3 a month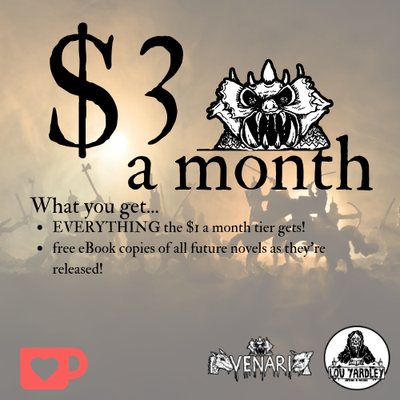 $3 per month will get you:
everything that the $1 tier gets
free eBook copies of all future novels as they're released!
Includes Discord benefits
$5 a month
$5 per month will get you:
everything that the $3 tier gets
badges and bookmarks - each time I release a book, you'll receive a badge and a bookmark to celebrate the artwork. I'm working with some fantastic artists at the moment, so these should be AMAZING.
(physical rewards after 3 months of membership)
Includes Discord benefits
About
Planted on this planet by a rogue team of aliens, Lou Yardley has largely been left to her own devices. This has resulted in a coffee addiction, an obsession with hats, and an ever-growing collection of horror stories. These tales are steeped in gore as much as possible, as Lou loves when things get messy. We really don't want to think about what her home planet is like. We suspect it's very sticky… and it's best not to think about what those stains are. I wouldn't touch anything if I were you.

Until the mothership comes to collect her, Lou is doing her indie horror thing somewhere just outside of London in the UK. She lives with her other half, Mark, and their feline overlords.

Sadly, that rogue team of aliens didn't bother to leave her with any money. This frequently gets Lou feeling a little miffed because coffee costs money... and she's more than a little sure that the replicators on the alien spacecraft could have easily produced enough money to last a lifetime.

So, now she needs your help.

Lou would like to create as many horror stories as possible. To do this, she needs coffee. Coffee makes her do the typey-typey thing faster.

By becoming a patron to this page, you'll help to keep Lou's coffee supplies topped up. In return, you will be handsomely rewarded with a variety of goodies. Please take a look at the tiers for full details.

This will go towards getting me a cup of coffee every day. It makes my fingers do the typey-typey thing faster.
1 of 4
Become a patron to
Unlock 155 exclusive posts
Connect via private message
Recent posts by Lou Yardley
How it works
Get started in 2 minutes