Luxee
is creating adult games
Select a membership level
Supporter Tier
Access to patron-only content
Access to the latest version of the game 10 days after initial release
Sneak peek photos of upcoming releases
Patron-only polls
"Supporter" Tag on Discord
Access to #secret-club channel on Discord
Includes Discord benefits
Game Tier
Access to latest version of the game upon release day
"Game Tier" Tag on Discord
Plus all previous rewards
Includes Discord benefits
Enthusiast Tier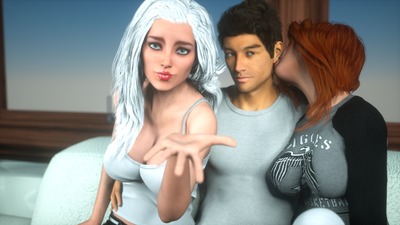 Walkthrough of the most current version of the game 
"Enthusiast" Tag on Discord
Plus all previous rewards
Includes Discord benefits
About
It's ya boi, Luxee

I create adult video game entertainment! Currently, I am working on a visual novel game called "PL". After which, I plan to make more games if I've piqued some people's interests.
In the game, you take on the role of a man who had a falling out with his wife
Emily
.
In-game scene featuring Emily
You two went through a break up
It's been fifteen years since then and you've gone to multiple different rehab programs. Now that you're clean of drugs, You decided to start dating Emily once again. You've been dating her online for many months now and your relationship is blossoming. She's taken a new liking to you and believes you two can restore things to the way they used to be. You live in different states, but it's summer time and you've decided to visit Emily in Ohio. The game begins when you first meet her in a bar.

I know this line has lost it's meaning because of Telltale games,
BUT!
Nearly every decision you make in this game will affect the future
in one way or another. I guarantee, you will not encounter every scene in the game on your first playthrough without some
save scumming
which I do encourage. The actual gameplay comes down to just making decisions.
You will meet a lot of other characters along the way.

PL has a free demo version, version 0.9.1. You'll have to find the download link through my twitter though because I'm not allowed to publicly link it here. Sorry for the inconvenience. If you're a patron however, you can download the lastest version
for $1+ v0.99 from here:
DOWNLOAD
PL Walkthrough for 10$+ patrons only:
DOWNLOAD
You can contact me over at my twitter
@GamesLuxee
Or use my email:
[email protected]
I also have a discord channel that is open to everyone
CLICK HERE TO JOIN
I usually check all of these daily
All characters shown in a sexual light in game are 18 or older.
These games are made for entertainment purposes only and do not actually reflect Luxee's desires or beliefs.
These games shouldn't be taken seriously or be viewed by anyone
I will drop everything I'm doing and work on my games full time
2 of 2
Become a patron to
Unlock 139 exclusive posts
Connect via private message